Mudroom
Food Factory
Portland's schools are cooking up plans for healthier lunches.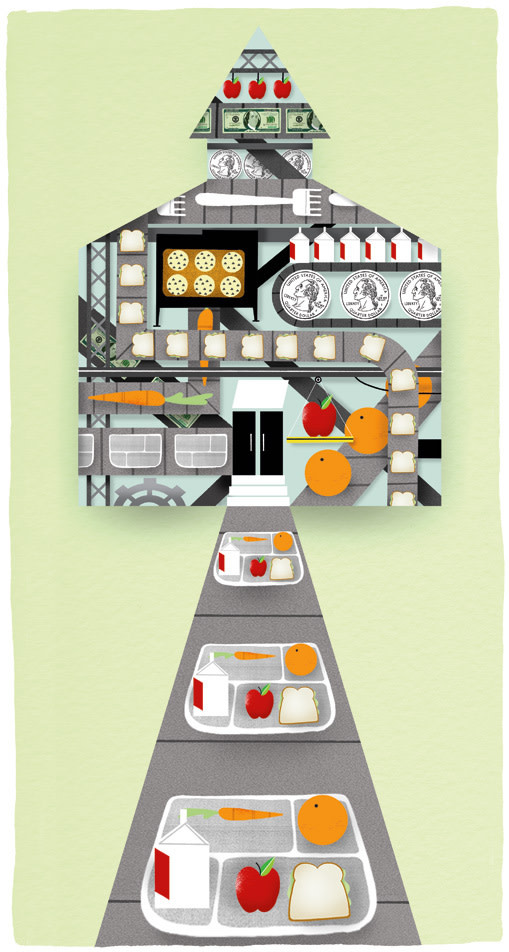 WITH the thud of a dock bay door, the whine of a forklift, and a truck's low rumble, Portland Public Schools begins distributing each day's lunch from a sprawling old complex on N Dixon Street. There the district's Office of Nutrition Services fights a battle for kids' appetites with 21,000 lunches each day—3.5 million per year.
Shannon Stember, assistant director of nutrition services for PPS, bluntly describes the system as "a widget factory." Yet, well before Michelle Obama planted a White House kitchen garden and Jamie Oliver launched his "Food Revolution" to spotlight nutrition in school lunches, PPS began trying to improve the school meal. In 2005, with additional grant money, the district funded a nationally lauded learning garden, which introduced students to locally grown Brussels sprouts (and, surprise, Mikey liked them!), and a demonstration kitchen at Abernethy Elementary. In 2006, PPS's Wellness Advisory Committee pushed for longer lunch periods; a ban on sugary, fatty snack items; and edible school gardens. (Today, PPS boasts more than 40 such gardens in its schools.)
But to recoin an old adage, you can lead a kid to a better meal, but you can't make him eat it (or plan on a parent helping). Only about 50 percent of students elect to eat school lunches in foodie Portland, a figure that's inched up about 3 percent in the last two years, but is still well shy of the national average, 62.5 percent.
Stember pins the overall ambivalence toward PPS's lunch reform efforts on the time it takes to stand in line for lunch, the taste, and the quality. "We have a sophisticated group of kids now, who want food-court choices," she says. "They want the $5 meal, but they want it at the $2 price."
Compared with other districts in the country—some still lack salad bars—Portland's efforts aren't terrible. At Vernon Elementary in Northeast Portland, for example, volunteers tend garden lettuce for the cafeteria salad bar. What's more, the district's director of Nutrition Services, Gitta Grether-Sweeney, reports that corn dogs are being ditched altogether. "I've wanted to do this for years," she says. A simple marionberry vinaigrette will replace fattier ranch dressing, the money saved going to higher-quality chicken nuggets. Also planned: a new Indian curry and a lasagna recipe with an improved tomato sauce. "We are trying to make change incrementally," says Stember.
But the sheer scale of the district's food system makes an overhaul challenging. Compared to Berkeley, California, where famed Chez Panisse chef Alice Waters has helped the entire 16-school district adopt eco-minded lunches, Portland is giant, with 85 schools. Out of fiscal necessity, Stember's colleagues must be creative and, above all, frugal. With a federal reimbursement of $2.74 per lunch and rigid nutritional guidelines, the Office of Nutrition Services faces tough choices. Consider: to replace landfill-clogging foam trays used at some schools with reusable plastic ones would cost almost $2.75 per tray. Skip an upgrade like that, and the district could purchase more locally grown veggies and natural fruit treats like kiwis.
Such hard choices underline the ingredient lacking most: money. Relief may come from the federal government when it reauthorizes the Child Nutrition Act this year (estimated increases hover around six cents per meal), but according to Stember, that's still 29 cents short of affording the sort of higher quality and local ingredients they're after. Not so long ago, progress seemed imminent. A 2009, bipartisan-supported Farm to School bill would have given districts an additional 15 cents per meal if food was purchased locally, but it was tabled for lack of funding. A reintroduction of the bill is expected in 2011.
Despite such obstacles, "PPS is in the vanguard," says Deborah Kane, vice president of Food and Farms at Ecotrust, a nonprofit that has worked extensively with PPS, helping to increase spending on local ingredients to a whopping 32 percent of total purchasing. That's a strong start, but there's still work to be done, she says. "Portlanders have sophisticated tastes, but there isn't a foodie in Portland who knows how to cook for 20,000 people."