Food News
Tasty n Sons Does Dinner — and Snack
John Gorham and Co.'s N. Williams brunch-ery is ready to go alllllllllll day long.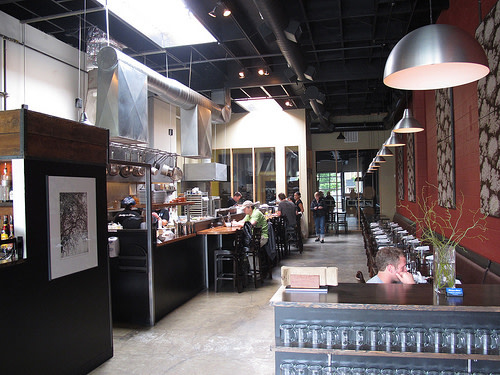 Tomorrow night, grab all your friends and hurry on over to 3808 North Williams so that you can all sit and wait just like everyone else, because Tasty n Sons is opening for dinner. I've seen the planned menu, as of two days ago, and let me tell you — it's wait-worthy. Of course, all culinary greatness is subject to change without warning, but right now you can expect to see:
Breakfast-for-Dinner, including some of Tasty's signature brunch items like the Fried Egg & Cheddar Biscuit with fried chicken or sausage, the Bambino Plate with scrambled eggs, bacon, biscuit & Heather's honey butter, and Shakshuka, a red pepper & tomato stew with baked eggs and merguez sausage, if you want it, which you do; four Burgers, including the ever-popular "#3" (aka the Toro Bravo version with house bacon, manchego & romesco) and "The Thomas," a heavenly coronary-inducer which comes with sour cream, ham, jalapeños & cheddar; and other gourmet renditions of Northwest-meets-the-Deep-South diner classics like Monk's Carolina Cheesesteak, The Ricker Dog, the Classic Cobb Salad, and Shhhhhhhhhh Puppies.
If you're still hungry after stuffing your face with their Griddled Bacon Wrapped Dates (the only meat dish in town that I, a life-long vegetarian, eat every single time I have the opportunity), dessert includes the likes of baked-to-order chocolate chip cookies, Vanilla Bean Panna Cotta with brandy soaked berries, two sizes of Auntie Paula's French Toast Sundae with bananas, caramel & nuts, and Chocolate Potato Doughnuts that you can purchase individually.
For all you booze-hounds, there will also be good beer and plenty of souped-up classic cocktails like the Apricot Sour with Aviation gin, lemon, Crème de Apricot, and honey syrup, or the Vieux Carré, a stunning blend of Cognac, rye, dolin rouge, Benedictine, Peychauds, and Angostura bitters, invented in 1938 by Walter Bergeron, the head bartender at the Monteleone Hotel in New Orleans.
This Tuesday is the beginning of Tasty n Sons "soft opening phase" in which dinner (served 5-10 p.m.), as well as a small afternoon menu (3-5 p.m.), will only be offered Tuesday through Saturday. But the plan is to go seven days a week sometime soon, and I'm guessing it won't take long. The fanaticism for anything these restaurateurs touch reminds me of all the people who clamored to get into the night club I worked at long, long ago in L.A.
But thank goodness that instead of slipping the door guy $100 or dressing like a streetwalker to get plucked from behind a velvet rope, you just have to wait.