Five Questions
Chef Q & A: Chris Carriker
The Gilt Club's executive chef waxes dietetic about the Food Network's visit to the glitzy edge-of-the-Pearl District lounge.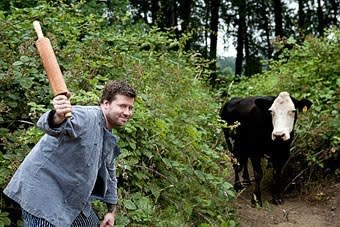 Be sure to get your TGIF drinking done early this week so that you can slip on your sweat pants, settle in on the couch, and watch the Gilt Club's executive chef Chris Carriker put Portland on the meaty map in a new Food Network series, Meat & Potatoes. Hosted by chef and self-proclaimed meat nerd Rahm Fama (apparently he grew up cattle ranching), the show stampedes around the country looking for the choicest cuts and the top eateries to find fleshy fare. The upcoming episode is titled "Midnight Meat" and makes stops in Los Angeles and New York, as well as P(ork) Town, to satisfy hearty late-night cravings.
Located at 306 Northwest Broadway, the Gilt Club serves up fancy cocktails featuring house-infused liquors and their full dinner menu from 5 p.m. to 2 a.m., Monday through Saturday. That's right—instead of Taco Bell, you could be closing out the night with a Le Gilt Royale—10 oz of Painted Hills ground beef with peppered bacon, Vella jack cheese, and foie gras aioli, served with pork rinds.
Here, Carriker is kind enough to chat with us about meat, TV, and his experience with both.
1) Can you give us an amuse-bouche about what we can expect to see in your Meat & Potatoes appearance?
First we show Rahm Fama our house-made pork rinds. Then we move on to a dish we call Quail in a Jar, which is quail slow-cooked in a jar with vegetables and a meat glaze, and served on bacon-liver toast. Finally, we share our bresaola-rubbed beef shoulder tender served with grilled asparagus, bordelaise, and bone marrow.
2) What was it like filming with the meat MC himself—do you feel like you learned anything from him?
Did I learn anything… Well, to be blunt—No. But he was a very lovely host who knew how intrusive the filming process can be, especially in a small kitchen like the one we have at The Gilt Club. He kept trying to speed up the process and had a good sense of humor while doing it. For me, however, filming was stressful. Sure, it was fun and games for the first couple of hours, but then I had to get ready for a Friday night and the filming process kept dragging on. Of course, after all was said and done, I had fun and I would do it again.
3) What are the key carnivore-friendly items on your menu that we should be eating right now?
Sooooooo much to choose from…hmmm…. I would say start with the roasted bone marrow with parsley salad. Then, the bison carpaccio with pickled chanterelles. Next have the braised rabbit with chestnut crêpes, house-made ricotta, and coastal huckleberries. And to finish, either have the foie gras with honeycomb, or the bone marrow doughnuts with house preserves. I mean, I just gave you a menu starting in bone marrow and ending in bone marrow—how could that go wrong?
4) Since joining The Gilt Club in June, 2009, what do you think you've brought to the table?
I've been trying to bring a different approach to the food than the one that had been there previously. My goal is to make the food match the quality of the drinks and also the name—I always felt that The Gilt Club should have food that is "Gilt-y" i.e. "guilty." The menu should have some dishes that are over the top… rich and decadent… You know—something that would make the Romans proud. But at the same time keep things accessible.
5) What's your favorite food porn program right now?
I guess it would be No Reservations with Anthony Bourdain. Why? Because of his attitude and the show's straightforward approach. Plus, he does it without all the fake lip-smacking noises and orgasmic moans with every bite that are common in other food programs. Other than that, when I get off work I have a hard time watching other people cook.