Foodportunity
Shake Things Up with "Bar Camp" at NoPo's Lincoln
Co-owner David Welch teaches campers when to shake and when to stir—as well as the proper shaking and stirring technique—while fellow owner/chef/wife Jenn Louis does them one better than PB&J.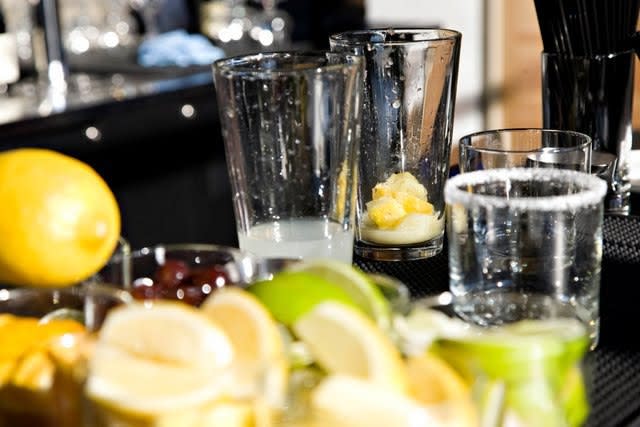 If the extent of your cocktail crafting experience is mixing together any liquids you happen to have hanging around the house (e.g. tequila, soy milk, and Diet Squirt), it's time to pack your jar of pimento-stuffed olives and sign up for Bar Camp, Saturday, October 16th.
David Welch, co-owner of the divine Lincoln, located at 3808 North Williams, serves as camp counselor, explaining how spirits are made, guiding participants through the evolution of various cocktails over time (via taste tests!), teaching the basics of stocking a home bar, and sharing recipes for a few classic drinks, such as the Manhattan, the martini, and the margarita.
Another easy lesson to swallow? Learning how what you sip can affect your enjoyment of your supper. When it comes to cocktails, unlike some other local establishments that seem to prioritize shock value over taste and menu compatibility, Lincoln's tidy little list features elegant entries that are meant to be paired with the restaurant's farm-fresh, elemental entrées. "Just like wine, cocktails have complex flavor profiles," says Welch. "Certain drinks go well with certain foods, and conflict with others." Take the margarita, for example. The bright acidity of the lime juice and the brininess of the tequila and the triple sec only serve to enhance the spicy, savory nature of a taco.
Or consider the classic martini. "There's a reason why you always see people sucking them down in steakhouses in movies from the 1950s," says Welch. "Part of it was the culture, of course, but it was also because the cocktail's sharp, needle-y quality could cut through the richness of a big rib eye. The margarita's intense acidity, on the other hand, would be confusing with a steak."
You can find out for yourself what makes for a good match, because after the formal class portion of the evening, campers get to tuck into a family-style meal that pairs dishes like yeasted polenta fritters with sage, pecorino, and aioli, with a fruity cocktail. If you're curious as to what that cocktail might be, make your reservation now by calling 503.288.6200—seating is limited.
Also available Saturday, October 30th, the class portion of Bar Camp runs from 4:30-5:30 p.m., followed by dinner from 5:30-7 p.m. For $125 (gratuity not included), you get to learn some bar basics, enjoy a delicious dinner, and down enough cocktails to make you an honorary member of Mad Men.