Food Carts
Oinking Out in the Belmont Cart Pod
Lardo dishes up delicious, hog-heavy Italian fare—calorie counters beware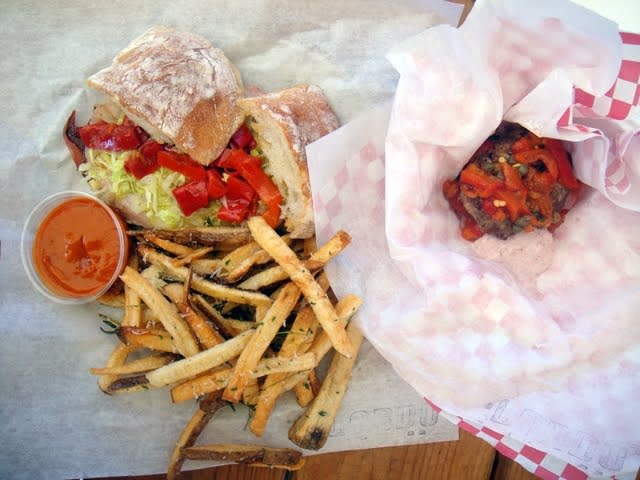 If you're a vegetarian with a hankering to glut your hunger at the quickly-expanding Good Food Here pod at 43rd and Belmont, Lardo is not the cart for you. Even in the one item you'd think you could eat—the Crispy Eggplant Sandwich with herb ricotta, arugula, and roasted tomato sauce—the succulent slices of nightshade berry are deep-fried in lard. (Eggplant is actually a berry in the nightshade family—don't you feel smarter?)
But if you are a carnivore or the kind of veg-head who secretly digs the pig, you'll be in hog heaven.
Working from an adorable gray and pink cart in what might currently be the cleanest and most pleasant pod in town (they also have covered picnic tables!), Lardo presents a mutable menu of Italian-inspired dishes featuring meats from the likes of Tails & Trotters, and produce from Simington Gardens. Most of the edibles either include pig (e.g. Porchetta aka Pork-etta Sandwich, Pork Belly BLT, Crispy Pigs Ear Salad, pork Bolognese) or are dipped, doused, or deep-fried in lard. Which is also what makes it all so darn tasty.
A real standout is the Griddled Mortadella and Provolone Sandwich with pickled peppers and mustard aioli ($7). It's greasy as all get-out (pick it up and watch it rain), but give it some time and the crusty bread does a good job of soaking up the excess fat so that this slightly-spicy sandwich is more moist than messy. It has good flavor, the fillings aren't overdone, and the mortadella is fried to perfection. It's a solid Italian sandwich, which is actually hard to come by in this town (see also Martinottis' Cafe and Deli, downtown). It's imperative that you order this or any other sandwich with the Handcut Lardo Fries ($4), as they are crispy and addictive, arriving with a sprinkle of grated parmesan, fried herbs, and a fabulous spicy house ketchup.
The salty-sweet combo of the capers and the pepperonata on the Lamb Sliders ($8) is appealing, but the meat could use a little moisture, so, for now, I'd advise sticking with the pig.