Five Questions
Q&A: Tim Davey
The manager of the Rose Quarter's newest sports bar, Spirit of '77, gives A's to PP's Q's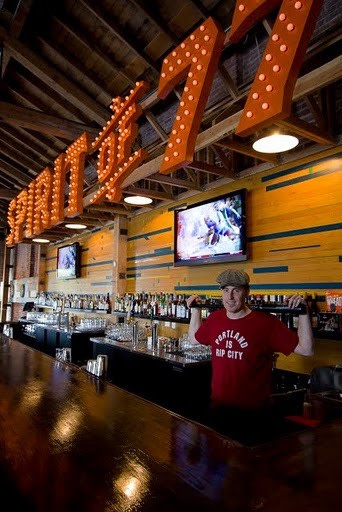 Like the notion of the Blazers winning the national championship (or Greg Oden not getting injured again), the idea of watching Roy and Fernandez shoot hoops while you sip fine wine in a sports bar that doesn't suck may seem like an impossible dream.
Until now. Last week, Spirit of '77 opened to much fanfare at 500 NE MLK Blvd, across from the Convention Center. They've got the obligatory flat-screens, of course, but also hipster games like Buzzer Beater, an indoor bike parking area, tongue-in-cheek sports décor, and a blue-collar inspired menu made with white and green-collar ingredients. The result of a partnership between Jack Barron (co-owner of the Ace Hotel) and Nate Tilden (mastermind behind Olympic Provisions and Clyde Common), this rookie might just be this season's MVP.
Here, the manager Tim Davey (formerly of Beaker & Flask, Castagna, etc.) is nice enough to give us a mid-game interview.
1) First off, what's with the name?
There are certain moments in sports history—such as the Blazers' run to winning the 1977 NBA championship—that come to represent way more than just athletic achievement. In the words of (the Blazers' legendary play-by-play announcer who coined the term "Rip City") Bill "The Schonz" Schonely, "From the 5,000 fans who waited hours at Portland International Airport to welcome the team home from Philadelphia, to the 250,000 strong who thronged the streets of Portland in a spontaneous outburst of Blazer mania, hardly a heart remained unmoved as the place became unanimously the object of affection for an entire state."
That magical kind of joy that people experience when their team achieves the ultimate goal is golden.
2) So, what should we be drinking at Spirit of '77?
Despite my past work, there is no "signature" cocktail list at Spirit of '77; just a growing list of classics like the Negroni or White Russian made with a "house" twist. A simple technique or thoughtful choice of an ingredient makes all the difference. We also offer three choices of sparkling, white, and red wines by the glass or bottle, and the standouts right now are the Nebbiolo and the Pinot Blanc. I drink white wine with style like it's going out of style.
3) How's about the food menu—what should we be eating while we watch the Blazers kick ass?
Paired with a Scrimshaw pilsner, the chicken thighs in Calabrian chile sauce are pre-game bliss. Or order the hush puppies with jalapeño jam and the shrimp boil with a glass of Nebbiolo. But, personally, I can't get tired of the fried fish sandwich with romaine and tartar sauce on a sesame seed bun.
4) What are you guys bringing to the sports bar scene that other local establishments have missed?
I wouldn't say that we're adding or subtracting anything, per se. It's a more meditative ride. We simply distilled for ourselves what it meant to be a sports bar, kept that, and addressed the rest of it with intelligent design and imagination. I think our space is something I would build in my garage if my wife let me.
5) If you could have any athlete in the world belly up to your bar, who would it be and why?
Truthfully, I'd have to say Ric Flair. I grew up a big professional wrestling fanatic, taking great pride in predicting the in-ring antics while also finding great humor in the archetypes and having a great fascination with the durability of certain personalities. Nobody did it like "The Nature Boy"—Whoo! By the way, this is the same answer I'd give if you asked "What athlete would you most like to play in a game of chess?" or "…start a forest fire with?"