Holiday Eats Cheat Sheet
Thanksgiving—Unwrapped
If your answer to the question "What's cookin'?" is "Not me, pilgrim," we have eight restaurant options to help you get your T Day fix.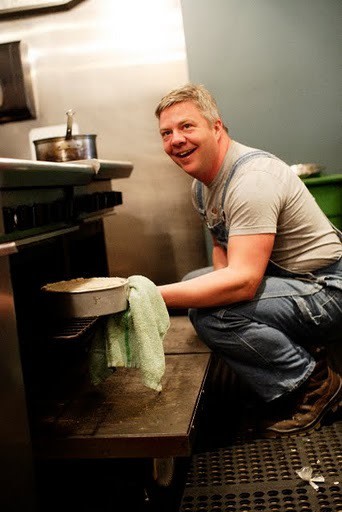 The Down Home: Country Cat Dinnerhouse & Bar 2pm-7:30pm
Denim overall wearin' chef Adam Sappington will be dishing up recipes that have been in his family for two generations, like the brined, smoked & braised turkey with Granny Criss' stuffing, and "The Judy," a spread of Longhorn cheddar cheese, beer, Tabasco, and onion. This four-course feast includes an amuse bouche (truffled deviled egg, chopped crab & grilled shrimp toast) and choice of three starters (e.g. chanterelle, hazelnut & pumpkin soup), four entrées (turkey, double cut pork chop, steelhead, or veggie crepes), and four desserts (e.g. pumpkin cheesecake with bourbon Chantilly), and you can add sides like bacon braised collard greens for an extra $5 each. $40/person; vegetarian options and kids menus available; reservations and walk-ins welcome.
The Sophisticated Steakhouse: Urban Farmer Noon-9pm
Chef Matt Christianson wants you and yours to "Enjoy Our Home This Thanksgiving" with a three-course spread inspired by the Northwest's bounty. Before tucking in to your choice of entrées like Oregon honey and spice roasted turkey or Highland Oak grass-fed New York strip steak with bone marrow and crisp salsify, select a starter such as spiced roasted chestnut Dungeness crab cakes or farm charcuterie including foie gras torchon. Every meal comes with an assortment of family-style sides like chanterelle, chestnut, and cornbread stuffing. Finish yourself off with a choice of desserts like pumpkin praline bread pudding or a Stumptown coffee parfait. $49/adults; a la carte menu for children; reservations recommended.
The Classic: Paley's Place 2:30pm-8:30pm
Pop in to this Portland fine-dining prototype for Thanksgiving specials like spit-roasted turkey, mashed potatoes, creamed Brussels sprouts, and curried butternut squash and pear bisque. The regular menu will also be available so expect James Beard award-worthy dishes like escargot à la Bordelaise, crispy sweetbreads, and rabbit ravioli, as well as a charcuterie section, cheese cart, and both traditional and seasonal desserts from new pastry chef Kristen Murray. Reservations recommended.
The Fancy-Pants: Bluehour 3pm-9pm
It's an elegant à la carte extravaganza of dishes like turkey two-ways (smoke roasted breast and a leg confit) with apple-chestnut stuffing, green beans with toasted almonds, jalapeño gravy, and cranberry relish. Begin your meal with the likes of a green cabbage & sour apple salad, house-made hog's head cheese, or a tower of oysters on the half shell, and close it out with a pumpkin spice ice cream sundae with white chocolate, candied pumpkin seeds, and cinnamon twist cookies. Reservations recommended.
The Very Veggie: Blossoming Lotus Seatings at 2pm and 5pm
Have a flesh-free holiday with a prix fixe vegan celebration that includes carrot ginger soup with herbed spelt croutons, cranberry & toasted walnut salad with chanterelle vinaigrette, savory tofu roast with wild rice & cornbread stuffing topped with stewed vegetable gravy and served with steamed broccoli and kale, and both pumpkin and pecan pie served with creamy vanilla soft serve. Hemp nog and hot spiced pumpkin cider are included. $35/person for dine-in; $39/person for take-out; reservations required.
The Global Gala Part I: Andina 1pm-9:30pm
Andina owner Doris Rodriguez de Platt is serving a lavish El Día de Acción de Gracias three-course repast that combines Oregon flavors with a bit of Peruvian spice. Select from a veritable cornucopia of tapas like baked scallops with parmesan cheese and lime butter, Spanish-style potato frittata with ají Amarillo aioli, mussels cooked in white wine with tomato-corn salsa criolla, and oh so much more, followed by the choice of 11 entrées, such as oven-roasted heritage turkey with quince huacatay chutney, or pork tenderloin quickly braised in the Arequipa style, with butternut squash and gorgonzola ravioli, green apple, and a tamarillo-rocoto "uchucuta." As for dessert? We suggest the yam-ají Amarillo crème brûlée topped with white chocolate biscotti, or the pumpkin chiffon tart served with caramel sauce and candied walnuts. $50/adults; $25/children age 5-11; children under 5 are free; reservations recommended.
The Global Gala Part II: East India Co. Grill & Bar Pick-up available until 1pm on Thursday, November 25
Have a West Coast Thanksgiving with a little Eastern flair. East India Co. is offering their Indian-style Thanksgiving menu in the restaurant the week of November 22-27, but will also have the dishes available for take-out. Think whole stuffed turkey with Indian spices, tandoori grilled turkey tikka and turkey sheekh kebabs, sweet & sour pumpkin, and sweet potato halwa. Call for pricing.
The Old-Fashioned: Kenny & Zukes Pick up on Wednesday, November 24
Although they aren't open on Thanksgiving itself, you can get the holiday goods to go if you order by Monday, November 22nd at 3pm. Select tasty, time-honored favorites like roast turkey breast stuffed with wild mushrooms, giblet gravy, cornbread stuffing with chestnuts and caramelized onions, garlic mashed potatoes, candied maple yams, cranberry/tangerine relish, and more. Call for pricing.