Hometown Pride
Food & Wine Magazine Gives Props to Robert Litt
The co-owner of Southeast Portland's tiny Urban Farm Store gets national attention for thinking big.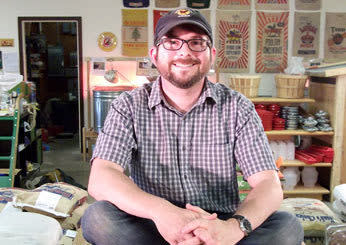 Now here's something to crow about: Robert Litt, the 39-year-old co-founder/owner of Southeast Portland's Urban Farm Store, was just ranked #5 in Food & Wine magazine's 40 Big Food Thinkers Under 40 list, appearing in the November issue. The lineup recognizes "up and comers—all 40 years and younger—who are changing the way Americans eat and drink."
Robert and his wife, Hannah, provide aspiring chicken owners, postage-stamp-backyard gardeners, and amateur gourmands with baby chicks, organic vegetable starters, and supplies for food preservation, brewing, and cheese making. It's because of their "quirky" store's role as a "trailblazer in the urban-homesteading movement" that Robert was named to a roster that includes the likes of White House food-policy adviser Sam Kass, Icelandic yogurt-maker Siggi Hilmarsson, and owners of Vita Coco coconut water, Michael Kirban and Ira Liran.
So, we've heard word that the Litts plan to add bees and bee-keeping materials to the store next year, and are publishing a book, A Chicken In Every Yard: The Urban Farm Store's Guide To Chicken Keeping (10 Speed Press), in March; but we asked Robert if there any other "big things" he's thinking about right now for the future—here's what he had to say:
"We're building relationships with farmers in the area and have begun offering selections of their produce, eggs, and meats at the store. We're adding online shopping and delivery this winter, and we plan on eventually having smaller stores in other neighborhoods, as well as possibly in other cities. We also plan to greatly expand our class offerings next year in order to further our educational mission. And, lastly, we're looking at starting a national non-profit organization to help communities change restrictive urban livestock laws."
Three cheers for literally having a hand in the food we eat, and three cheers for the Litts! Maybe they could give Portland's other Trailblazers a few tips on how to be winners…