Beer Bulletin
Review: New Brew Venue
Hawthorne has a Hophouse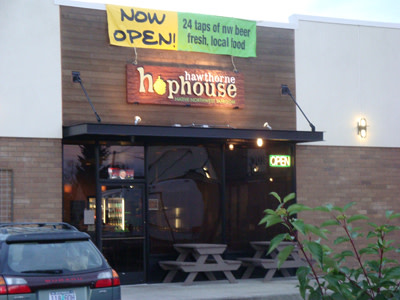 Be advised that Hawthorne Hophouse, the new Northwest-centric beer bar on SE Hawthorne, is a kid-friendly venue. The presence of children in pubs is a thorny issue among the Portland suds set, i.e., whether or not beer-loving parents have the right to subject their fellow pub patrons to a rampage of raging rugrats. There were at least seven youngsters on the premises last night and I didn't hear a peep out of them, so for the time being it's not an issue (although I'm a dog owner so I'm used to ignoring unprovoked yowling). However, I did feel some subtle pressure to keep a tight rein on my use of profanity, which tends to increase in direct proportion to number of beers consumed—so there's that.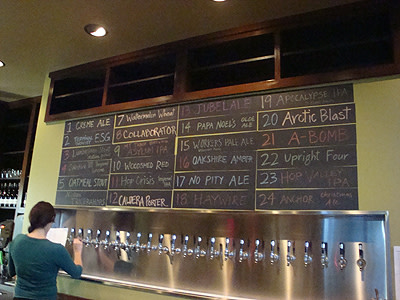 The Hophouse is located in that tiny strip of businesses at 41st and Hawthorne, where approximately 84 Thai restaurants have opened and closed over the last five years. With the arrival of a bustling New Seasons market right across the street, the lure of freshly poured beer should exert a powerful pull on harried yuppie shoppers—especially those that have been driven to the brink of madness by the demands of unruly offspring. The space is small, antiseptically clean, and welcoming; a veritable oasis of regional repast.
The food menu is fairly "McMenamin" (burgers, fries, salads, sandwiches) in appearance but they do have a Happy Hour between 9 and midnight, with an assortment of $4 goodies like poutine, chicken satay, wasabi deviled eggs, and a chicken and cheddar sandwich. The real hook at the Hophouse is a rotating cast of two-dozen Northwest beers on tap. This includes pours from nano-breweries like Natian (their Lumberjane Stout provided a jolt of bitter coffee-roasted charm), Vertigo, and Mt Tabor Brewing in addition to more familiar names like Deschutes, Hopworks, and Ninkasi.
There's simply no room for brand loyalty here, because kegs come and go like summer lovers. There are two excellent solutions for those looking to experience the yin and yang of available flavors. On Sundays, in addition to an all-day Happy Hour, beer-curious patrons can take advantage of $3 glasses of local-beer selections. Before anyone can work up a serious gripe about 12-ounce glasses for $3, it should be known that our teeniest, tiniest breweries typically sell their product for a little more scratch, since distribution is usually limited to kegs delivered by "some guy with a truck."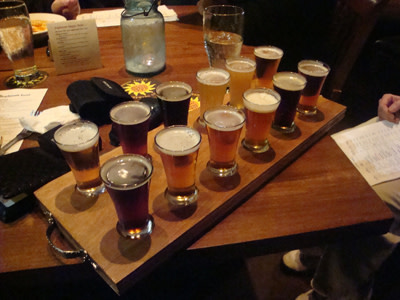 On Monday evenings, at least for the rest of the month, six, twelve, and twenty-four glass sampler trays are half-price, which allows for some serious exploration. My friends and I ordered up a twelve (2 oz) glass flight for a measly $6.50, with each of us selecting three beers from the menu. We then passed them around, exchanging such brilliant tasting observations as, "Roasty and toasty!" and "surprisingly citrus for an IPA." And presto! You'll be a beer geek before you know it.
In terms of finding a comfortable niche, Hawthorne Hophouse is the right business at the right time. Upper Hawthorne (above 39th/Cesar Chavez) was a land sadly bereft of beer diversity, unlike lower Hawthorne which is awash in a variety of worthy brews. The arrival of the Hophouse has improved this situation dramtically.