First Impressions
Central Sizzles (Softly)
Dustin Knox's downtown den slings crêpes and old-fashioned cocktails in a space that makes it worth hunting for parking.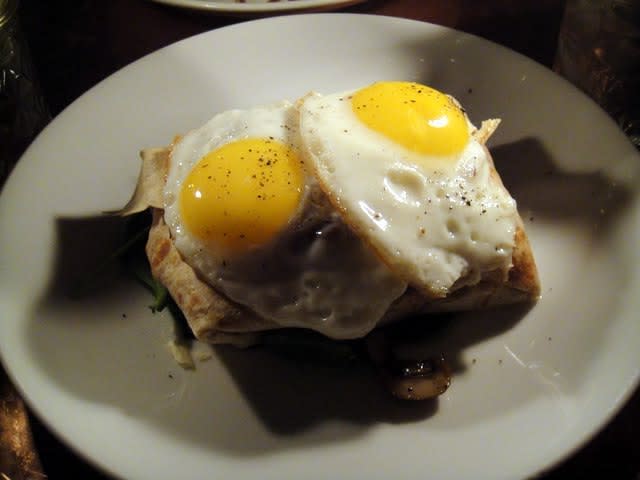 Tucked away in the Pirates-of-the-Caribbean-like alley otherwise known as SW Ankeny, next to Valentine's (a lower downtown bar that doesn't suck) in a space last known as a hair salon, is a new lower downtown bar that doesn't suck. That is, of course, my opinion, as I would much rather sip on medicinal-flavored throw-back cocktails with a heap of hipsters than do body shots with a flock of frat boys.
Central certainly qualifies as stomping grounds for hipsters, those "wacky" creatures that make up about 75-percent of the population in most cities these days.
First, the bar-portion of Perierra Crêperie owner Dustin Knox's three-shot operation (there's a new PC crêpe window that opens onto the street and Central will double as a brunch spot called Periodic come January) is supposedly "speakeasy-style," although I think they're pushing it with that definition because anyone can push through the mysterious black curtains and order up a drink with ingredients they've likely never heard of, such as the smoky Penicillin (Famous Grouse, Laphroig 10yr) or the lounge-y Work in Progress (Bols Genever, St. Germain, Fernet). Apparently that title has more to do with the fact that this joint has been jumpin', 5pm to 2:30am, daily, for about seven weeks now, despite zero advertising, signage, or online presence of their own. (EaterPDX has made mention and the Oregonian ignited another charming culture-war with their review.)
Second, the space can only be defined as "industrial rustic," a divine hodge-podge of elements like exposed beams, stripped concrete floors, walls of ragged brick or Victorian-era fabric, gorgeous high-tops made from heavily lacquered chunks of trees, and long metal share tables dotted with adjustable oil lamps in jam jars and surrounded by stools that might have come from a middle school science lab. A vintage windmill wheel slowly spins on the ceiling and a massive elk head watches over all.
I love it. And my first foray into Central's dark, warm, glow-y depths was all the better thanks to the dishes prepared by house crêpe-man Neal Barnard. Preceded by a side salad of lemony-garlicky greens tossed with addictive salty-sweet pralines, the hefty savory versions come packaged in thin, al dente crêpes that manage to maintain their integrity despite their fillings and toppings—a real plus.
A perfect combination is the one stuffed with nutty gruyère and spicy "cock sauce" (aka Sriracha), served over wilted spinach, and crowned with soppressata, sautéed mushrooms, and two exquisite baked eggs. The butternut squash, bacon, mascarpone, onion, and kale option is also delicious, but quite rich, and with the sweetness of the squash, it could double as a dessert.
Speaking of dessert, I was plenty full after my dinner, but I just had to finish up with a treat. The sweet offerings are relatively simple, just as they should be, allowing the minimal ingredients to shine rather than overpower. The buttery and slightly-crispy cinnamon & sugar version, for example, is really all you could ask for—nothing beats a sexier slice of cinnamon toast on a rainy winter night.
With an outpost of the hot Seattle pizzeria Via Tribunali scheduled to open sometime next year in the same building, there's talk that the Ankeny alley might be closed to traffic and become a real European-style pedestrian (or, I'd argue, pirate) paradise.
That would make this 33-year-old hipster sitting at her computer in old sweatpants and glasses simply love it all the more.