Cheap Eats
On the Pho in Downtown
Hefty portions of crush-worthy Vietnamese-Thai fusion fare at Pho PDX.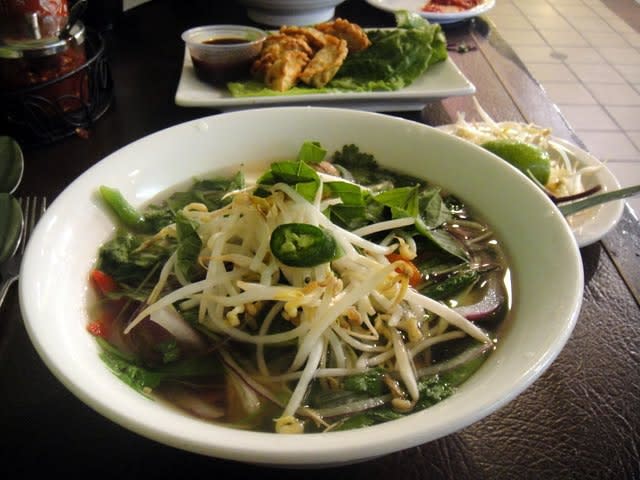 If, like me, you always spend the week before Christmas racing around trying to purchase last minute gifts, you're going to want something warm and delightful for lunch, especially when the weather outside is continuously so freaking frightful.
Yesterday I found my refueling fix at Pho PDX ("traditional Vietnamese and Thai dishes with a modern twist"), located at 827 SW 2nd Ave in the Global Food Court across from Bally's Fitness. That food court is a weird little space… poorly lit and shabby, although the people who tend the counters (there's also Indian, Korean, and a sandwich shop that sells Hawaiian favorites and Puerto Rican yellow rice and beans) are all beaming rays of TRON-shine and the place appears to bustle with business.
Especially the pho folks. The counter is only open 11am-2:30pm, Mon-Fri, and I watched more than a few hungry holiday shoppers get turned away at 2:34pm, as I sat there happily slurping my steaming soup.
The pho itself is good—not great, but a solid good. For $6.50, the beef pho gets you a giant (and I mean giant) bowl of broth, rice noodles, cilantro, onions, and an impressive portion of tender round steak and lean brisket, plus all the texture and flavor enhancing boosters (e.g. bean sprouts, basil, and lime) you could want. I also love that every single table on both floors of the court has a tray of hoisin, Sriracha, and sambal—I wish I had one at my house.
The one player that prevents a "great" title is the broth. There are definitely more flavorful versions, in which you can really taste the star anise, cinnamon, and cloves. This one is pleasant enough and feels cleans, but it presents more like a sweet and sour soup (Warning: If you are accepting of change, you will be fine with the broth; if you are a traditionalist, then you are likely to join the other angry people who live to complain on Yelp). Regardless, this pho does do all the right things: shows up quickly, fills you up, clears your head but not your wallet, and doesn't make you feel dirty (see McDonald's or Taco Bell).
Other pho options: steak and meatball, chicken, seafood, and "pho tom yum," seasoned with lemongrass, tamarind spices, shrimp, and avocados. A vegan version is always nice to see, and this uber-fresh one overflows with string beans, bell peppers, and mushrooms. My only kvetch there is that the plentiful tofu chunks are soft and bland—I prefer my curdled soymilk fried and chewy.
All in all, though, it's a great meal deal, which we could certainly all use this time of year.