Interview
5 questions for: wine country wizard ERIC BECHARD
Thistle's dashing defender of local pigs dishes about the upcoming Community Plate and other places to eat good in his neighborhood.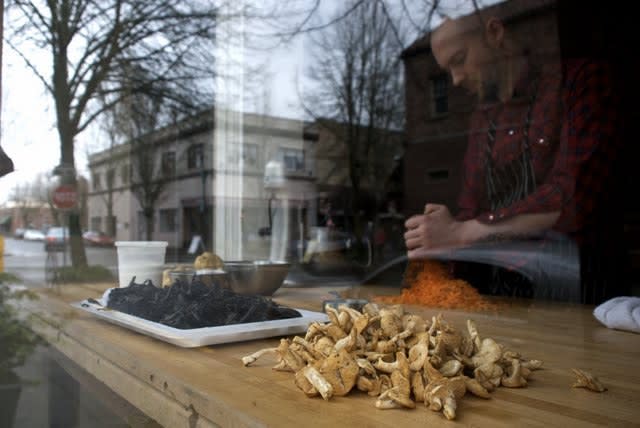 Eric Bechard, commander-in-chef of wine country's classy Thistle, will be opening a new establishment in McMinnville this February. Sporting a more casual, everybody-knows-your-name vibe, Community Plate will cater to the area's indigenous populace—cellar rats, tasting room kids, wine makers, Linfield College students, restaurant industry folk, and neighborhood peeps. Well, and any out-of-towners who want to drive over and appreciate the cornucopia of native food and drink that spilleth over in Oregon's wine country.
According to the 32-year-old restaurateur, his new venture's cuisine will be an extension of the philosophies that guide Thistle, namely a fierce passion for cooking with meat, fish, cheese, and produce that is only a hop, skip, or short drive from its origins.
The Morning Menu (8-11:30am) will feature Stumptown coffee and treats like baked eggs and house-made scones, croissants, and breakfast breads. For Lunch (11:30am-4pm), expect seasonal salads, soups, and sandwiches, as well as a Ploughmans plate and small bites such as deviled eggs and spiced filberts. At Dinner (5-10pm) you can select a protein like roast chicken, meatloaf, or rockfish to pair with sides like mashed potatoes, collard greens, and spring peas. And it's all served in airy, refurbished 120-year-old historic building in Old Town (3rd Street) with antique industrial décor, communal tables, and an open kitchen, natch.
We caught up with the busy Bechard and asked for an insider's POV on Community Plate and the region he holds so dear.
1) With one successful wine country restaurant already under your belt, why this style of restaurant in this location right now?
Because it doesn't exist. Made up of many communities, wine country is not just a tourist destination. The locals want something that can offer the quality of a "wine country restaurant" without the price tag—a casual neighborhood eatery that appeals to everyone who calls the Willamette Valley home.
2) You refer to the menu as "Old School Cookery"—what exactly does that mean?
Classic Americana, pork chops and applesauce, the dishes and foods our grandmothers made for us as children. The twists will be in the techniques and ingredients, making these dishes new and exciting while at the same time familiar.
3) If someone was going to eat breakfast, lunch AND dinner at Community Plate in one day, what eats are too awesome to be missed?
Start with an espresso and a bowl of steel-cut oats with buckwheat honey and dried figs. Midday, get the thick-cut bacon and soft-boiled egg sandwich with a cup of green tomato soup. To end the day, have the burger (1/3 pound ground chuck, horseradish mayo, caramelized onions, white cheddar, and arugula) and house-cut fries or roast chicken with baked mac and cheese and vinegary greens. Either way, finish with a slice of huckleberry pie and loose cream.
4) Who do you look to for culinary inspiration?
I am inspired by farmers, winemakers, and chefs who are passionate about their craft. Farm: Kullas (Oakhill Organics), Mike (Gaining Ground Farm), Mckibbons (McK Ranch), and Judy (Slow Food Yamhill County). Wine Industry: Tad (Ransom Wines & Spirits), The Myers (Vinetenders), and Remy (Remy Wines). Chefs: Matt Lightner (Castagna) and Ben Meyer (Grain & Gristle). Individuals who are striving to make their culinary scene and community more interesting and diverse get me excited to be part of this field.
5) What are some other wine country restaurants you're loving right now?
The Blue Goat in Amity (amazing vegetarian empanadas), El Paraiso Taco Truck (the beef tongue and goat torta is happiness on a bun), and Kame—the udon noodle soup with a poached egg is Japanese comfort food.
Community Plate hours: Tues & Wed, 8am-4pm, Thurs-Mon, 8am-10pm.