Interview
New Year's Resolutions 101
Trim down tips you'll actually enjoy from Jenn Louis, chef/owner of NoPo's Lincoln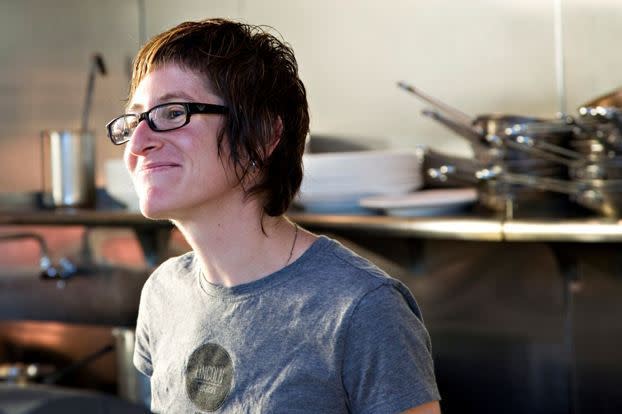 Jenn Louis, chef/owner of North Portland's consistently delicious, fresh, and elegantly innovative Lincoln, was a skinny kid. "I was a competitive runner and worked out," she says. "Then I got married, started a business, and got a little lazy."
In addition to skipping her workouts, eating too many rich foods in the line of duty helped Louis pack on some extra padding. But about five years ago, she realized she didn't have the energy and strength she needed for the very physical job of cooking in a crazy-busy kitchen. The solution wasn't a fad diet like starving herself or subsisting only on animal parts. Instead, she started up a vigorous exercise routine and changed how she ate, controlling the portions and choosing leaner but more filling and nutrient-packed foods. After about a year, she'd lost 35 pounds.
Even here in Portland, you'd be hard-pressed to find someone who doesn't have shedding a little waistline or butt baggage—or at least toning up and improving their health—on their New Year's resolution list. To help kick-start your self-improvement, Louis has five tips for low-cal ways to work with winter ingredients.
1) GREENS: Eat lots of greens, such as kale, cabbage, mustard greens, turnip greens, etc. They're in season and are both naturally quite low in calories and loaded with great vitamins. Braised greens are wonderful with all sorts of proteins for a side dish, as well as whole grains or beans like corona, flageolet, and borlotti for a vegetarian entrée.
2) OLD-FASHIONED CHICKEN STOCK/SOUP: Make homemade chicken stock (I call it "liquid gold") and use it for brothy soups. You can load them with vegetables, greens, beans, and lean protein. They are satisfying and will keep you warm in this cold weather.
3) FRUIT: Snack on winter fruits like tangerines, pears, apples, oranges, and dates. Fruit is a great low-calorie, low-fat, high fiber, and vitamin-packed solution when you need something between meals.
4) FARRO: Whole grains (not milled flours) are great for your body. They are lean, high in protein, and filling.
5) SQUASH: Rather than pasta or refined rice, get your starch from roasted squash. It provides great nutrition and is delicious. There are so many varieties! Start with one type and see how many others you can try by the end of winter.
RECIPE: Kale Bagna Cauda
Serves 4 as a side dish
1 pound kale, thick stems removed
6 T olive oil
1.5 t chile flakes
3 small cloves garlic, sliced very thin
8 anchovies, packed in olive oil
2 t lemon juice
Blanch kale in salted boiling water until wilted and the chalky flavor disappears. Remove kale from heat and shock in ice water until the greens are very cold. Remove kale from ice water and squeeze out all excess water. Slice into thick ribbons and set aside.
In a medium pan, warm olive oil, chile flakes, garlic, and anchovies over medium heat. Use the back of a fork to break up anchovies as mixture warms. Anchovies will dissolve and flavors will meld. Add kale and warm through. Squeeze lemon over kale, season with kosher salt and pepper, and serve.