First Impressions
Good Eats at Grain & Gristle
Parking on NE Prescott is about to get a little dicier, thanks to great beer and step-above grub at Grain & Gristle.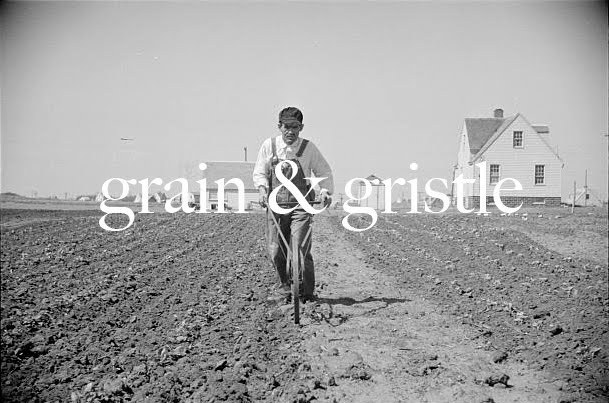 Glancing around Grain & Gristle's warm and woody interior (a U-shaped maple bar, exposed beams, wood table tops and chairs, wooden salt and pepper shakers), I have the distinct impression that I could be an extra in an episode of a modern version of Thirtysomething. I'm nearly 34 and the peeps that pack the tables look to be my kind of crowd—casually dressed and mildly tired thirty-somethings who want great food and drink without the pomp or high prices.
Of course, there are also a few groups of perfectly happy older folks and a couple pairs of younger lovers nervously trying to impress each other (I bet they drove home talking about how they both love Williamsburg), but I relish the feeling—false though it may be—that this gastropub was made for me.
Ben Meyer—who co-owns the joint with Marcus Hoover and Alex Ganum, owner of Upright Brewing —told me that having lived in the neighborhood (G&G's location is 1473 NE Prescott) for years, he always wished there was a comfortable place where he could go alone after work and grab a bite and a pint, but also take his girlfriend for a full meal.
Well, he built it and local livers seem only too happy to come—my husband and I, who live about five blocks away, made our first foray on a recent Sunday around 6:30pm and had to wait 10 minutes for a table. Seating is done free-for-all style, but the cheery servers actually keep watch and help direct traffic.
My first move upon sitting was to scan the drink menu: three wines, a carefully curated selection of booze, and a handful of alcohol-free options like the extra-fizzy bottomless house mineral water for $1. But the real standout libation is the beer. The board above the bar catalogs bottled options and eight rotating brews on tap, including a refreshingly bitter Beer Valley Leafer Madness and a palette-pleasing Block 15 Pappy's Dark, aged in bourbon barrels. Most beers are available in 8oz, 12oz, and pint pours.
The food menu—broken up into Salt, Vegetables, Protein, Cheese, 2-fers (a couple-friendly special entrée, two sides, and two beers), and Sweet—showcases local farmers, ranchers, and craft producers, but many of the dishes are reminiscent of countries like Germany and Belgium. In other words, countries that are known for their beer.
Salt ($3-$5) is mostly snacks like pork rinds, house pickles, and a Fressen pretzel. Vegetables ($4-$7) include three simple salads, two sides, and house-made "Freedom Fries" and onion rings. I loved the piquant kick and char on the Mustardy Brussels, although they were a couple leaves too soft for my taste. But I could have happily eaten a soup tureen full of the crisp romaine salad with sweet pickled onion, snipped herbs, and a silky coating of maytag bleu dressing.
As for Protein ($8-$10), salt cod fritters and Belgian-style mussel frites share the billing with classics like braised pork, a pastrami reuben, and Portland's ever-present burger. On the lighter side, a spicy pork link gets a touch of cooling sour sweetness with cabbage, apples, and a drizzle of sour cream. For now, it appears vegetarians will have to make do with Steven's three-cheese board ($10). It wasn't particularly exciting the night I was there, but the portions were more than fair.
I also liked the look of the Sweets (think apple pie with a cheddar crust and custard for $6) because they sounded like comfort food and art at the same time. But we had over-burdened gastrointestinal systems from spending Christmas in Paris, so we decided to save dessert for our second visit.
Which will surely be soon. The space is great, the beer is boffo, and the food is well on its way. To quote the table of straightforward thirtysomethings sitting next to me, This is a really great addition to the neighborhood!"