Interview
5 questions for: master pasta maker, ADAM BERGER
The proprietor of Northeast's Tabla Bistro talks positivity, pasta, and tasty places other peeps are eating.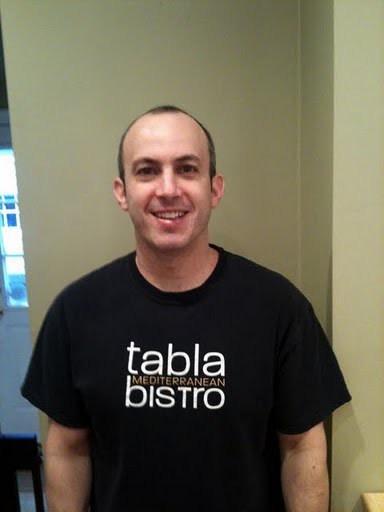 A month and a half after the tumultuous Ten 01 succumbed to a combo of the economy, size, and the somewhat fair weather Portland dining set, its former proprietor, Adam Berger, 41, has refocused all his energy on his original Portland eatery across the river, Tabla (200 NE 28th Ave). Unlike its bigger, splashier, doomed to a perpetual "rocky start" or "rollercoaster" reputation younger brother, Tabla has remained neighborhood-y and relatively consistent. Dishing up Mediterranean fare from regions like Spain, France, Northern Africa, and Italy, Tabla was one of the first restaurants in Portland to peddle tapas and employs old Italian techniques for handcrafting fresh pasta that is presented with modern twists.
Here, Berger chats with us about moving on, making pasta, and where he might eat if he didn't have three little macaroni of his own at home.
1) What's your post-Ten 01 takeaway about the current state of Portland's restaurant scene?
People in Portland, like everywhere, love novelty and the excitement of going to the "new" place. Restaurants definitely have a life span. Some live short and fast, while others become multigenerational. Both contribute to the variety of Portland's exceptional dining scene. I am very optimistic about what's going on here.
2) What's got you excited these days?
I'm excited about being at Tabla every day and being able to focus on one restaurant. I know chef Anthony [Cafiero] will be cooking some exciting new dishes when he gets back from Spain, where he has visited lots of tapas bars and some very high-end restaurants in Madrid, Barcelona, and San Sebastian. I'm also planning on doing a series of dinners based on Anthony's trip, which should be phenomenal, and we are going to be reaching out to our favorite local winemakers for some fun events.
3) What should we be eating at Tabla today?
We make five or six different pastas fresh everyday and they are all outstanding. The Tabla Ravioli, for example, is still one of my favorite dishes. It's one giant ravioli filled with ricotta, chard, and an egg yolk, simmered for two minutes so that the pasta is perfectly cooked and the yolk is runny, and then garnished with butter, cheese, and poppy seeds—awesome! Another favorite pasta dish recently has been a simple pork sugo. Anthony brought in his pressure cooker and all the cooks fell in love with it. We make a wonderfully simple sugo with pork shoulder, white wine, tomato, garlic, onion, and prosciutto, pressure cook it for 45 minutes, and then toss it with fresh pappardelle and some grated parmigiano reggiano. Amazing!
4) I hear you took some staff over to Tabla from Ten 01—in addition to crave-worthy pastry chef Jeff McCarthy, can we get some names?
I took Kara and Greg from the Ten 01 bar when two of my Tabla servers moved on. Lia Termini is doing a really great job as my bar manager at Tabla and I knew that Kara and Greg would both be a good fit—our cocktail program is really one of the best-kept secrets in Portland. But I wish I could have taken my whole Ten 01 staff over. They were all very good.
5) What are some other restaurants around town that you are loving right now?
Besides working nights, I have three small children at home, so we don't go out all that often. I eat vicariously through my staff. They've enjoyed St. Jack and Little Bird and always go to Meat Cheese Bread and Biwa.