Cheap Eats
The Best Mex this Side of the 'Burbs
La Bonita opens a second outpost, bringing burly, budget-friendly burritos and more to North Portland.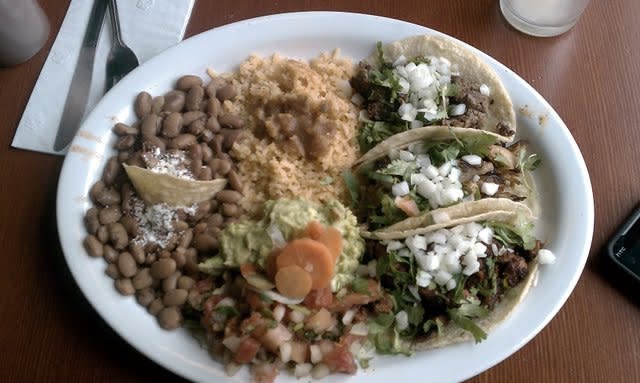 When it comes to Mexican food, a term like "best" can lead to brawls. People get reallllllll passionate about their al pastor, tortillas, and salsa, or the delicate balance of ingredients that builds the perfect taco, burrito, torta, or tamale.
Here in Portland, the joints that get it right tend to push out to places like deep Southeast (Taquería Antojitos Yucateco), Beaverton (Chavita's), or Hillsboro (Taquería Hermanos Ochoa's). But closer in, my favorite so far remains La Bonita, a colorful, bustling taquería which just opened a second branch last Friday at 2701 N Killingsworth, next to the North Station Food Cart pod. (The original LB is located at 2839 NE Alberta St.)
This isn't to say conclusively that there's no other townie taquería that's more for real. Rather, LB is real enough Mexican food that, like that worn-in T-shirt, doesn't hurt you and keeps you coming back for more. It did the trick when I had just moved back up to Portland and was desperately missing the Hollywood taquerías (El Gran Burrito, Cactus Mexican Food) I would go to at 2:30am after I was done peddling over-priced martinis and Tapanese (Asian-style tapas…) to drunk idiots at my night club job. There was no vegan sour cream, flesh-free chorizo, or $8 guacamole here. No, at these no-frills establishments, surrounded by other service industry folk, drug addled hipsters, and transvestite prostitutes, I'd get burritos that were simple (beans and cheese or meat, onions, cilantro, true salsa, and maybe rice, avocado slices, or crema), flavorful, enormous, and CHEAP.
Similarly, at La Bonita, a basic gut-busting burrito will only set you back between $3 (bean & cheese) and $5.95 (carne asada, machaca, al pastor, lengua, shrimp, or fish)—and you won't regret it the next morning. There are other variations (get it fajita-style or stick an oozing chile relleno in it) and you can add a heaping portion of fresh, garlicky guac for only $1.25.
But their exceedingly affordable menu extends beyond the burrito, including breakfast (e.g. huevos con chorizo for $7.95), tamales (pollo, chile verde carnitas, or fajita veggies, $2.50 each), chimichangas ($6.95-$8.90), menudo and pozole ($5.95 small; $7.95 large), real Mexican Coca-Cola, a tart, luscious jamaica, and more. A best bet is definitely the tacos ($2-$2.95 each) Made with soft, toasty homemade tortillas, chopped onions, and cilantro, you get heaping portions of toppings like tender carne asada, smokey al pastor, and expertly-caramelized carnitas.
In addition to burritos, vegetarians will like the over-stuffed cheese enchiladas smothered in an earthy red sauce—a gargantuan platter with three, plus well-seasoned beans, rice, pico de gallo, pickled carrots, and guac, is $10.95. The chile relleno is rich and tasty, but is served in a sauce that makes it soggy and the vegan tamale is a bit bland.
I also wish they'd get better chips and a broiler so they could make ooey-gooey nachos rather than mounds of cheese wilting over warm beans, but this isn't common fare in many taquerías anyway, so, in the interest of not appearing too Baja Fresh-y, I won't complain too loudly.
The new LB branch is open every day, 10am-9pm, but they plan to add a small bar at the end of March, once all the licensing is dealt with, and will likely change closing time to 11pm or later.