Interview
5 Questions for: Graped Crusader, STAR BLACK
Clyde Common and Olympic Provisions' wine director talks natural wines, modern pairings, and the upcoming wine revolution.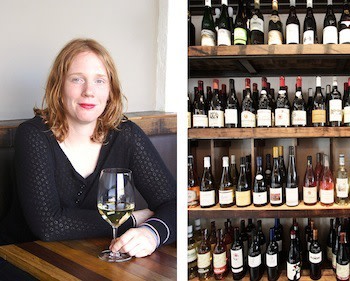 Star Black is on a mission. As the wine director at some of Portland's hottest restaurants, she's hoping to translate the city's obsessions with artisan foods, small distilleries, micro-brews and locally-roasted coffee into a love of well-crafted wine – and she wants you to join her. The stylish redhead is behind the well-curated wine list at Clyde Common, and she's played an essential role in the redefinition and expansion of Nate Tilden's Olympic Provisions empire. With the opening of the new Olympic Provisions Northwest in April, Black will head the wine selection of both charcuterie outposts and Clyde Common.
Black's passion for vino is clearly on display as she carefully unpacks tall stacks of bottles in front of the "wine wall" at Olympic Provisions' industrial Southeast headquarters. Seeing her hold up each bottle to the light like a new baby, it's easy to imagine her leading the next generation of wine lovers in what's quickly becoming Sip City, USA.
Here, Black gives us a taste of her wine philosophy and what's next in her plans to take over the world, one glass at a time.
1) First things first – How did you get started with wine?
I came into wine through food. I went to culinary school and was a cook for many years in restaurants in New York, and I would sit in on wine meetings with the front of the house staff and pester the sommelier, asking tons of questions. I was just so amazed one grape could become so many different things, I just realized I loved wine and needed to know more. I was also getting burnt out on cooking, so I quit my job in a Brooklyn restaurant and took a long walk home instead of riding the subway. I walked past a wine shop, stopped to talk to the proprietor, and bought a bottle of wine. I came back a few days later with a resume.
2) Given your experience with both food and wine, how do you think the two are related?
There's been a revolution in wine over the past 5-10 years of "natural" winemaking, biodynamic wines, old-school indigenous varietals, un-messed-with fermentations and natural yeasts with minimal manipulation, which is a total parallel to what's happening in the food world right now. That's really what's going to draw in the next generation of wine lovers. I see people getting up early to go to the Portland Farmers' Market on a Saturday morning, these cool, young people toting canvas bags full of beautiful produce, meats, and cheeses. Wine is just an extension of that. It's an agricultural product that should attract people who care about what they put in their mouth.
3) Are there differences between how you approach the wine selections at Clyde Common and Olympic Provisions?
At the core, both restaurants have the same underlying philosophy of offering interesting producers, wines from Europe and Oregon, and natural winemaking. However, Clyde is a more traditional restaurant – in that there is a structured menu, with entrees, appetizers, and dessert – that calls for more traditional pairings, whereas Olympic Provisions is first and foremost a charcuterie facility. Right now I'm expanding Olympic Provisions' wine list, and offering all of our wines at 25% off the menu's list price, which I really hope will get people tasting as much wine as possible. There's a whole world of pairing wine with these fantastic cured meats, which is so much fun.
4) Speaking of which, OP chef Alex Yoder recently described the perfect Olympic Provisions meal and, as far as wine goes, said, "I don't worry too much about pairing. My advice is to drink what you like." What's your take on wine pairings?
I think wine pairing is still completely relevant. Beautiful food deserves beautiful wine, and the two are great dance partners. Wine can definitely enhance the flavor of food, but the old rules of 'white with fish, red with meat' are so out the window and everyone knows it. I've actually been really excited about Sherry pairings, and we're doing a Sherry flight [at Olympic Provisions] that is really taking off. Wine pairing shouldn't be intimidating. At home, I drink a lot of rosé and white wine. I don't drink much red because my palate gets fatigued from all the stronger wines at work, and I usually just want something clean and refreshing.
5) Portland is head over heels for coffee, beer, and spirits – how do you tap into that when you're creating a wine list or helping someone select a bottle?
Wine has a reputation for being intimidating and exclusively for the wealthy, and that's too bad, because it's none of those things. It's a rotted grape. It's so humble, but so incredible. My ultimate goal is to normalize wine and make it a really cool interesting thing, like those varieties of coffee beans or different kinds of hops. I'm always inviting guests at the restaurants to taste a few of the different wines I have open, try to get them to hone in on something that is just really interesting to them. Wine is awesome, and so personal. You just need to find your own style.