Market Watch
Pack Up A Farmers' Market Picnic
Fill your basket with venison-cherry pâté, salad greens, prize-winning cheese, local cider and bread from the PSU Farmers Market.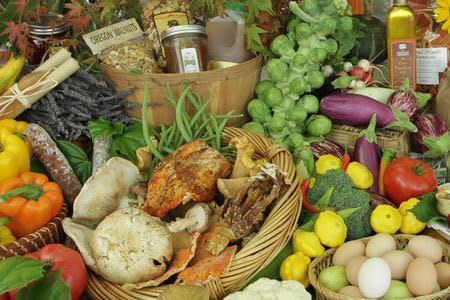 It's 8:30 a.m. The starting bell at the farmers' market has rung and hopefully you're in line at Café Vélo. Dark and toasty? Chocolaty and round? The friendly coffee crew can help you decide which of their single origin brews (the largest selection in town, from eight different roasters) is to your liking, whether it's individual drip ($2.50) or French press ($2). Don't be daunted by the long line—it moves quickly. While you're there, snatch a tasty French crepe from C'est Si Bon! next door.
Coffee in hand, head over to Pearl Bakery for a crisp baguette ($2.25). But what's bread without cheese? Ancient Heritage Dairy makes some of the best cheese in the states. Here, you can sample the Obringer family's spectacular, prize-winning creations from Scio, Oregon. Don't miss the pure sheep feta ($7) or the rich and creamy Adelle ($5–8).
Next stop: Chop Butchery for a slab of their handcrafted pâté. The venison cherry is excellent, but let Eric surprise you with his latest concoction. Don't linger too long over the samples, it's time to procure salad greens from Gathering Together Farm. Picked the day before, as fresh as a city girl can hope for, the vibrant salad mix of baby beet greens, escarole, radicchio, and lettuces always brings a smile to my face. Simply dressed in sea salt, olive oil, and vinegar, and tossed with some crunchy Oregon hazelnuts from Freddy Guys, your picnic fare is complete. Well, almost. An ice cold bottle of hard cider from Wandering Aengus made near the state capital, adds a festive local touch to your Oregon picnic.
Bon Appetit!