Cook This Now
Spring Crudite On Its Way
A sweet spring vegetable platter is all you need to make the season shine. Bright and healthy, don't miss the spring crunch happening in the Pacific Northwest now.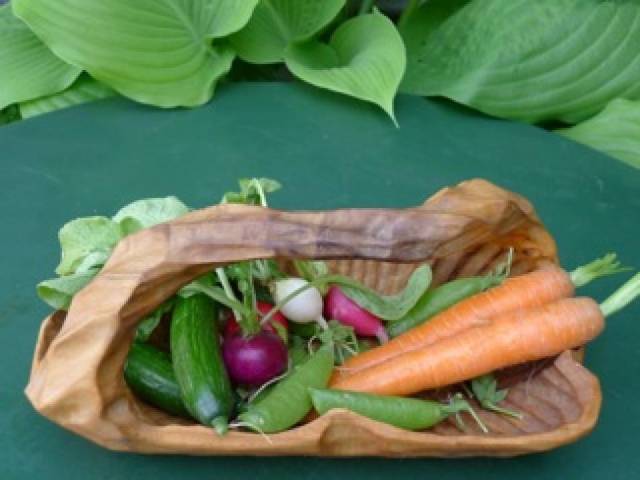 If you haven't been to the farmers' market yet this season, shame on you! There are so many delicious treats longing to be devoured. Our fertile soil has given up crunchy goodness in the form of carrots, snap peas, radishes, and cucumbers.
I've been buying pints of sugar snap peas ($3) from DeNoble Farms weekly. Pull down the string and take a bite;The juice pops and the sweetness lingers. These fleeting sugary treats are scrumptious eaten raw or added to a wok for a very quick saute. From Groundworks Farm, just across the aisle, you'll find bunches of small juicy carrots, so flavorful that store bought carrots seem a waste of money and time. Their seedless Armenian cucumbers, sometimes called Diva cucumbers, are one of my favorite things ever. When I left California six years ago, I was distraught about not finding these incredible Med cukes here. But a couple of years later, when they suddenly appeared at a few farmstands, the great Northwest redeemed itself once again. Radishes, though grown mostly year-round, are in their prime right now. Not too spicy, but extra juicy and flavorful.
Showing off these vegetables on a big beautiful platter is one of my favorite appetizers or party foods. You can slice the vegetables, either in half or on an angle, to make them smaller; Or simply leave them whole, leaves and all and let your guests do the work. Provide a small bowl for roots and leaves. Then, put your favorite dip or dressing, homemade or bottled, into a pretty bowl, pile your vegetables onto your favorite big plate, and voila: you've got yourself a spring crudite platter to be proud of. I prefer a simple dressing or dip, so as not to mask the flavors of these spring gems.
A little good olive oil and vinegar and salt is all you need.