BREAKING FOOD NEWS
New Bunk Sandwiches to Open Downtown
Sandwich kings Tommy Habetz and Nick Wood head west with their third location.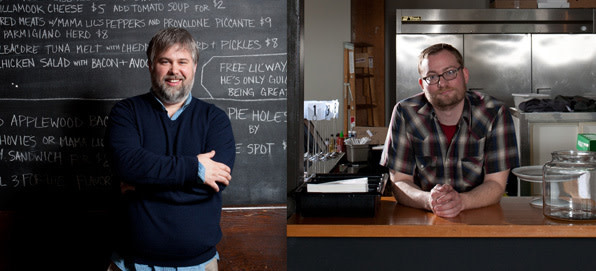 Downtown is back: Bunk Sandwiches just signed a lease to take over the Hillbilly Bento "southern boxed meals" spot at 211 SW Sixth Ave with an eye to open in early fall.
Co-owner Tommy Habetz tells Eat Beat the new joint will look like a miniaturized version of the Eastside hole-in-the-wall location with a minimalist counter, some stools, and a blackboard menu full of Bunk classics (best Cubano ever?).
"We just wanted to bring Bunk Sandwiches downtown for people who are scared of the east side," says Habetz with his signature big laugh. The new location is happily sandwiched between Gabriel Rucker's Little Bird and Middle Eastern take-out treasure, Café Velo. The downtown dead-zone is shaping up to become a foodie hot spot.
The new location is just a slice of Bunk action. Habetz says Bunk (621 SE Morrison St) is expanding this week to include Sunday—that's seven days of non-stop sandwich Americana. Bunk also has a catering arm geared towards businesses and parties. A Bunk-flavored wedding? Already happened.