Review
Field Studies
Some of the city's best chefs gather for a new kind of farm fest.
ON A COOLISH AFTERNOON in June, 65 food lovers—families, a small flock of LA refugees, and a posse of French-speaking oenophiles—convened around two long tables covered in white linen, big Ikea plates, and bursting peonies for three hours to savor four courses of some of the best food to be found, farm-picked, fresh-butchered, and wood-fired just steps away.
Served by Wild Goose Farm, it was a new rural experience, more rugged than most "farm to table" field dinners: intimate and unscripted, yet at the same time elegant and highly crafted. The setting is on a five-acre farm on Sauvie Island, deep in lush grass and surrounded by garden patches, beehives, chicken coops, a big barn kitchen, and an outdoor wood oven that looks an igloo. Eco-architect Yianni Doulis and his interior designer wife, Jessica Helgerson, have transformed their ag-urban hybrid into a kind of homestead speakeasy, with tables and evenings art-directed to reflect their love of food, drink, and design.
The duo test-drove their intensely artisanal supper club with a few dinners last fall. At one, the neighbor's combines even gave a dusty confirmation of the setting's authenticity. While Doulis and Helgerson are still navigating the slalom course of Oregon's farmland protection laws that don't want crops to be replaced with cafés, the couple's goal is to introduce eaters to talented newcomers and cooks currently unattached to traditional restaurants. Wild Goose began its 2011 series on June 19 with chef Thomas Boyce, who has been chewing over his place in Portland's restaurant scene since arriving last summer with his star baker wife, Kim Boyce, after years as chef de cuisine (second in command) at LA's high-flying Spago restaurant.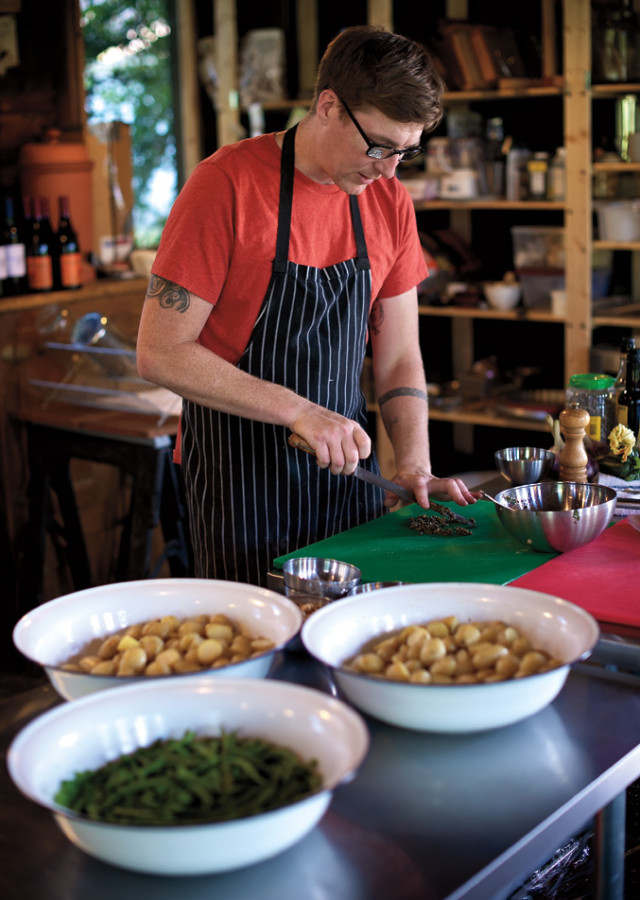 The menu captured, impressively, what Boyce might bring to the local table. The appetizers: elegant oysters beneath finely grated radishes and a collection of wood-fired pizzas sporting porcinis, fava beans, and other seasonal surprises to match a honey-tinged crust learned from Spago boss and California pizza king Wolfgang Puck. Course one: Doulis's chicken liver terrine (featuring his own chickens) to match Boyce's rhubard mustard and eye-popping spring salad, with each vegetable cut to reveal hidden beauty. Course two: breathtaking fresh pasta pinched into beautiful packets. Course three: expertly wood-oven-roasted salmon with skin as crispy as bacon. And dessert: cornmeal-golden, fatly chunked, hand-folded rhubarb tartelettes as voluptuous as their maker, an eight-month pregnant Kim Boyce.
Half of the dishes were made in a barn, on a small three-burner camp stove, choregraphed by a guy wholooked like Nijinsky warming up at the ballet bar. The question on everybody's mind: when can we eat Thomas Boyce's food again? The answer came two days later, when he signed on to transform Bluehour's long-drifting kitchen, starting in August.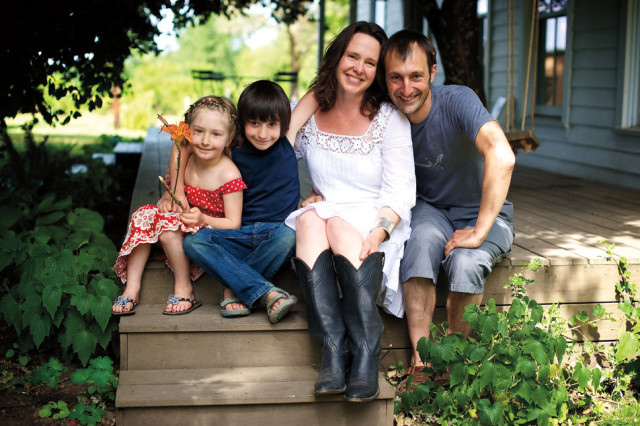 The occasional feasts at Wild Goose include a growing harvest of fruits and vegetables plucked from the yard and walks around the charming, slightly scraggly property. The bathroom is in the house, itself a telling microcosm of Doulis and Helgerson's new breed of farm life: barnwood walls, books galore, a sleekly modern slipper bathtub, and bunk beds for the kids—all packaged in 540 square feet.
Children are welcome at the dinners, with their own beautiful table, and child care comes with the deal. There's even a ladder to climb a tree.
Given the one-event-per-quarter rule Oregon imposes in farmland zones, Doulis and Helgerson are eyeing the fall for their next dinner. Go to wild-goose-farm.com for more info. Wild Goose, of course, is merely one of the region's farm-to-table offerings. Here's the lowdown on more of what's available this summer and fall.