What's For Lunch?
Hammer Time
I chat with Food Network Canada about Big-Ass Sandwiches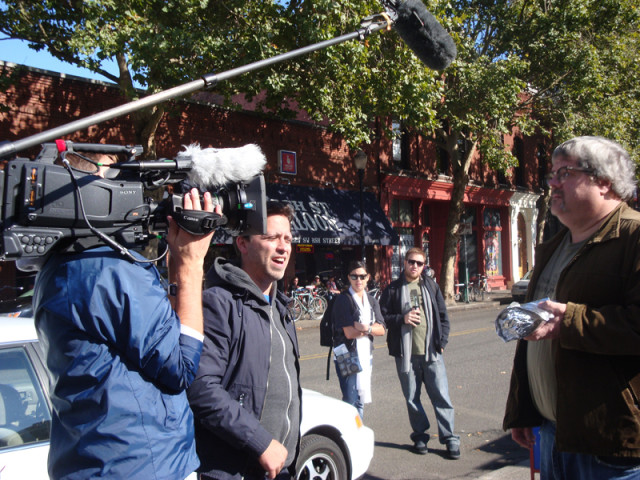 Since there's no way to look dignified while eating on camera, I decide to distend my jaw like a Burmese python and take a monster bite. And now, with my gob crammed full of pork products and french fries, they want me to talk about the sandwich. Ye gods!
My love of Big-Ass Sandwiches is well documented. Whether I'm salivating over an old favorite or bragging about having a sandwich named after me (really, the greatest honor a living person can get), my admiration for Brian and Lisa Wood's colossal creations is boundless. Today I was asked to sing my praises to the public, specifically Food Network Canada, the second camera crew in a week to drop by the Big-Ass Sandwich cart (Travel Channel was here on Saturday).
With the camera rolling, my face littered with yummy detritus, I tried to explain what it was that made the Pork Hammer (bacon, sausage, ham, french fries, and coleslaw), my selection of the day, such a winner. "You know how in a restaurant when you're ordering breakfast, and they ask if you want ham, bacon, or sausage? Well, the Pork Hammer eliminates the need to make painful decisions," I tell the interviewer.
"What do you like about it? What are you tasting?" he asks.
"Pig, glorious, pig," I reply through a mouthful of carbohydrates. "The crispiness of the bacon, the suggestion of spice, fennel maybe, from the sausage, with the ham as a sturdy foundation, it's positively mind-bending. And then there's the french fries—pork and potatoes. It's like a massive breakfast between two fresh-baked buns."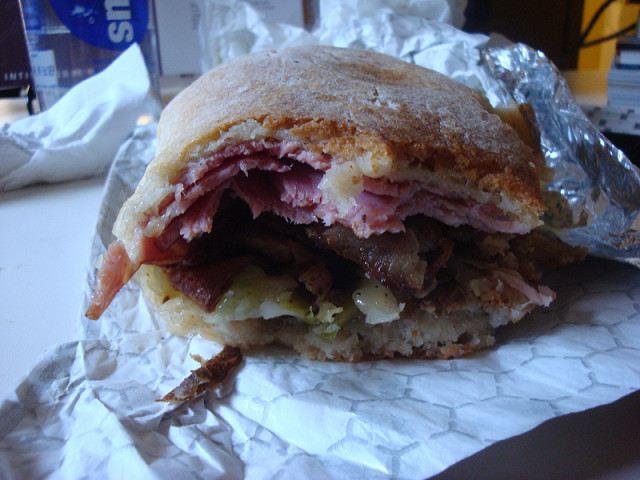 "This is not a sandwich, it's a statement of defiance. A delicious middle finger to anyone who ever told you not to eat something because it's bad for you. I think a Big-Ass Sandwich fan understands that they may well be cutting into their own mortality. So you lose some drool time at the end of your days. So be it. This is for those of us who have chosen not to live in fear."
At least now I have some footage for my "reel." Hope I don't end up on the cutting-room floor. By the way, this week's special at BAS is called the Devil's Breath Mint. It's slow-cooked goat in a garlic chili sauce, Poblano coleslaw, raw onions, fries, and a splash of Secret Aardvark Sauce. Go. Eat. Rest assured that even as we speak, our top scientists are working on a brilliant formula to purge our bodies back to pristine condition. I think I read that somewhere. Or saw it in a movie. Anyway, bon appetit!