HOMETOWN PRIDE
Strong Oregon Showing at the 2012 Good Food Awards
Portland artisans made a strong showing among the finalists for the annual artisan food awards. Winners will be announced today!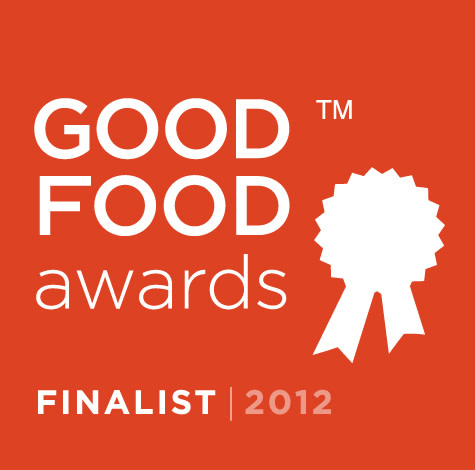 From Hopworks suds to Olympic Provisions sausage, Portland and Oregon outnumbered most other areas in the long list of finalists for the annual Good Food Awards.
Here's the full list of Oregon finalists, and we'll post and update with the winners as soon as they're announced tonight in San Fransisco at the awards ceremony hosted by Alice Waters and Ruth Reichl.
Oregon dominated the Charcuterie category, with Elk Strips from Jacksonville, Ore.'s Gary West Smoked Meats, Duck Liver and Apple Mousse from Eugene's Marche, Liver Pate & Pork Pastrami from Tails and Trotters, Chorizo Navarre from Olympic Provisions, and CHOP Butchery and Charcuterie's Herbs de Provence Salami (CHOP also landed a finalist spot in the Pickle category for their Bread and Butter pickles).
Oregon has two contenders for the Cheese category, Certoux from Goldin Artisan Goat Cheese in Molalla and Sunset Bay and Valsetz from Rivers Edge Chevre in Logsden.
In the Beer category, Portland's Hopworks Urban Brewery nabbed a nod for their Abominable Winter Ale and Hopworks IPA.
In the Spirits category, Ashland's Cascade Peak Spirits is a finalist with their Organic Nation Vodka Oregon, and Portland's own Clear Creek Distillery is repping their Poire William Eau de Vie.
The state has one contender in the Chocolate category, Central Point, Ore.'s Lillie Belle Farms and their Perfect Illusion 65% cacao chocolate bar.
In the Preserves category, Sweet Creek Foods from Elmira earned recognition for their Organic Raspberry Fruit Spread.
Ashland's Noble Coffee Roasting is—surprisingly—Oregon's only showing in the Coffee category for their Colombia Finca San Luis blend.
To see the rest of the nominees throughout the country, head over to the Good Food Awards website. Good luck Oregon!
Update 1/15/12: And the winners are…
Beer: Hopworks Urban Brewery (Portland), Abominable Winter Ale & Hopworks IPA
Charcuterie: Gary West Smoked Meats Elk Strips, Olympic Provisions Chorizo Navarre, and Tails and Trotters Charcuterie Liver Pate & Pork Pastrami
Cheese: Goldin Artisan Goat Cheese Certoux and Rivers Edge Chevre Sunset Bay and Valsetz
Chocolate: Lillie Belle Farms Perfect Illusion 65
Coffee: Noble Coffee Roasting Colombia Finca San Luis
Preserves: Sweet Creek Foods Organic Raspberry Fruit Spread
Spirits: Cascade Peak Spirits, Inc. Organic Nation Vodka and Clear Creek Distillery Poire William Eau de Vie.
Congrats, Oregon!