Market Watch
Got Eggs? Got Dinner!
A quick mix of what you have on hand can make a warm dinner for a dark wintry night.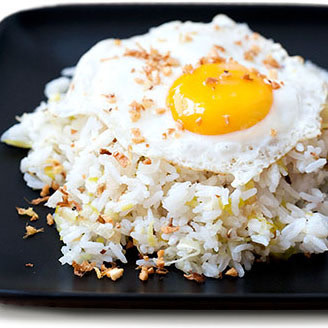 Eggs, like pancakes, are one of those food items that calls out "breakfast" to most of us. But if we serve them after sundown, they represent a sort of lazy, delicious decadence: breakfast for dinner? How silly. How fun. Actually, though, the old switcheroo can produce a fabulous go-to winter meal: quick, healthful and filling.
There are a zillion versions of the "what's in the fridge" dinner, but this one is inspired by the classic French Salade Lyonnaise. It's a hearty mess of a meal: a bed of frisee with poached egg placed on top, usually tossed with bacon and perhaps some croutons. As you eat it, it all blends together into a glorious crunchy silky mess of contrasting flavors, colors and textures.
Another good version of the egg-based, easy meal comes from New York Times writer Mark Bittman. He throws in a dash of Asian inspiration. When Bittman was penning his Minimalist column a couple years ago, he shared with us his friend (and big deal chef) Jean-Georges Vongerichten's "simple, mildly unusual, but utterly fantastic fried rice with ginger, leeks and a fried egg." It takes a bit of special care to prepare just as the celebrity chef does, but the results are deeeelish.
Sally Schneider' The Improvisational Cook offers a veritable primer of the fried-egg-plus-something meal. She describes the "basic formula" as "a bed of something filling and somewhat mildly flavored" plus a "pungent grated cheese…then topped with a soft-yolk fried egg, which will make a sauce when the egg is broken."
The bottom line is to take whatever fresh (or leftover) vegetable you happen to have, add a hearty, filling starch – pasta, rice, or another, sturdier grain like bulgur or quinoa – and/or a crispy green, and revel in the contrasts as it all mixes in your bowl. Leeks, onions, scallions, garlic, ginger, hot peppers, pecorino, parmesan – any or all are welcome to the party.
And for the ginger: get in the habit of always having a stalk of ginger in the freezer. Frozen, it'll keep a long time; just take it straight from the freezer to grate off however much you need when you want to use some.