Pour
Going Green
The Bent Brick's bartender meddles with nettles.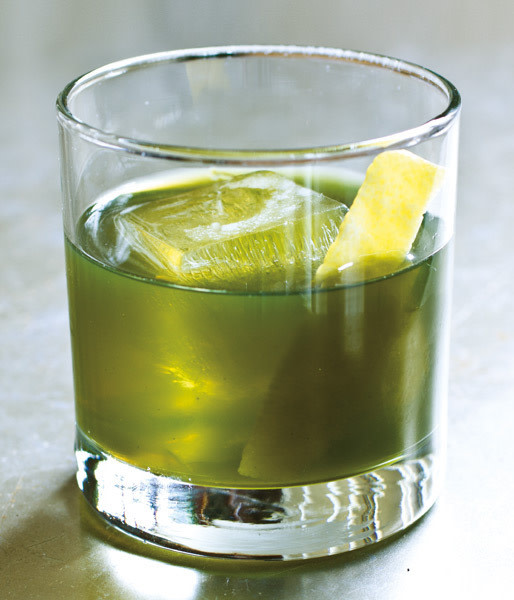 FOR A MOMENT, it looked like it might not work at all. But Adam Robinson was determined to dream up a spring cocktail that featured nettles. And after nearly a year running the bar program at the Bent Brick, which limits itself to domestic spirits, Robinson had honed his creative resilience. First, he tried a nitrous infusion, but the nettles' flavor didn't quite stand up. Then he tried juicing the nettles—not enough yield. As a last resort, he took to the blender, combining the fresh nettles with sugar and water. Added to the cardamom-infused base of Small's Gin, with a punch of anise from Herbsaint, and a final citrusy accent from celery bitters, the nettle syrup became a perfectly balanced, earthy-sweet core to his cocktail. By the time it lands on the menu at the Bent Brick, Robinson may have added some new twists, but as-is, the "Pins & Nettles" makes a bracing springtime beverage. And, come on: it's green.
Pins & Nettles
¼ lb (about 8 cups) nettles
Sugar
1 ½ oz Ransom Small's Gin
¼ oz Legendre Herbsaint Liqueur d'Anis Veritas
2 dashes Scrappy's Celery Bitters
1 lemon twist
(1) WASH nettles (wear gloves), and blend, slowly adding ½ cup water. (2) PURÉE for about 15 seconds, then strain through a chinoise strainer. (3) MIX in one part sugar for every two parts nettle purée, and stir well. (4) COMBINE 1⁄3 oz nettle syrup with other ingredients in a mixing glass, add ice, and stir. (5) STRAIN into an ice-filled glass and garnish with a lemon twist.