Market Watch
Plate up the Fiddleheads
Young ferns before they unfold their fronds make a tasty addition to dinner.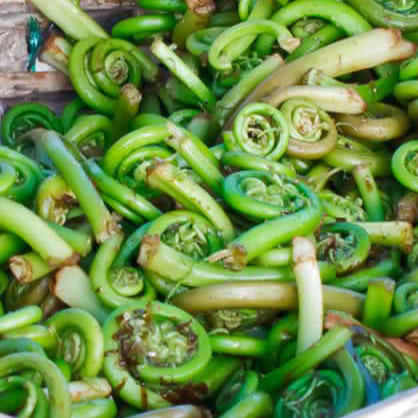 At our local bistro the other night, part of the mélange of fresh vegetables accompanying the delicious pork chop was a handful of fiddlehead ferns. Lightly cooked in olive oil, their bright green coils tightly wound, they were like a smiling spiral of springtime cheer and sign of things to come.
Fiddleheads have a short season (and shelf life); they're not what you'll find at any ol' grocery any ol' day. But when foraged for knowledgably, the fresh tender and crunchy tips of young fern fronds make an exotic addition to a stir-fry or sautéed dish.
Some ferns contain toxins, so don't go harvesting in your own backyard unless you have been well educated in the matter. But at the farmers market or gourmet grocery, they're worth venturing a taste, if only for the visual beauty and natural novelty they add to a dish.
You may have noticed young ferns coming back to life in the past month or so; the curled fronds at their centers are visually fascinating as they pop out of the winter soil so fresh and innocent. Eventually the tiny coils unfurl into long familiar, but when caught early, the fresh tips of certain ferns (usually Ostrich) are edible and delightful.
Fiddleheads can refer to any sort of fern, and the name comes from the spiraled, carved wooden head of a violin. Cook them only briefly, so they retain a tender crunch; a quick sauté in olive oil with salt and pepper should do the job. Or go wild and add strong flavors like garlic, a few chunks of bacon or even morel mushrooms if you want to go whole hog on the forest/foraging theme.
Indonesian cuisines prepare fiddleheads in a rich spicy coconut milk sauce called gulai pakis. If you're up for trying that, here's a recipe from Essentials of Asian Cuisine: Fundamentals and Favorite Recipes, by Corinne Trang (via Chow).
Gulai Pakis
2 tablespoons vegetable oil
2 large garlic cloves (crushed, peeled, and minced)
1/2 ounce fresh ginger (peeled and finely grated)
1/2 ounce galangal (peeled and finely grated)
1 lemongrass stalk (root end trimmed, outer leaves and tough green top removed, inner 6-inch-long bulb finely ground)
1/2 ounce fresh turmeric (peeled and finely grated); or 1/2 teaspoon turmeric powder
4 or more red Thai chiles (stemmed, seeded, and minced)
1 1/2 teaspoons coriander seeds (finely ground)
1 teaspoon cumin seeds (finely ground)
3 macadamia nuts or candlenuts (finely crushed)
1 tablespoon Indonesian or Thai shrimp paste
3 cups unsweetened coconut milk
1/4 cup or more tamarind extract
4 kaffir lime leaves (2 pairs)
1 1/2 pounds fiddleheads, well washed and drained, tail base trimmed
Heat the oil in a heavy-bottomed pot over medium heat. Stir-fry the garlic, ginger, galangal, and lemongrass until fragrant and lightly golden, about 5 minutes. Add the turmeric, chiles, ground coriander, cumin, and candlenuts, and stir-fry for 2 minutes more. Add the shrimp paste and stir-fry until 1 to 2 shades darker, about 2 minutes. Add the coconut milk and tamarind extract, and bring to a gentle boil.
Reduce the heat to low, add the kaffir lime leaves, adjust seasoning with salt, and simmer, partially covered, for 15 minutes. Add the fiddleheads and continue to simmer until they are tender but firm, 5 to 10 minutes. Serve with rice on the side and with any grilled fish or meat.
Happy fiddling!