Market Watch
Flatbread Francais is Gluten-free
Chickpea flour gives gluten-free lovers a delicious option for savory Mediterranean pancakes.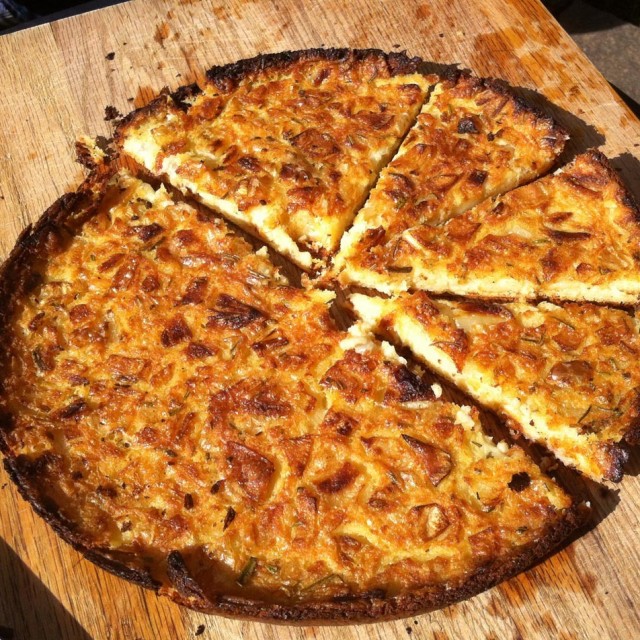 It's the perennial potluck predicament: what do you bring that's delicious to eat yet easy to make and transport? And these days, the question is likely even more complicated: what will everyone be able to eat, regardless of allergies and dietary needs?
By now, most of us are aware that not everyone can eat just anything. Allergies and intolerances to peanuts, eggs, shellfish, wheat, and dairy are common. And many people choose to be vegans, or vegetarians, or meat lovers…or chocoholics or chocophobes…everyone is different.
Luckily potlucks by definition provide variety. But there is a dish that fills all the above-mentioned criteria: the chickpea pancake. It sounds more exotic in its native French (socca) or Italian (farinata) – yes, it is native to both the Provencal region of France and its neighbor, the Ligurian coast of Italy. But no matter the name, it's a gluten-free savory baked pancake that's a cinch to make and will have your fellow potluckers wanting more – and asking for the recipe.
In flour form, chickpeas are transformed from what we're used to seeing at salad bars or in hummus. And the chickpea pancake is simply chickpea flour, olive oil, water, salt and lots of pepper. Mix it in a single bowl and pour into a pan to bake in the oven. Evidently Italians in Genoa traditionally spiff it up by adding onion and fresh rosemary.
The chickpea batter bakes into a slightly polenta-like, substantial but not heavy pancake. The texture depends in part on how much you fill up the pan; thin like a cracker or thicker and a bit softer and slightly custardlike if you don't bake it as long. Experiment. Add whatever chopped veggies, herbs or spices that you want. We tried the onion and rosemary and found that even with no pepper at all, the resulting pancake was full of flavor.
Chickpea flour (known as Besan in India) can also be used as a replacement for eggs in vegan cooking, though I've not tested that in my kitchen – yet. And while it's not found at every grocery store (thus heightening the novelty when you bring it to your next potluck), you're likely to find it at Middle Eastern and Indian grocers as well as many "health food" stores (such as Alberta Co-op Grocery, where they have it in the bulk section).
Mark Bittman, who knows how to cook everything and is an excellent guide for the rest of us, offers this recipe in The Best Recipes in the World (or at this link at the New York Times).
Socca (Farinata)
Time: 45 minutes
1 cup chickpea flour 
1 teaspoon salt 
1 teaspoon, at least, ground black pepper 
4 to 6 tablespoons olive oil 
?½ large onion, thinly sliced, optional 
1 tablespoon fresh rosemary leaves, optional
1. Heat oven to 450 degrees. Put a well-seasoned or nonstick 12-inch pizza pan or cast-iron skillet in oven. Sift chickpea flour into a bowl; add salt and pepper; then slowly add 1 cup lukewarm water, whisking to eliminate lumps. Stir in 2 tablespoons olive oil. Cover, and let sit while oven heats, or as long as 12 hours. Batter should be about the consistency of heavy cream.
2. If using onion and rosemary, stir them into batter. Pour 2 tablespoons oil into heated pan, and swirl to cover pan evenly. Pour in batter, and bake 12 to 15 minutes, or until pancake is firm and edges set. Heat broiler, and brush top of socca with 1 or 2 tablespoons of oil if it looks dry.
3. Set socca a few inches away from broiler for a few minutes, just long enough to brown it spottily. Cut it into wedges, and serve hot, or at least warm.
Yield: 4 to 6 appetizer servings.