Gluten-Free Find
Dessert Labs Concocts Freakishly Tasty Cupcakes
Whether you're gluten-intolerant or not, this new Northwest Portland bakery inspires gluttony.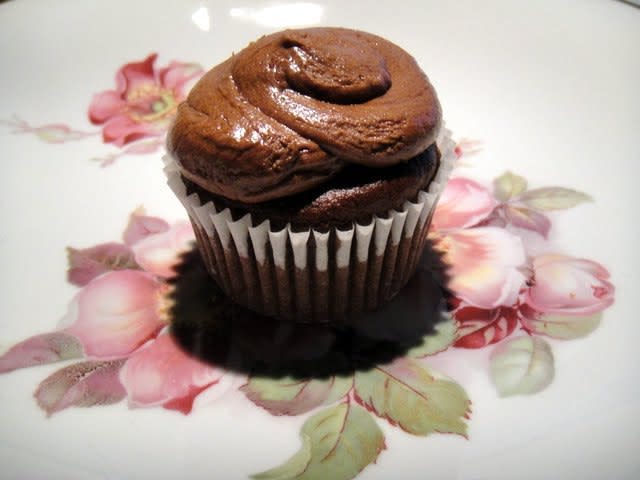 Around the corner from the throng of "casual" cafés, bakeries, and specialty shops on NW Thurman, look for a parking lot with a prominent address sign—1902 NW 24th Ave—and then head for the side door below a navy blue awning. A tiny sign taped to the door will inform you that, yes, you have found Portland's latest gluten-free bakery, Dessert Labs, so don't be timid about stepping inside and heading downstairs into the sweet smells and boisterous hellos.
Run by husband-and-wife team Joe Kalal and Karen Goetsch (he's a pastry chef with celiac disease and she's the website designer and stylish face of the business), this allergy-friendly venture opened for business in September, hawking a handful of treats from that tiny basement kitchen on Saturdays only (from noon to 4pm), filling special orders, and peddling exceedingly popular holiday pies at Food Front Northwest. Food Front continues to carry a rotating selection of their products, such as cream puffs, red velvet cupcakes, and chocolate chip cookies, and Besaw's currently has their cake bombs.
Local fans can sign up for Dessert Labs' boxes of gluten-free staples, which include bread, muffins, and cookies for $25/week. Or, if you live anywhere else in the U.S., you can now visit their etsy shop order a range of goodies with a reasonable shelf life, such as muffins, bread, cookies, bagels, and dry mixes.
Regardless, the couple's eventual goal is to have a proper storefront. And judging from my first samples of their wares, I'd say their chances are quite good.
Although an oatmeal raisin cookie ($1) I tried had a slightly-off powdery texture, it also had great brown sugar and caramelized golden raisin flavor. Plus, I am a gluten-loving pastry fiend and the chocolate spice cupcake ($2) knocked my socks off. Light and surprisingly moist, with a not-too-sweet flavor that immediately made me think of gingerbread houses, it's topped with a generous swirl of rich, buttery, chocolate-y buttercream frosting. I literally licked my plate.