Pour
Summer Stock
As the temperature creeps up, Oregon brewers develop a signature battle cry: "Lighten up!" We selected 10 summer beers that refresh and rejuvenate.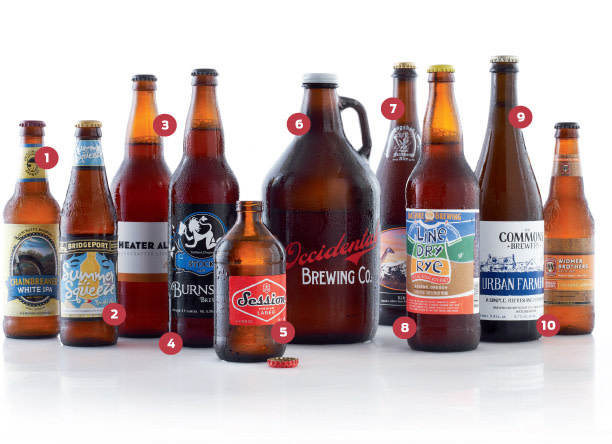 1. Deschutes Chainbreaker White

IPA
This pale ale provides a bitter bite to please the masses, with an invigorating citrus charge for stubborn summer thirsts and an intriguingly wheaty foundation.
2. Bridgeport Summer Squeeze
Enhanced with lemongrass and yuzu, Bridgeport's summer release drinks like a shandy (beer and lemonade) with a fast finish and a tingly grapefruit aftertaste.
3. Heater Allen Coastal Lager
This brawny amber lager packs a formidable first-taste punch of bitterness from Magnum and Cascade hops, followed by velvety roundness from a trifecta of malts.
4. Burnside Brewing Stock Ale
Burnside's entry in the ESB (Extra Strong Bitter) category is full-bodied (5.8 percent alcohol by volume) and malt-forward, with toffee and caramel currents throughout.
5. Full Sail Session Lager
Modestly priced stubby half racks of this clean-as-a-whistle classic have become ubiquitous—and welcome—guests at any backyard buffet.
6. Occidental Cloudy Summer
Up-and-coming St. Johns brewery Occidental has an impressive roster of beers—especially this bright and buoyant Kölsch-style ale, meticulously balanced with darting honey and fruit notes.
7. Logsdon Kili Wit
Hard to believe this powerhouse weighs in at only 5.5 percent ABV. Spicy yet dry, it's a veritable pantry in a bottle, with hints of bread, apricots, and bananas having a spirited hoedown in your mouth.
8. Oakshire Line Dry Rye
Malted rye gives Oakshire's summer seasonal an earthy, spicy character that's lively on the tongue. A tinge of honey makes it the perfect palate cleanser for a meaty barbecue.
9. The Commons Brewery Urban Farmhouse Ale
This one's definitely from the Belgian school, with a golden hue, subtle hops, and pronounced yeast—but it'll also quench your thirst on a hot afternoon.
10. Widmer Citra Blonde
Sturdy, with a discreet marmalade tanginess, Citra's sweet shadings lead to a smooth finish without a hint of that soapy aftertaste that can bedevil even the brightest blondes.