Market Watch
Mr. Noodle and the Soba Story
Yaki-soba, Soba, and how to enjoy these Asian noodles this summer.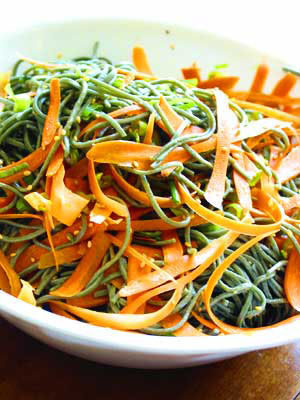 Sometimes, when it comes to Asian noodles, I feel like a veritable Mr. Noodle. Are you familiar with that cheerfully hapless character in Elmo's World? He was in my life but a short time, yet his influence lives on. Whenever I'm confused, my inner child implores my adult self, "Mr. Nooooo-dle…!" with amazement at my (like his) ineptitude at some simple task of doing or understanding.
Understanding Asian noodles easily brings me to that state. For instance, Soba noodles and Yaki-soba noodles are not the same. And Soba noodles, despite being called Buckwheat noodles (and buckwheat being a gluten-free grain), are not gluten-free. Check the packages and you'll see that wheat flour is an ingredient in most brands. (Eden Foods makes an all-buckwheat version.)
Yaki-soba noodles are not buckwheat. They're commonly available in refrigerated packages that cook in what seems like nanoseconds. In fact, they're pre-cooked and merely need to be run under hot water, then tossed in a stir-fry for a few minutes.
Faith Durand (on the Kitchn website) has a super easy recipe for cold soba noodles. It's highly adaptable to whatever fresh vegetables you have at the moment; for instance, I like to add thinly sliced raw cabbage, kale or red bell pepper.
Cold Soba, Sesame and Carrot Salad
Serves 4
8 ounces soba noodles
3 large carrots
1 bunch (about 6) scallions
2 tablespoons sesame oil?
1/4 cup rice vinegar?
2 tablespoons soy sauce, or to taste
2 tablespoons sesame seeds, toasted
Cook the noodles for 6-8 minutes, or according to package directions. Drain and toss with just a drizzle of cooking oil to keep them from sticking together. Put in the refrigerator to cool.
Peel the carrots and shave with a peeler or mandoline. You should have about 2-3 cups of loose carrot shavings. Chop the green parts of the scallions and set the white parts aside for another recipe.
Whisk the sesame oil, vinegar, and soy sauce together and taste. Adjust for taste. Toss the carrots, scallions, chilled noodles and sesame seeds together and serve.
For hot, stir-fried Yaki-soba noodles, try this recipe from Bee Yinn Low's Rasa Malaysia website as a guide. It's very flexible; even without the sake and strong flavor of sesame oil, which I'd run out of, it was quick, light and delicious.
Quick Stir-fried Yaki-soba Noodles
12 oz. yakisoba (rinsed with water and drained)
3 cloves garlic (finely chopped)
Optional: 2 oz. pork (cut into small pieces and marinated with some soy sauce) 
2 oz. cabbage (roughly chopped into pieces)
2 oz. carrot (cut into thin strips)
Some scallions (cut into thin threads)
2 tablespoons oil
2 tablespoons soy sauce
1 tablespoon sake
1/2 teaspoon mirin
3 dashes white pepper powder
1/2 teaspoon sugar
1/8 teaspoon sesame oil
Salt to taste
Heat up wok with oil. Add garlic and stir fry until light brown in color. Add pork, if using, and do a few quick stirs before adding cabbage and carrot. Stir a few times and add noodles and all the seasonings. Continue to stir-fry until the vegetables and noodles are cooked, for 1-2 minutes. Transfer out and serve immediately with some (optional) benishoga (Japanese pickled ginger).