Mudroom
Carbon Cargo
The Columbia River's energy boom threatens Portland's green image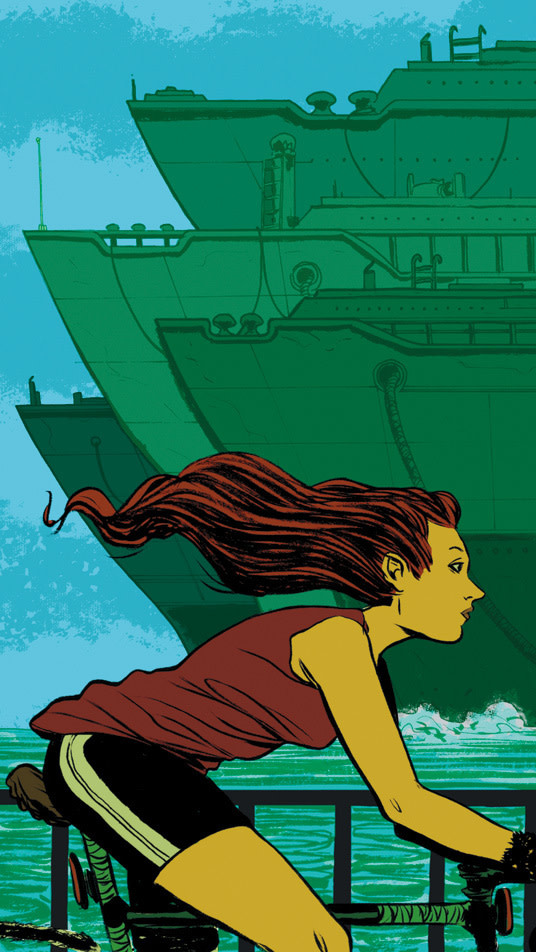 PORTLANDERS take such pride in their environmental credentials, it's easy to imagine us turning April's Earth Day into a self-congratulating Fourth of July—a day to dress as polar bears, detonate organic fireworks, and extoll our wind farms, climate plans, and shrinking carbon footprint.
Then again, maybe our Earth Day should look more like Yom Kippur—a day of atonement. For all its reputation for enviro-innovation, Portland is up to its green eyes in fossil fuels. In fact, our earnest eco-metropolis could soon find itself at the hub of a booming trade in the world's dirtiest energy. All across western North America, energy companies are chasing new sources of coal, oil, and natural gas. Increasingly, the Columbia River looks like their portal of choice to ship these greenhouse-gas-producing energies to market.
The Columbia has defined life here since the days of huge Native American fishing villages on its banks. Today, the $16 billion in cargo that moves annually between Portland and the Pacific entwines the region's cities with the world economy. Throughout its history, the Columbia has been synonymous with trade and prosperity. As author Richard White wrote in The Organic Machine, his book about the river, "the intersection of labor and nature produced wealth."
Now that history could be taking a turn, driven by rising energy prices and the river's proximity to booming, fuel-hungry Asia.
This winter, a multistate political fight erupted over a proposed coal-shipment terminal at Longview, Washington, 40 miles downriver from Portland. A company called Millennium Bulk Logistics wants to ship Montana coal down the Columbia, bound for carbon-spewing power plants in Asia. Millennium's efforts prompted protests at its Salt Lake headquarters and a spat between the Democratic governors of Montana and Washington. In early March, the company announced it would delay seeking the necessary construction permit—but added that it remains "committed to coal" at the site.
Meanwhile, the protracted legal and political wrangling over a proposed liquefied natural gas terminal near Astoria continues. Backers have already invested millions in the idea. And a number of trends—US supply exceeds demand, exploration's booming in the West, and major pipelines are under construction or planned in Oregon—suggest the Columbia's involvement with this "clean" fuel is far from over.
But nothing symbolizes the Columbia's energy dilemma like the so-called megaloads. One cold night in February, workers for Clackamas's Emmert International loaded a huge, silo-like tube—28 feet tall, more than 200 feet long, weighing 300 tons—on the back of a modified truck in Idaho. This coke drum, a component used to turn oil into gasoline, was the first of four hauled by Emmert from Vancouver, Washington, to a Montana refinery. After barging the drum to Lewiston, Idaho, Emmert crews slowly hauled it along a narrow highway tracing the Lochsa, a federally designated "Wild and Scenic" river.
The project left activists across the Northwest apoplectic—and worried that Emmert's megaloads are just the beginning of the Columbia's role serving inland oil projects. Just weeks after Emmert's first haul, another company began lugging oil-field equipment north from Lewiston after shipping it upriver from Vancouver. Those shipments are bound for Alberta's "tar sands"—a vast extraction project that has made Canada one of the oil industry's biggest players.
To proponents, these projects strengthen Oregon's fragile jobs base. "It's a little bit off the wall that we have people protesting large vessels that put Americans to work," says Terry Emmert Sr., founder of the 130-employee, family-run company. Critics think any move that yokes the Northwest to climate-unfriendly energy amounts to a backward step.
"Maybe this is not the smartest part of our economy to save," says Michael O'Leary, a Portland-based organizer for the National Wildlife Federation. O'Leary and other environmentalists believe Portland's real future lies in exporting the know-how embodied in our green building industry and statewide conservation initiatives.
The balance between green ambitions and economic reality is delicate—perhaps uniquely so in a city trying to nurture both a sustainable future and lucrative connections to places like China. "Portland seems to be the only port that has to reconcile that," says Sam Ruda, the Port of Portland's maritime director. Ruda adds that even as other ports delve into coal, gas, and oil projects, community opposition would likely forestall such efforts in Portland.
The Columbia's emerging role as an energy trade route doesn't mean Portlanders should stop composting. It does mean that in our effort to figure out the future, we need to look beyond the bioswale and weigh the more consequential issues playing out on the river that links us to the world and its riches.