Best of the City
Best of the City 2012: Diversions
It's time for a change of hobby and we've got plenty of options, from hipster sports to sewing circles.
DIY Classes
This NE Alberta sewing shop's packed schedule of project-based classes allows students to stitch their own curricula—a monthlong class producing a "pintuck" blouse, for example, could combine with a beginner-oriented workshop on the humble T-shirt. The shop stocks the Swiss company Bernina's sleek, futuristic machines; anyone who buys one gets free lessons. And for commitment-phobes, Modern Domestic also offers hourly time on its machines. 1408 NE Alberta St
Fun League
The city that embraced kickball has adopted the next excuse to run around in the park and drink Pabst. Mushball, a softball mutant, is this summer's ticket to grass stains and sociability. The game's squishy, cantaloupe-size ball—bigger and easier to hit (and catch) than a regular softball—gets literally mushier as games go on, allowing fielders to creep closer to the plate. First-timer tip: ladies can wear gloves, but we're told all the cool kids play barehanded.
Theater Company
Based in an old church in Northeast, Portland Playhouse offers some of the town's most provocative pieces. A cycle by African American playwright August Wilson mirrored the company's diverse neighborhood; Eugenia Woods's Famished fused drama, documentary, and installation art to explore America's food obsession. This fall, look for its first musical: Bloody Bloody Andrew Jackson, a nationally acclaimed, rock-fueled look at our seventh president. 602 NE Prescott St
Cyclocross Race for Rookies
Grand Prix Molly Cameron
Last year, Portland's populist obsession with 'cross gained a new entry point with this nine-race series sparked by renowned local bike shop owner and racer Molly Cameron. With smaller fields (think 300 riders versus 1,000 in Portland's Cross Crusade series), Cameron says it's a more intimate and less intimidating racing environment. Of course, that just means more mud for you.
Art Gallery
For 30-plus years, Leach has served as Portland's go-to importer of cutting-edge visual art and sculpture, and a chief exporter of our creative scene. In two small, white-walled rooms, this Pearl District institution manages to provoke both aesthetic curiosity—by representing an array of the region's best artists—and commercial success. 417 NW Ninth Ave
Best Local Pro Athletes Who Are Also More or Less Normal Human Beings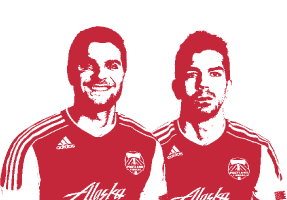 Sal Zizzo & Eric Brunner
The Portland Timbers made themselves the city's hottest sports ticket by giving quirky local culture a raucous bear hug. Likewise, the Major League Soccer team's players tend to embrace Portland's low-key pleasures. "I live in the Pearl, and I love it," says defender Eric Brunner, the team's leader in minutes played last season. The 26-year-old Ohio State grad nearly sounds like a native, extolling his neighborhood's walkability and the Oregon landscape: "We didn't have anything like that in Ohio." Meanwhile, midfielder Sal Zizzo, a 25-year-old from San Diego, was so taken with the downtown street-food scene he opened his own Italian food cart. Welcome home, boys.
Brunner and Zizzo's picks:
Favorite Place to Unwind on an Off Day 

(Brunner):
Life of Riley Tavern It's unpretentious, and it reminds me of places I'd hang out in during college in Columbus. 300 NW 10th Ave; lifeofrileytavern.com
Favorite Rock-and-Roll Outing

 (Brunner):
Crystal Ballroom  I saw my favorite band, the Kooks, there, with Young the Giant, and a few other shows. 1332 W Burnside St; mcmenamins.com
Favorite Rival Food Cart (Zizzo):
Lardo on Belmont. The shaved pork sandwich is ridiculous. Breakfast of champions! lardopdx.com
Favorite Romantic Destination (both):
Multnomah Falls—what's not to like!?
Readers' Picks
Nature Escape
Forest Park
We'll trust readers consulted our July 2011 Forest Park cover story before nominating this 5,000-acre gem.
Workout Craze
To think the nationwide love for this Pilates-ballet-yoga mashup began with the toned tushies waltzing out of Barre3's original Pearl District studio. Multiple Locations
Pilates
Plenty of beginner-friendly classes at this attractive Pearl District studio let newbies sample just about any Pilates variation. 512 NW 17th Ave
Yoga Studio
Playful takes on yoga at this laid-back studio include "Samurai Flow" and "Bad Ass" yoga. 1306 NW Hoyt St