Best of the City
Best of the City 2012: Services
Even the most devoted disciple of DIY culture needs a helping hand occasionally. And we've got a list of the handiest help in town.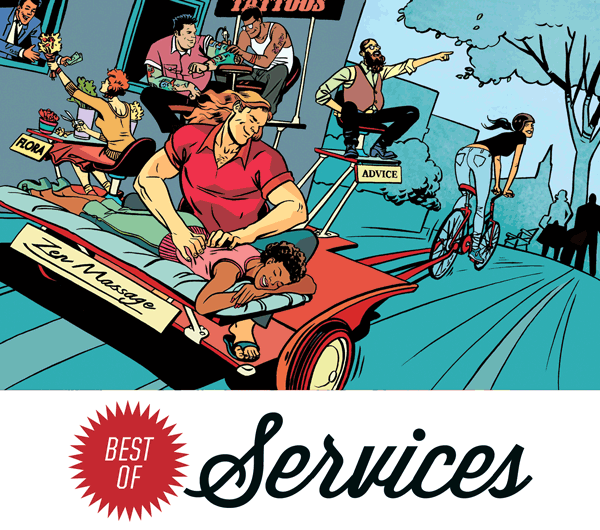 Shoe Repair
Owner Jerry Carroll sports a grandfatherly smile and an unmatched knack for restoration. Inside his leather-perfumed Morgan's Alley space, Carroll doctors Vibram-soled logger boots, frilly summer sandals, and everything in between. The shop's long-standing rep (the original "Derek" opened here in 1972) means wait times can stretch to a week, but online status updates manage expectations. And for anyone who's snapped a heel and can't hobble over, Carroll offers free pickup and delivery. 515 SW Broadway, Suite 24
Bike Repair Shop
The Bicycle Repair Collective (Now Closed)
The no-frills vibe of the BRC hasn't changed much since the group started back in 1976. (The current SE Belmont Street location features just workbenches, piles of parts, and three men in aprons quietly tinkering away.) Neither has the group's laserlike focus on servicing practical, everyday riders with top-flight tune-ups or performing full-scale rebuilds. DIY fixers can also rent a fully stocked workspace for $10 per hour. Just remember to put that wrench back where you found it. 4438 SE Belmont St
Tattoo Shop
Our readers had it nailed when they pegged Atlas as the top tattoo shop back in 2007. Since opening in the late '90s, this pioneer of local ink parlors (P-town claimed fewer than 10 tattoo shops when Atlas opened, compared to around 83 now) has been our tat-crazed town's de facto skin engraver of record. See its work on high-profile patrons like local NBA ballers (hint: you can spot the shop's handiwork on a massive Trail Blazers' ad near the Steel Bridge) and local indie rockers. With up to a three-month wait list, there's plenty of time to reconsider that giant screaming-eagle chest piece, too. 4543 N Albina Ave
Jeans Alteration
DZ Alteration & Tailor
When the Denim Whisperer (Blake Nieman-Davis of Blake boutique) suggests that you take your jeans to DZ, you don't argue. Blake keeps owner-seamstress Dzung Nguyen's card on the store counter, making DZ a popular place among jeans aficionados. But if you're in a hurry to slip into your Sevens, let Nguyen know: she'll usually have your new favorite pants to you inside a week. All for about $12. 1222 SW Morrison St; 503-796-9394
Bikini Wax
Let's face it: lying spread eagle before a complete stranger armed with hot wax and plans to tidy you up down there is no picnic. Yet Portland esthetician Angie Carver melts waxing worries away. With a bubbly demeanor—and 13 years' experience under her belt—she's a master of quick, precise movements, and the art of distraction (namely, well-timed jokes). Her rates are a steal, too, which means she probably won't stay a stranger for long. 1722 NW Raleigh St, Suite 315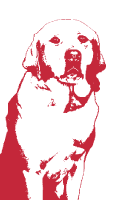 Friendliest Doorman
Timmy
To pass the ultimate sniff-test as a good doorman, you've got to exhibit tireless exuberance and the ability to make guests smile. No problem for Hotel Monaco's director of pet relations, Timmy, a 6-year-old yellow lab and former guide service dog. Among his many duties: greeting furry guests at this pet-friendly downtown hotel; ensuring the appropriate rooms come stocked with a copy of Dog Lover's Companion to the Northwest, a pet-bed, and doggie food bowls; and, of course, looking adorable. Kisses and tail wags available at no extra charge.
Timmy's picks:
Favorite Place to Get Cleaned Up
D'tails Dog Salon
1723 NW Quimby St; detailsdogsalon.com
Favorite Locally-Made Snack
GourMutt Treats
gourmutttreats.com
Favorite Dog-Friendly Restaurants
Lucky Lab
Multiple Locations; luckylab.com
Tin Shed Garden Café 1438 NE Alberta St; tinshedgardencafe.com 
Readers' Picks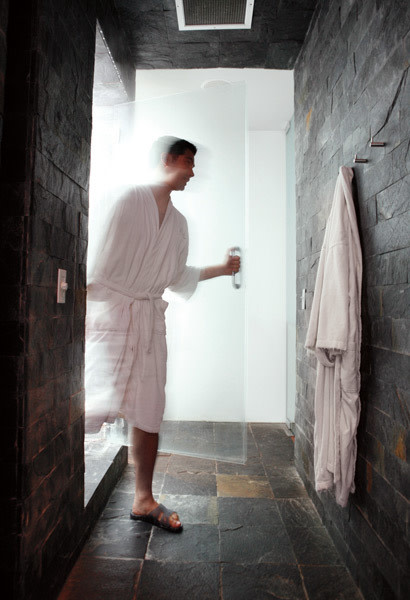 Overall Spa Service
Between the steam room, soaking pool, fresh-smelling Aveda products, and knowledgeable staff, no matter what treatment you choose, you really can't go wrong. Multiple locations
Florist
The Portland street name–themed arrangements keep everything coming up roses for this longtime local fave. 1128 NW Lovejoy St and 2280 NW Glisan St
Pet Pamering Service
Begun in Southeast Portland in 2000, this full-service, in-home pet-sitting empire now extends to Austin, Las Vegas, and Seattle. But they still need just 72 hours' notice to reserve time for your pal.