Great Neighborhoods: Taking the Long View
Condo Bonding
A brief history of urban living in Portland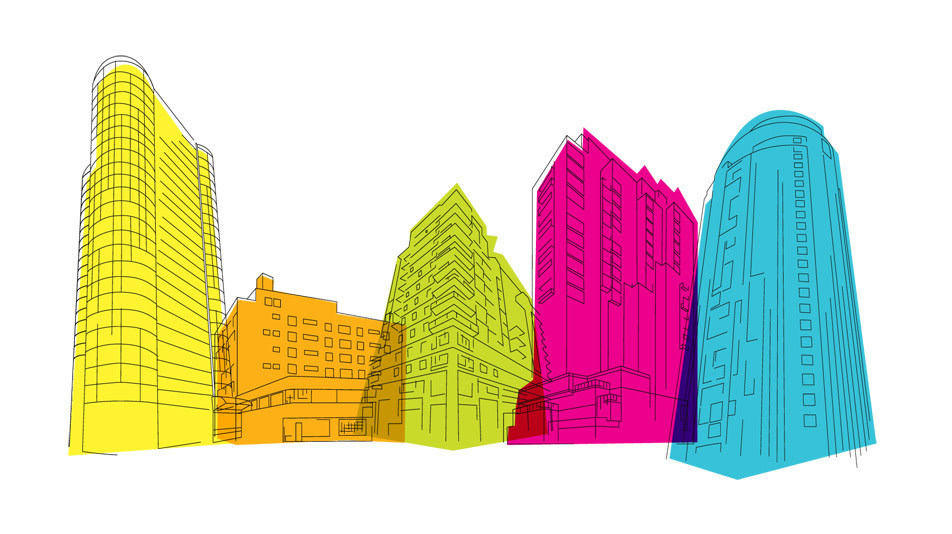 If the bright lights of downtown condo living still capture your fancy but the plunging market has you holding onto your cash, just beam back—way back—to when Portland's first experiments in high-rise condominiums ran head-on into near 20 percent mortgage rates. The scene of the worst accident: Portland Plaza.
In 1973, developer Colin da Silva erected a $12.5 million carbon copy of a project he had built in Honolulu in the middle of downtown. But soaring mortgage rates—combined with the tower's challenging, curvy floor plans and lack of decks or operable windows—left most units selling at deeply discounted rates.
The condo market's current troubles have yet to produce a white elephant of similar proportions (though realtors say the John Ross's curves have posed a challenge to selling units). Pearl District and South Waterfront developer Homer Williams thinks the market has bottomed out somewhere around 28 percent off the market's peak in 2007, but will continue to be bumpy. Realty Trust's Patrick Clark adds that uncertainty about a looming new round of potential foreclosures is leaving the market shaky.
In short, the days of flipping condos for high profits are long gone. But, according to nationally known urban market analyst Christopher Leinberger, condos will eventually come back for those who want to move downtown for the amenities and lifestyle. Indeed, consider Portland Plaza: if you bought a curvaceous condo 30 years ago, your investment still would have conquered inflation.
Here's a look at the fortunes—past and present—of some of Portland's most iconic condo developments.
Portland Plaza
1500 SW Fifth Ave
Completed:* 1973*
Claim to fame: Downtown's first high-rise condo
Average price per square foot at opening: $50 ($165 in 2009 dollars)
Price per square foot, 2009: $310
Recent foreclosures and short sales: 0
Units for sale: 8
Irving Street Lofts
1314 NW Irving St
Converted from rental: 1995
Claim to fame: First major condo in the Pearl District
Average price per square foot at opening: $164 ($231 in 2009 dollars)
Price per square foot, 2009: $273
Recent foreclosures and short sales: 0
Units for sale: 1
The Henry
1025 NW Couch St
Completed: 2004
Claim to fame: One of the first LEED Gold certified luxury condos in the country
Average price per square foot at opening: $359
Price per square foot, 2009: $547
Recent foreclosures and short sales: 0
Units for sale: 9
Atwater Place
0841 SW Gaines St
Completed: 2008
Claim to fame: First luxury condo in the South Waterfront district
Average price per square foot at opening: $390
Price per square foot, 2009: $355
Recent foreclosures and short sales: 0
Units for sale: 1
The John Ross
3601 SW River Parkway
Completed: 2007
Claim to fame: Portland's tallest condo tower (325 feet)
Average price per square foot at opening: $420
Price per square foot, 2009: $282
Recent foreclosures and short sales: 4
Units for sale: 41