Great Neighborhoods: Taking the Long View
Holding Steady
Three hoods that beat the crash
Northwest District
Median Price: $317,500 | One-year price change: 1.44% | Number of homes sold: 179
As Portland planners strive to reshape the city into so-called "20-minute neighborhoods," they need look no further than the Northwest District for a model. The neighborhood boasts the requisite grocery stores, schools, restaurants, and boutiques, and it's just a quick pedal from the Pearl District, downtown, and Forest Park. Given this résumé, it's not surprising that the Northwest District is among the handful of neighborhoods already bouncing back from the recent real-estate slump—"just like it did in '82," Dan Volkmer, a 35-year veteran realtor, points out.
According to Volkmer, Northwest's staying power lies in its history and economic diversity. First settled by Captain John Couch, one of the founding fathers of Portland, whose family built both mansions and rental properties, it has steadily grown into a mix of high-end houses and condos.
Guarding the aesthetic is the muscular Northwest District Association, which routinely wages—and often wins—battles against everything from parking garages to new structures it deems unfit within the neighborhood's National Historic District. And it was here (in two Victorian houses at NW Pettygrove Street and 23rd Avenue) that Richard Singer, one of the city's most successful retail developers, began his empire. The thousands of square feet of bustling storefronts he now owns along NW 23rd Avenue comprise the city's most lauded retail district—one that has become a model for the revival of other former streetcar districts across the city, like Hawthorne, Fremont, Alberta, and Division.
—Randy Gragg
Cathedral Park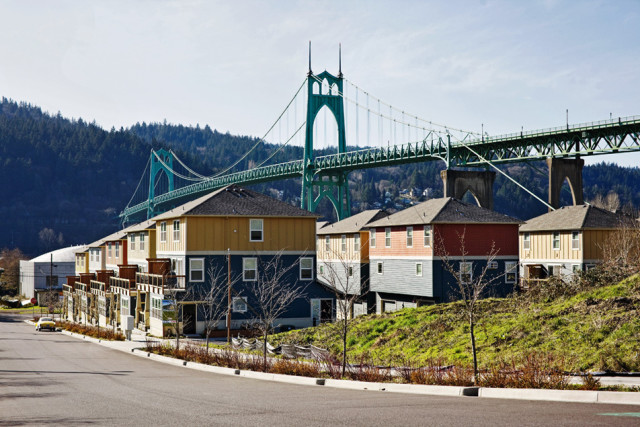 Median Price: $217,500 | One-year price change: 0% | Number of homes sold: 60
In 1806, members of the Lewis and Clark Expedition first camped on what would become the grounds of this North Portland enclave. Today, savvy homebuyers are making their own discovery: Cathedral Park is one of the last places in the city where you can find an affordable waterfront view.
Best known for its beloved Cathedral Park Jazz Festival, which takes place every July on the sprawling lawns beneath the gothic arches of the St. Johns Bridge, Cathedral Park is home to a mix of midcentury ranches and townhomes, many of which go for about $217,500, well below the city average.
Cathedral Park—one of only eight neighborhoods that did not drop in value—owes its relative stability in large part to such affordability. "When you're one of the cheapest things, you're always the most liquid," says Nick Krautter, a real estate agent with Keller Williams. "So it's going to be able to maintain its fluidity."
Additions like the just-opened Condominiums at Cathedral Park have only added to the area's appeal. In fact, 30 percent of the homes sold here last year were condos. Hip young people making their first big purchase will find the eclectic mix of shops and restaurants in nearby St. Johns—like James John Café, Weir's Cyclery, and, of course, a McMenamins—well worth weekend venturing. And those in search of a bit more urban flavor need only make the 15-minute drive to downtown—or simply savor the cityscape framed in their riverfront windows.
—Kasey Cordell
Sabin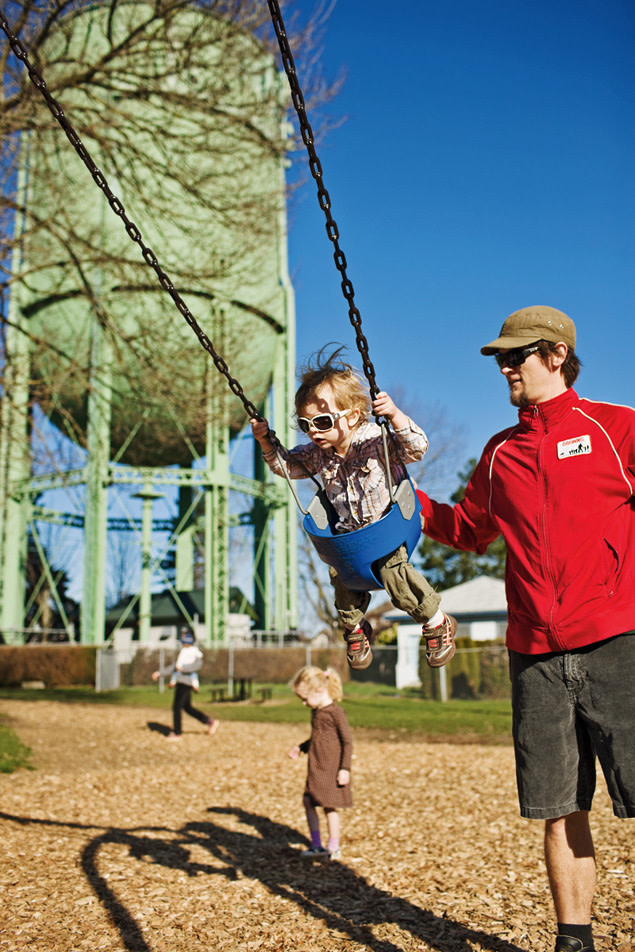 Median Price: $385,000 | One-year price change: 2.67% | Number of homes sold: 53
Bordered by Alameda's sprawling mansions, Irvington's pristine Craftsman homes, and the Alberta Arts district's funky remodels, the Sabin neighborhood—with its 2.67 percent one-year price growth—proves an old realtor saw: the easiest way to make money on a house is to buy the worst one on a good street. And this dusty gem clearly shines.
Sabin once was part of the larger NoPo community, which, only two decades ago, was largely African American. The ugly history of racial tension between Portland's white and black communities was evident here when properties in the area were "redlined" (denied new mortgages) by several prominent banks until the early 1990s. But as city planners and the Portland Development Commission targeted Alberta Street for revitalization—and, more importantly, when Wild Oats (now Whole Foods) opened in 1999 at NE Fremont Street and 15th Avenue—Sabin began a steady change.
Now the neighborhood is dotted with updated Craftsmans, sparkling rowhouses, and resurrected Victorians. Eateries like County Cork and Caffé Destino soon followed. In February, boutique microroaster Extracto debuted at NE 15th Avenue and Prescott Street, quickly becoming the spot for Sabinites to gather and play checkers and chess. Residents can also flock to Sabin HydroPark, where, in 2008, a pair of aging hilltop water towers were transformed from a proverbial sow's ear into a silk purse, complete with swing sets and slides.
Of course, with median home prices heading toward $400,000, slicing off a piece of this particular pie is becoming more difficult. But, if you can afford it, it's a deliciously comfortable place to call home.
—Randy Gragg