Desirables
Pantone Makes Mugs for Every Mood
Match your mood as you match your colors.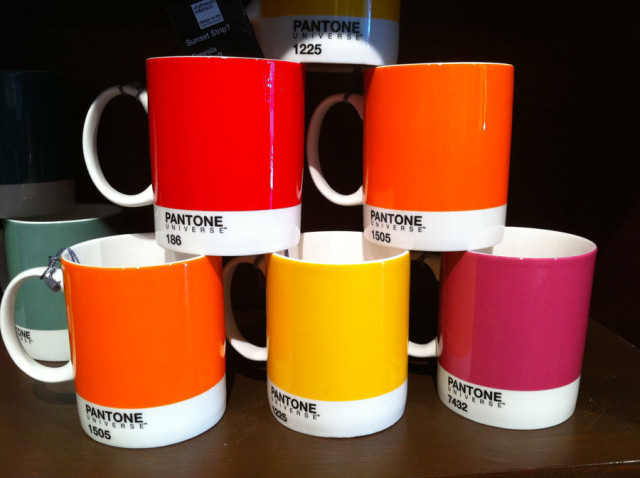 Don't ever let anyone tell you it's a bad thing to have PMS. In fact, start every day, no matter who you are, by drinking your favorite wake-up beverage out of a PMS mug! In this case, PMS is Pantone Matching System, which is the graphic design gold standard for specifying colors. So why not apply the gold standard to coffee mugs? That's what Pantone has done, and Tilde, the sweet little design shop in Sellwood, has the mugs in a spectrum of colors.
Pantone is famous in the design world for standardizing color creation, matching and mixing for print and now digital designs. The company was an ordinary commercial print shop in Manoochie, New Jersey until it hired one Lawrence Herbert, a recent Hofstra grad and chem/bio major who planned to go to med school, for a part-time job in 1956.
Well, of course, Herbert never became a doctor. Instead, by 1962 he'd created his PMS. Realizing that no two people saw a color exactly the same, he set about systemizing how to identify, mix and communicate colors at the print shop. He reduced the company's 60 some trial-and-error-mixed inks to 10 basic pigments and set formulas for countless color mixes of these (more than 1700 to date). Every color was numbered – and still is. Hence the numbers on the Pantone coffee mugs and espresso cups.
Pantone is still located in New Jersey (Carlstadt, which is exit 16W on the NJ turnpike, b.t.w.), though they were bought out by in 2007 by x-rite. Since the 1970s, they've been expanding beyond print into digital and software, and now the tactile world of home and office accessories like the mugs and even postcards.
Mugs and other Pantone items can be found online including at Popdeluxe and at Uncommon Goods.
But Tilde in Sellwood sells them for a bit less ($13.50) plus they are having a 15% off sale this Saturday August 6.
And if you still have room in your budget, and are going to be in Brussels, check into the Pantone Hotel. I kid you not. It looks fantastic! (Look at the pictures in Dwell!)