Mudroom
A Hard Look at Portland's Dream of Ultra-Green Neighborhoods
The city's dream of pioneering sustainable neighborhoods faces tough obstacles.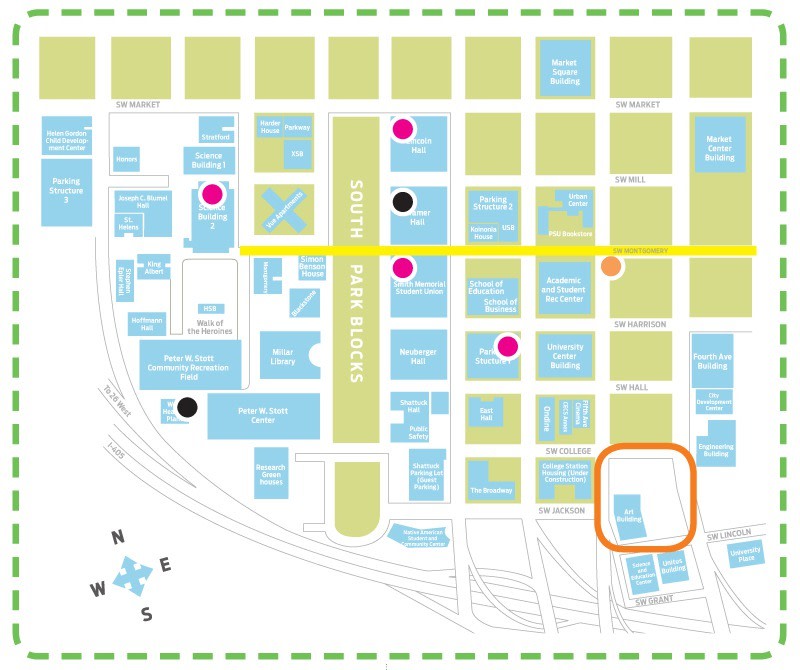 DURING PORTLAND's third-annual EcoDistricts Summit this month, planners, architects, scholars, and environmentalists from around the world will gather at Portland State University to discuss achieving sustainability one whole neighborhood at a time. It's a great concept: compact 'hoods could share green infrastructure. And since the first summit in 2009, Portland has designated five neighborhoods as testing grounds. But so far, Portland's pilot districts—Portland State University (rechristened "South of Market," or SoMa), Gateway, Lloyd, Lents ("Foster Green"), and South Waterfront—have seen more paper plans than brick-and-mortar change. Truly green neighborhoods remain far from reality.
Still, the potential is real. Here's a look at plans for the Portland State–anchored SoMa ecodistrict, and what's slowing it down.

Dreams
Realities

PASS

THE

JUICE

One person's hot air, another's steamy shower. Portland State buildings already share some heat and power infrastructure; the system could expand to the surrounding neighborhood.

TAKE

ME TO

THE

RIVER

?The city plans verdant bike and pedestrian connections between

PSU

and the ?Willamette, coupled with an ambitious bike-sharing program.

HERE

COMES

THE

SUN

?Huge campus rooftops—?especially PSU's Parking Structure 1, Lincoln Hall, Smith, and Science 2—could be ideal for solar power.

GHOST

TOWN

? Sustainable programs are harder to … well, sustain without 24/7 life. The neighborhood lacks storefronts, though parking lots at

PSU

's southeastern edge could see mixed-use projects.

GREEN

GIANT

? The proposed Oregon Sustainability Center—intended as an international landmark of green architecture—could be the district's heart. Or political and financial uncertainty could leave it unbuilt.

SHOW

ME

THE

MONEY

! ?Who will pay for the whole ecodistrict, and how? A biomass power grant application failed and parking-fee diversions have floundered politically.