Out and About
Kitchens of Distinction
How to bring an old kitchen into the present day, while still staying true to the spirit of your old house.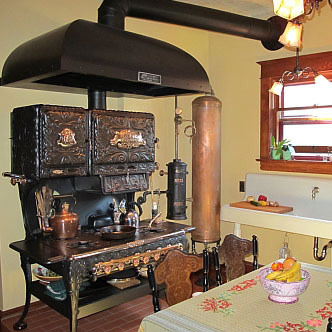 With any remodel of an old home, there are sure to be compromises, whether they involve budget, comfort or authenticity. How to balance these can be especially complicated when the remodel project ventures into that sacred space of modern life, the kitchen.
Home kitchens from a century ago tended to operate – and thus to be built – quite differently than today's kitchens. The kitchen wasn't a gathering place for the whole family, or the space to which guests gravitated during a boisterous party. It was a place of work. Amenities were not on the menu; efficiency was.
So it's a particular challenge to renovate an older kitchen to today's "standards." The upcoming Kitchen Revival Tour offered by the Architectural Heritage Center (AHC) will zero in on the challenge and provide answers and inspiration. The Center's 14th annual kitchen tour takes place Saturday April 14, 2012.
Eight local homes will open up their kitchens – a place guests wouldn't usually have been allowed to wander through, unless they were there as hired help. The homes range from middle-aged (1961) to centurion-plus (1898), and include an apartment kitchen in the 1926 Mediterranean style San Carlos Apartment Building on SW Vista in Portland.
The budgets for the remodels vary as well. Three are DIY – the type of projects where compromises often are felt quite keenly (including in the owner's muscles and joints!). Three others are professional jobs carried out by local historically-minded contractors (and business members of the AHC) Hammer & Hand, Arciform and Craftsman Design and Renovation.
14th annual Kitchen Revival Tour
Architectural Heritage Center
Saturday, April 14, 2012
10am-4pm
Members: $20.00; General Public: $25.00
The Architectural Heritage Center is located at 701 SE Grand Avenue, Portland, OR 97214
Phone: (503) 231-7264