Mudroom
The New Nesting
Portland leads the rise of the renting class.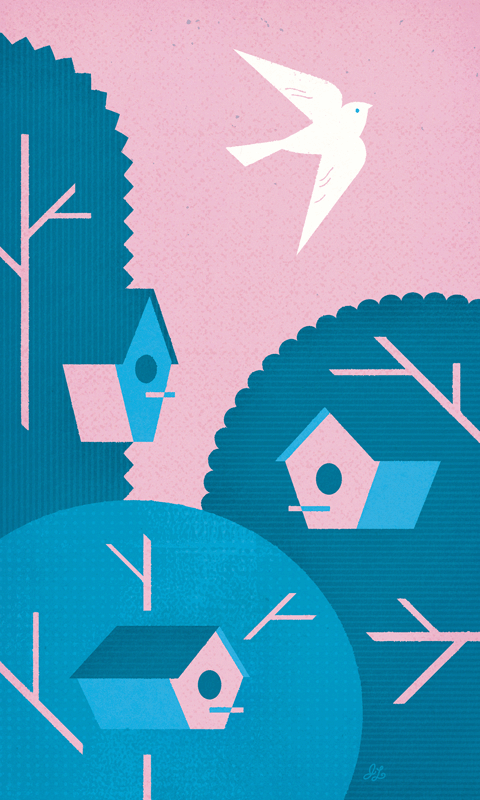 JD AND AMBER MCLANDRICH embody family values, modern Portland style. At 29 and 30, respectively, they work good jobs (he's a GIS specialist; she's a teacher). They live with their 2-year-old son in a Southwest Portland townhouse and espouse the traditional real estate agent's mantra. "Location is everything to us," Amber says, praising their home's proximity to parks, museums, and shops.
The twist? The McLandriches rent their home. Moreover, they say they don't care if they ever own. (They investigated buying a house but concluded they couldn't easily replicate their current, and much preferred, lifestyle.) And according to economists, sociologists, and real estate experts, their anti-picket-fence stance is becoming a badge of liberty for the two most influential demographics in the nation and in Portland: baby boomers, and people 32 or younger, like the McLandriches, often broadly tagged as "millennials." In growing numbers, those generations are remodeling the traditional American dream of land, home, and equity.
"Together, those two groups make up two-thirds of the market," says Will Macht, a local developer and Portland State University real estate professor. "Both tend to prefer locations that lend themselves to rentals."
Over the past year, Portland's vice-tight rental market has garnered plenty of notice. Vacancies hover around just 3 percent, and rents are increasing by up to 4.8 percent each year. This makes the city one of the nation's toughest—or, if you're a landlord, most potentially lucrative—places to rent. And money aside, the trend could herald a deep cultural change in Portland and beyond.
In the '90s and '00s, buying a fixer off Mississippi or Foster was considered the height of cool among the young transplants flocking to the city. (The mortgage free-for-all certainly helped.) Prices rose—then fell. Even with some owners "underwater," as they say, newcomers may find these districts prohibitive for buying, but still desirable for living. Last year, studies by the National Association of Realtors and the Urban Land Institute both revealed that huge millennial majorities want exactly the mixed, walkable neighborhoods that have been Portland planning gospel for a generation.
"Places like Hawthorne and Alberta are awesome," says Justus Peacock-Broyles, a 27-year-old chef and frequent overseas traveler who rents a house near Mount Tabor. "But to live here, I have to rent."
However, mounting evidence suggests that for many of Peacock-Broyles's cohort, renting isn't just a fallback; it's the goal. Recent surveys reveal his generation's marked preference not just for dense, urban environments but, in the increasingly fluid, freelance- and contract-work world, for ready mobility. About one Portlander in 15 is self-employed, and renting makes sense when you're waiting for a call from a Hong Kong creative agency or a Pendleton carpentry job.
Local developers are getting wise. (According to one real-estate firm's estimate, 13,000 apartment units are either under construction or proposed in the metro area.) "Younger people have a new flexibility to work where they live," says Robert Ball. "And they're more experience-oriented." After his last project, the Wyatt, was transitioned from condos to rental units, Ball plans to break ground on a new, all-rental development in August in the Pearl District: the Parker's rents will start at $1,000, and its common areas will come stocked with barbecue grills, Ping Pong tables, and even an XBox gaming console. Residents will be able to down the day's first espresso in the lobby coffee bar.
If these millennial desires find near-perfect expression in Portland, they're not confined here. Recent stats show younger people—regardless of income level—spurning the big houses, long commutes, and car ownership that denoted success for previous generations. Meanwhile, at the other end of the age (and income) spectrum, baby boomers are also going deedless. A 2009 survey found that 75 percent of retiring boomers said they want to live in urban, "mixed use" settings.
"It doesn't mean everybody's going to move downtown," says John McIlwain of the Urban Land Institute. "It means there's going to be more rental housing in both cities and suburban town centers."
So is Portland's hot rental market just inflating another bubble? Gerard Mildner, director of PSU's Center for Real Estate, says that just as stereotypical Depression survivors reused tea bags, millennials scarred by the housing crash may always rent. "People who lived through the '30s behaved very differently than the generations before and after," he says.
Ball thinks that paradoxical conservatism could be good. "When people buy, I say, 'Make sure you get a place you'll feel comfortable for a long time.' And if they're just buying because they want to sell in a year or two? That's a bad idea."