Christianity in Portland
Jesus' Favorite City
A group of emerging liberal Christian leaders is rethinking GOD—in Portland's image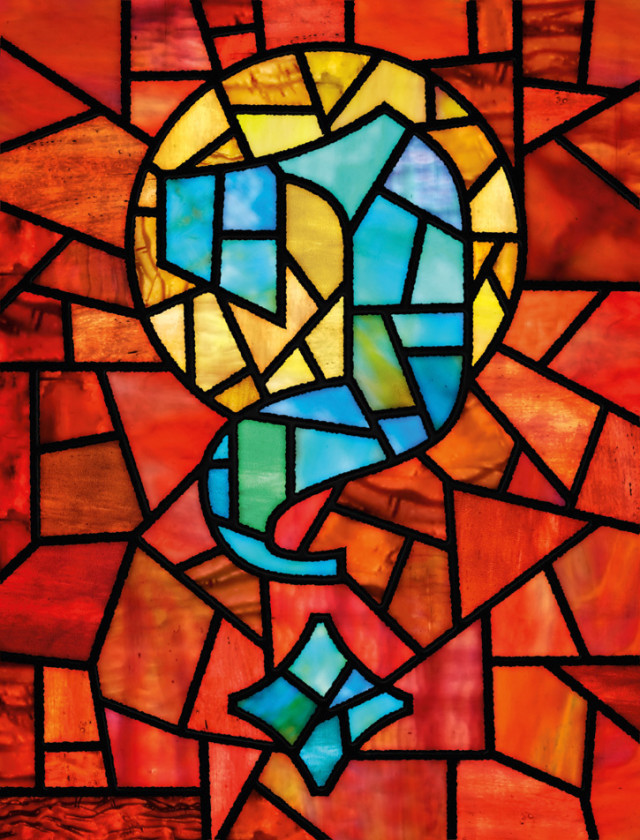 The Rose City, along with the rest of the Pacific Northwest, has long been known (and, by many here, celebrated) as one of America's "least-churched" regions. Twenty-five percent of us—three times the average of the rest of the country—declare no religious affiliation at all.
Sure, we have a long history of deists and cults, but Portland has also become a breeding ground for liberal forms of Christianity, ranging from one of the largest Unitarian Universalist congregations in the country to a swiftly expanding community of believers who are looking beyond well-established churches and theologies to pioneer a movement often referred to as "postmodern religion" or the "emerging church."
As USA Today religion columnist Tom Krattenmaker recently argued, there is "the strong likelihood that Christianity's best face is showing up here in the unchurched mecca not in spite of the city's secularism and skepticism, but because of them." Or, as City Commissioner Nick Fish speculated last spring when an unprecedented collective effort of churches called the Season of Service presented our openly gay (and famously sinful) mayor with a $100,000 check to curb dropout rates in schools, "Perhaps someday we'll be known as Jesus's favorite city."
So, to welcome journalist and proud atheist Christopher Hitchens to town for a January 5 appearance in the Portland Arts & Lectures series, we offer a conversation about the value of religion with some of Portland's liberal church avant-garde. 
Dr. Marcus Borg
Canon Theologian, Trinity Episcopal Cathedral, marcusjborg.com
Doctor Marcus Borg is gregarious in conversation. His eyes widen. He leans over the table, his body almost parallel to the table where he's enjoying his morning coffee. The air erupts with the wide swoops and rapid chops of his arms. It's as if the knowledge acquired from 41 years of teaching religious studies (which Borg retired from two years ago) still courses through his body. Small wonder that the world-renowned scholar on the historical Jesus has written four best-sellers (most notably Jesus: Uncovering the Life, Teachings, and Relevance of a Religious Revolutionary), been a guest on the Today Show and Dateline, and for 13 years held the Hundere Chair in Religion and Culture at Oregon State University. Described by his peers as "a key force in the emerging 'new paradigm' of Christian faith," Borg makes the typically stuffy world of theology not only approachable but, dare we say it, fun.
"At OSU, around 50 percent of my students had a tremendously negative view of Christianity," Borg says, preemptively removing his coffee mug from the table lest his perambulations send it flying. "For them, Christians were, and I'll use their five favorite adjectives: literalistic, anti-intellectual, self-righteous, bigoted, and judgmental. That's the public face of Christianity."
Which is why the 67-year-old considers emerging Christianity such an important new movement in modern religion, and why it remains a more and more popular topic on the lecture circuit—Borg logs over 100,000 miles a year speaking at churches the world over. "This way of seeing things has made it possible for me to be a wholehearted Christian," Borg says, "and I think that's true for millions of other people as well."
In contrast to conservative evangelism, which mostly holds firm to the idea first floated during the Protestant Reformation of the 16th and 17th centuries that the Bible is an infallible document (as well as a literal translation born from the conflict of Christianity and the birth of modern science), emerging Christianity's tenets are far less strenuous. Congregations are more concerned with this life than the next life. Members attend intentionally, not out of any sense of tradition, habit, or cultural expectation. The movement's progressive theology means the Bible is read as a historical-metaphorical document that sees no fundamental conflict between Christianity and science, and that affirms religious pluralism. Members tend to be progressive both socially and politically. And the Christian gospel is about transformation—of the self and the world.
The move away from fire and brimstone toward a more introspective, service-based belief system is what Borg thinks has helped emerging church congregations to gain such a firm toehold in Portland. "For many people, especially those under 40, Christianity has become like a foreign language," Borg says. "I've found that living in an unchurched part of the country has forced me, and therefore enabled me, to talk about religion in other than traditional Christian language."
Liberal Christians like himself, Borg explains, have long been better known for what they preferred not to believe. With the emerging church, that's changing. "They take the Bible very seriously, but I don't for a minute think that it's inherent," he says. "The fear of some people is that emerging churches are moving too far away from the scriptures. I would say that it's not that they're moving away from the Bible as they're recovering the Bible as a story, symbol, and metaphor." —Bart Blasengame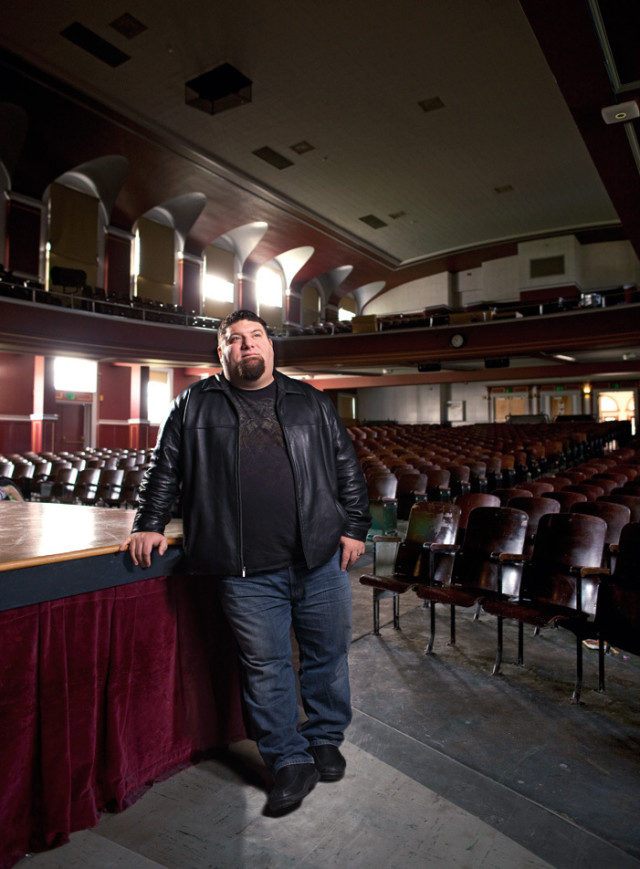 Imago Dei
As the sun lures rain-weary joggers, walkers, and bikers into the streets of Southeast Portland on a Sunday morning, Franklin High School's auditorium reverberates with the chatter of hundreds of young singles and couples coaxed inside by the riffs of a four-piece Christian rock band. "If you need a Bible, raise your hand," says Pastor Rick McKinley over the din, instantly commanding the attention of the eager congregants. "Someone will come and throw one at your head."
This is Imago Dei, a nondenominational evangelical community and one of the largest manifestations in Portland of the emerging church movement. McKinley, a warmly ebullient pastor, delivers his sermon on the book of Luke with a fluid weave of humor and honesty, urging a return to the simple devotional habits and communal support practiced by Jesus's disciples.
While McKinley's preaching is notably free of the high drama and polish of megachurch and TV evangelism, Imago Dei (which takes its name from the Latin for "image of God") adheres strictly and unabashedly to a literal reading of the Bible as both spiritual and historical truth. But McKinley insists that his church's fundamentalist interpretation of the gospel actually encourages liberal social action—not to mention harmony with Portland's prevailing culture. If, as Genesis tells us, humans are all created in God's image, it follows that we must love them as we do God. In affirmation of this lofty ideal, McKinley notes proudly that his young congregation is split evenly between Democrats and Republicans.
In 2000, McKinley, a nationally recognized author and speaker, moved from Eastern Oregon to Portland with his family in order to, in the jargon of the emerging church, "plant" Imago Dei, growing it from the ground up by simply talking to people in the city. The church now boasts 20 full-time staff members, more than 2,000 congregants, and a newly renovated, 28,000-square-foot headquarters on NE Flanders Street.
The energy of the congregation, McKinley is quick to point out, is channeled into service, not politics. "The more literally you take the scripture," he says, "the more you don't go putting any hope in Jesus reigning through legislation. I don't think He ever signed up to do that." In February 2009, for instance, Imago Dei joined evangelist Luis Palau's Season of Service to raise $100,000 for the city in hopes of bolstering the Portland Public School District's dismal high school graduation rate.
Eighty percent of church "plants" fail within their first few years. But donning their Sunday best of jeans and untucked shirts and taking communion with local wine and gluten-free crackers, Imago Dei's members have sunk their roots firmly into Portland's soil. Despite the church's success, McKinley says he has no plans to expand Imago Dei beyond the city limits. "Pastoring," he stresses, "is very local at its core."
—Martin Patail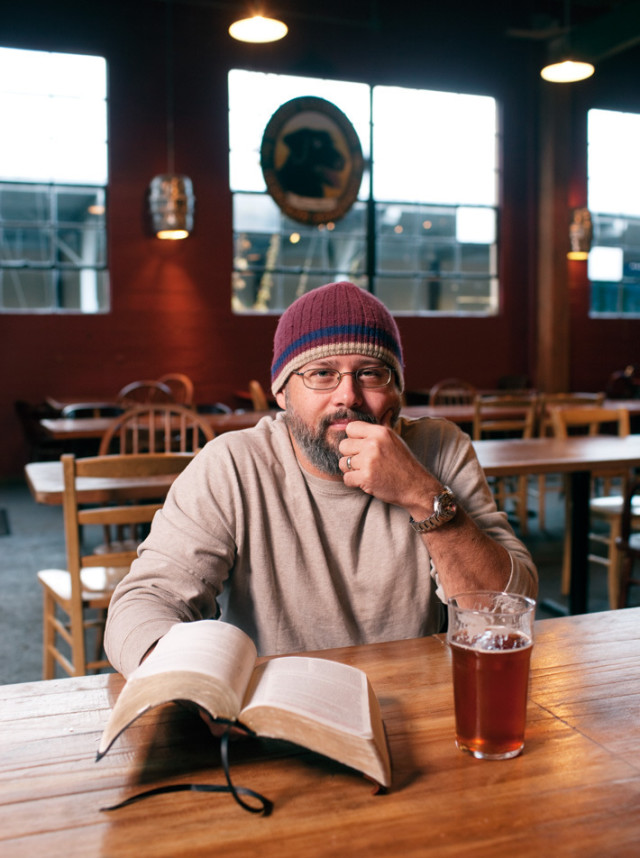 Evergreen Community
For Bob Hyatt, the 40-something, ball-cap-wearing lead pastor of the Evergreen Community, anchoring Sunday church inside a beer hall where bitters, stouts, and golden ales flowed freely the night before is a good way to shine a beacon—and a warning—to the faithful.
"It says that we don't fit the stereotype of the anal-retentive sort of Christian," he says, sitting at one of the communal tables at Lucky Labrador Brew Pub in Southeast Portland. "It also helps to weed out the type of Christians that wouldn't fit with us. But most importantly, meeting in a public space embodies what we're about: we don't want to hole up in some building with big doors and be a sanctuary from the world."
Evergreen's cornerstone, Hyatt explains, is Jeremiah 29:4–7, a passage in which God tells the exiles in Babylon to build houses, settle down, plant gardens, and pray for the peace of the city they were put in. But much of the church's ethos lies in the sense of home and mission Hyatt has created for those wayward souls turned off by more traditional evangelism. A recent survey of his 210-member congregation found that more than 60 percent had spent significant time away from the church. Among them is Hyatt himself, who, raised as a Baptist, admits a period of deep "burnout, hurt, and distance" from the church. "We're not just hanging out and waiting for the rapture," Hyatt says. In fact, Evergreen is involved in outreach efforts like serving food at the Portland Rescue Mission, and has started its own nonprofit counseling service, Evergreen Clinical.
After graduating from Western Seminary, Hyatt bounced around congregations big and small. He founded Evergreen in 2004, aiming to create a community far removed from the pious and prostrate. Dress is casual; sermons are less lectures than a dialogue between speaker and audience; musicians play under battered dartboards. What Hyatt calls the "refrigerator buzz"—an undercurrent of discomfort with conventional evangelism that permeates Evergreen—has run off some members used to more traditional worship. "For people who've never had any angst or anger toward the church, Evergreen is kind of hard to get," Hyatt says. "But for people who've told me, 'This is my last church experience, and if this doesn't work, I'm done,' we offer a place to express that discomfort, heal from it, and move on." —BB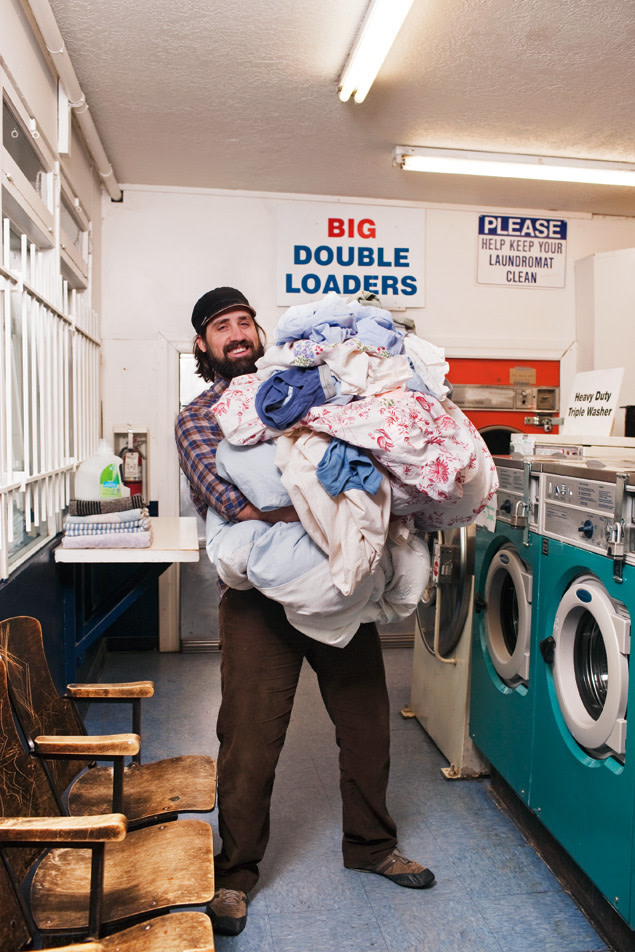 Bread & Wine
At 6:30 on Wednesday evenings, Duke Revard, 31, picks up his daughters' oversize puzzles from his living room floor while his wife, Caroline, bakes cookies and brews coffee in the kitchen. It's a scene that could be playing out in many other inner Northeast Portland homes, but there's one difference: the Revards are prepping their home for spiritual service. Wearing the neighborhood's uniform of beard, brown duds, and a light sheen of sweat from a recent bike ride, Revard casually describes the homespun house of worship: "God is approachable and relatable; Jesus was an intelligible entity."
That simple, mutable ideal nurtures Bread & Wine, the church Revard planted in the Alberta Arts District in March 2009. Eschewing robes, altars, and buildings in favor of friendship and familiarity, Bread & Wine is a church in the broadest sense of the word. Members are spread among small, semi-autonomous "gospel communities" of about 12 people each. With sofas and living rooms standing in for pews and altars, congregants explore each others' lives, beliefs, and doubts, as well as, of course, the Bible. Fittingly, Bread & Wine borrows its name from the metaphor Jesus used to describe himself to his closest friends.
Trained in church planting in his native Little Rock, Arkansas, Revard arrived in Portland in 2008 to shape Bread & Wine as a "walkable and bikeable community." The group that filters through his front door on Wednesday evenings is a casual gathering of friends and neighbors: college students, single mothers, and bankers—a mix of devoted believers, new converts, and curious skeptics. As Caroline breast-feeds the couple's youngest child, the group dives into an open-ended discussion of the book of Acts, which describes a time when the church was a dynamic and adaptive organism.
Recalling that early apostolic vitality, Revard shrugs off the hard-nosed, conservative intolerance so commonly associated with evangelical churches. "We want to speak to people in their own language," he says. As with other emerging churches, service takes precedent over theology and politics. It's embodied by projects like Laundry Love, a monthly gathering at the Alberta Washhouse that provides free laundry and food for the less fortunate—a small act of Christian charity, to be sure, but to Revard and his congregants, it exemplifies the apostle Paul's reminder to the Romans that God "does not live in temples built by hands." Bread & Wine aspires to a more metropolitan goal. "Let us love our city," Revard intones, leading his living room gospel community in a closing prayer. "Let us love Portland." —MP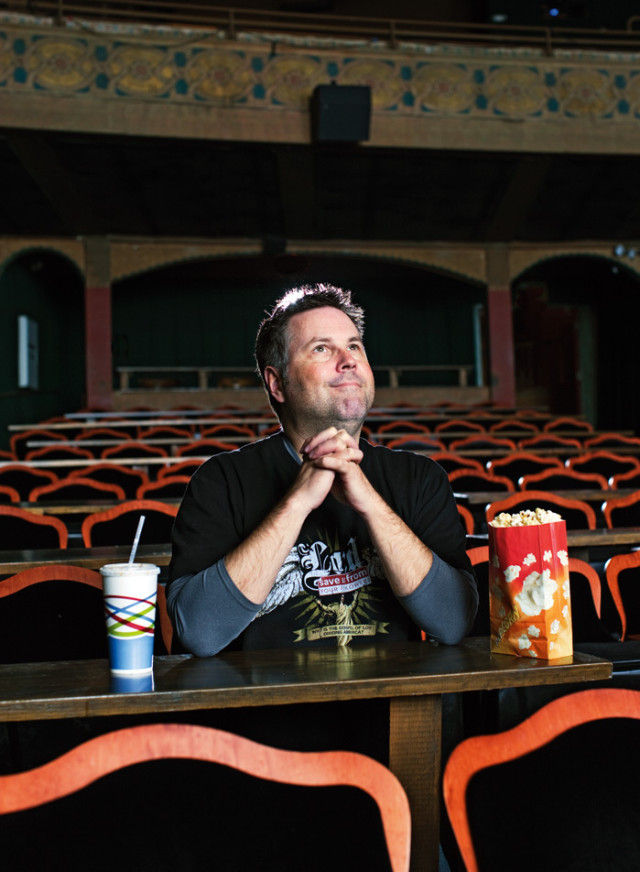 Dan Merchant
Maker of Lord, Save Us from Your Followers lordsaveusthemovie.com
Dressed in a white jumpsuit plastered in religious regalia ranging from a Jesus fish to a bumper sticker that reads, "Sorry I missed church, I've been busy practicing witchcraft and becoming a lesbian," Dan Merchant bundles evangelism and paradox.
He doesn't want to convert you; he just wants to get you talking. "Everybody has faith of some kind, in something—whether you're an atheist or a Baptist," he says. "And since we all have that enormous thing in common, the conversation about religion oughta be a whole lot bigger than what can fit on a bumper sticker."
In the fall of 2006, Merchant donned his irreverent ensemble and hit the road with a cameraman, chatting up such disparate folks as Teen Mania Ministries pied piper Ron Luce, comic-turned-senator Al Franken, and a San Francisco drag queen named Sister Mary Timothy. The resulting documentary, Lord, Save Us from Your Followers, jumped squarely into what Merchant calls "the collision of culture and faith in America." With the comedic theatricality of Michael Moore or Morgan Spurlock and the penetrating emotional tenor of a good counseling session, Lord, Save Us has become a barrier-bridging hit, playing in 13 cities, with several more booked and Merchant frequently along for live follow-up.
Baptized in a river on the Olympic Peninsula, Merchant has attended the same Beaverton church for 20 years. His father, an aerospace engineer, exposed Merchant to the world's religions; his mother kept their TV tuned to The 700 Club. Given free rein to pick his own faith, Merchant chose Christianity. "The teachings of Jesus just made the most sense to me," he says. "He's the one religious figure in the history of mankind who didn't get anything out of the deal," he says, chuckling. "Buddha got enlightenment, Muhammad got to lead the army—Jesus, people shit on him wherever he went."
"But the self-sacrifice and the grace and the redemption and the forgiveness," he adds, "it all seems so otherworldly, but when applied in this world, it actually works."
Merchant toils in the largely uninhabited nexus of Christian evangelism, Portland liberalism, and pop-cultural celebrity. And as Lord, Save Us makes its way across the country, he sees himself as a pioneering exporter of a laid-back, quintessentially Stumptown brand of faith that's rooted in Luke 10:25–37 ("Love your neighbor as yourself") and is exemplified by boundary-busting collective acts of kindness like Luis Palau's Season of Service. "The culture of Portland is sloppy, weird, and wonderful," Merchant says. "We're not threatened by the diversity of ideas."
With another decade of such service evangelism, Merchant imagines that the all-too-common perception of Christians as "those people who vote against this and this and hate everyone" might gradually blossom into a new image.
"What does Jesus's love look like?" he asks, his bespectacled brown eyes narrowing. "It looks like a free dental clinic under the Burnside Bridge. That's what it looks like." —Rachel Ritchie