Mudroom
Chasing the Wind
Two local turbine manufacturers face off to harness the breeze.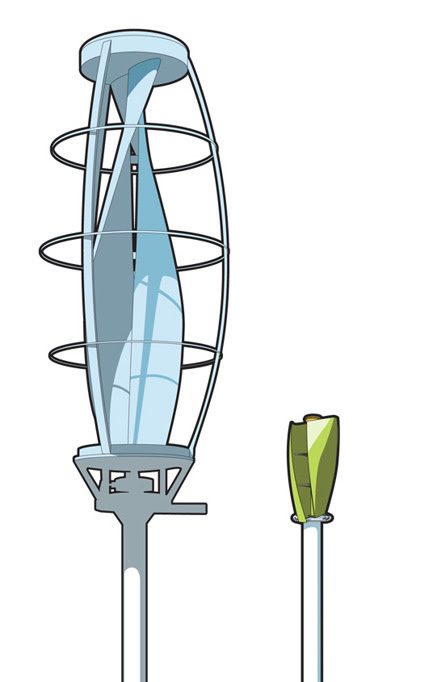 This year, Oregon Wind, a partner of the local sustainable-lighting company Eleek, will officially launch the Revolution, an urban wind turbine whose petite, vertically revolving blades put a different spin on the propeller-style turbines that dot Oregon's rural landscapes. In development for seven years—and the recipient of a coveted contract with TriMet—the Revolution seemed to have the market for city-dwelling wind turbines cornered. That is, until some unlikely competition blew in from up north: Christensen Shipyards, a luxury yacht builder in Vancouver, Washington.
When the market for multimillion-dollar pleasure cruisers capsized thanks to the Great Recession of 2009, Christensen had to jettison more than half of its 500-member workforce. But last fall, the company captured $1 million in seed money from the American Assistance and Recovery Act to retool and rehire many of its employees to manufacture wind turbines. The boat-maker's new venture—called Renewable Energy Composite Solutions (RECS)—is also poised to unveil the final prototype of its first turbine, designed by Portland-based Skyron Syste­ms, this year.
Call it bottom-up innovation versus top-down stimulus, or Stumptown versus the 'Couv—may the company with the best spin win.
THE

BREAKDOWN
RECS

: Vertical Wind Turbine
Cost $20,000–25,000 each
Specs Made of steel and fiberglass composite, the 20-foot-tall, 1,200-pound structures can generate three kilowatts of power at a wind speed of 34 mph.
Competitive Edge The turbines can operate at a minimum wind speed of 11 mph, and the energy they generate can be used to create electricity or to pump water. The sound they make while spinning never rises above a whisper, and they pose no threat to birds or other critters. Plus, as Skyron Systems CEO Brian Sheets says, they are "architecturally pleasing" when installed on top of a building.
Achilles Heel At 1,200 pounds each, the units require not just eco-consciousness, but major structural engineering to install—and they come with a heavyweight price tag to match.
Major Contract Landed None yet
Oregon Wind: The Revolution
Cost $2,000 each
Specs The 42-inch-tall, 20-pound units are made of 100 percent recycled thermoplastic olefin (TPO) from salvaged materials. Each unit can generate 500 watts of power at a wind speed of 28 mph.
Competitive Edge Easily deployed and able to operate silently, without any vibration, the Revolution is wildlife friendly, and easily customizable.
Achilles Heel At press time, Oregon Wind was undergoing a restructuring; if unsuccessful, it's possible that the company would disappear altogether. So in the race to tame a still-unpredictable alternative energy market, RECS may spin into the lead as TriMet gets a whirling museum piece.
Major Contract Landed TriMet will install an array of 22 turbines at the South Terminus of the MAX Green Line to help power the lights and trains.