Mudroom
Upward Bound
A boot camp for Democratic women aims to decimate the gender gap in Oregon politics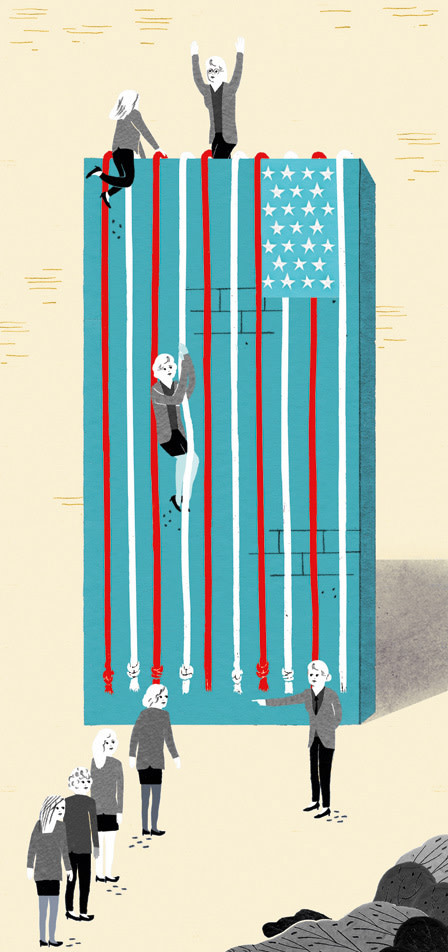 Back in the early 1990s, the horizon was bright with political opportunity for women in Oregon: Barbara Roberts, the state's first female governor, was blasting through thickets of federal red tape to establish the Oregon Health Plan; Vera Katz, only the third woman to hold Portland's mayoral office, was saving the city's public schools; and 25 of Salem's 90 legislators held the double X chromosome. The fire had been stoked; change was on the way.
At the dawning of a new decade, however, the promise of a golden era for women in politics has dimmed. Today there is actually one woman fewer in the Oregon Legislature than there was 20 years ago, and the pool of rising female political stars is alarmingly shallow. No woman has even bothered to run for mayor since Katz finished her third term in 2005. Ditto for the governor's office since Roberts left in 1994.
But watch out. This month, Emerge Oregon, an affiliate of Emerge America, a national effort aimed at launching Democratic women candidates, will begin priming its second class of 22 aspiring leaders.
Since its founding in California in 2002 by Andrea Dew Steele, a former aid to US senator Patrick Leahy, Emerge America has spread to nine states. In April 2009, the fledgling Portland chapter began outfitting Northwest women with the group's tool kit for effective campaigning.
A campaign is a unique animal," explains Kathryn Firestone, Emerge Oregon's executive director. "Our mission is about giving women the skills to compete in—and win —a race."
According to Firestone, who cut her political teeth with a bid for the Oregon House in 2004, great ideas, integrity, and leadership skills go a long way once you're elected, but waging a triumphant campaign demands an entirely different acumen. Emerge trainees, she says, plunge headlong into campaign boot camp: six weekends of skin-thickening 10-hour workshops on public speaking (for instance, gracefully "pivoting" around probing questions); fundraising (prepping a donor for the big ask); collaborating with labor unions (learn the mission and be honest about your commitment); and, yes, even glad-handing (memorize names and faces; make eye contact!).
Emerge's back-to-basics approach arrives amid a seeming malaise among US female politicians. Sure, Nancy Pelosi is Speaker of the House and Hillary Clinton is Secretary of State, but America ranks 71st worldwide for women holding elected office—in fact, we straggle behind countries we've vilified for cultural misogyny, such as Mexico, China, and Pakistan. Women hold only 17 percent of the seats in the US Congress and are governors of just six states. Of the country's 100 largest cities, only 10 have female mayors. The glass ceiling may have 18 million cracks in it, as Hillary says, but it'll take a bulldozer to shatter it.
Locally, Emerge enjoys plenty of muscle. The group is backed by an advisory board filled with power brokers, including once-Guv Roberts and ex-Mayor Katz, as well as former Oregon Supreme Court Justice Betty Roberts and Senator Ron Wyden. Meanwhile, Emerge America's advisory board boasts heavyweights like Dee Dee Myers, Gloria Steinem, and Ann Lewis.
And its efforts appear to be paying off. Of Emerge's first 20 graduates, 4 currently hold public office and many more have plans to run. Joelle Davis, an Emerge alumna and a Tualatin city councilor, recently launched her campaign to represent District 37 in the Oregon House.
"If you'd told me 10 years ago I would be doing this, I would've said 'No way,'" she says. "There was a lot of self-doubt to overcome. But now I know how valuable my experience and abilities are."
Yet in a political climate that has the Stanford-educated former Miss America Gretchen Carlson playing dumb blonde on Fox News rather than running for office, are women forever doomed to minority status in the political realm? "It's tough out there," Davis says. "As politics have become more about personal disruption, women tend to shy away—they don't want to expose themselves or their children to being shredded in the public eye."
Local political matriarch Vera Katz knows firsthand the challenges facing women, but she's heartened by the success of Emerge Oregon's first class. "What you need to do is set the environment to encourage women to run," Katz says. "And that's exactly what Emerge is doing."