Mudroom
All in the Family
The real reasons Portland has nine—yes, nine—sister cities.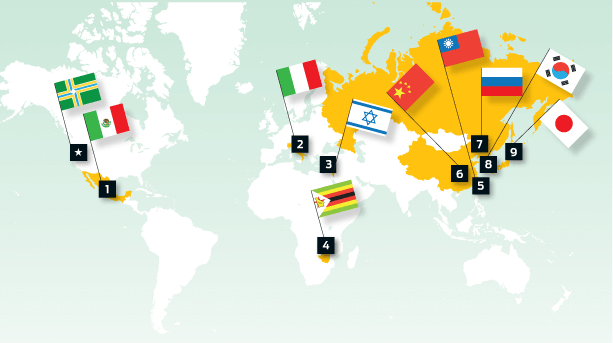 "SISTER CITY"—the phrase harks to a pre-Skype age of Rotary Club dinners for visiting notables and tissue-papery airmail stationery. Indeed, Dwight Eisenhower gave the presidential stamp of approval to the basic idea back in 1956. Friendly Portland went at it with a will: we have nine official sister cities.
According to Noah Siegel, Portland's global affairs director, our international sorority remains "a tremendous success" and a "great citizens' diplomacy tool." But what are these places, and what forms our sisterly bond? We scanned the map—and read between the lines—to find out.
1. Guadalajara, Mexico (1983)
Why? The alliance supports local Hispanic charities, nonprofits, and scholarship funds.
We say: Drinko de Mayo!
2. Bologna, Italy (2003)
Why? The University of Bologna and OHSU recently worked together on leukemia research.
We say: Finally, a more annoyingly food-obsessed culture than ours
3. Ashkelon, Israel (1987)
Why? Increase public understanding of Israel without the cloud of politics
We say: Mediterranean sunbathing. Plus, girls with Uzis!
4. Mutare, Zimbabwe (1991)
Why? Portlanders fund schools and clinics.
We say: Is it true Bono's got a hut there?
5. Kaohsiung, Taiwan (1988)
Why? As one of the world's largest seaports, Kaohsiung fits right into Portland's Pacific Rim trade strategy.
We say: Extreme trans-Pacific dragon boat race, date TBA.
6. Suzhou, China (1988)
Why? One notable result of this alliance is our Lan Su Chinese Garden.
We say: Sweet. We can hedge our bets on the whole Taiwan thing.
7. Khabarovsk, Russia (1988)
Why? In 2010, the Far Eastern city modeled its waste disposal system on ours. Victory!
We say: Vodka shots with people who really know the meaning of "June-uary"
8. Ulsan, South Korea (1988)
Why? Originally, because Portland is the largest US port for Hyundai cars, which ship out of Ulsan.
We say: Give us your advanced pickling technology!
9. Sapporo, Japan (1959)
Why? This friendship celebrates many similarities in climate and culture.
We say: Inspiration to get Portland renamed after a beer.
---
THIS MONTH: The Rose Festival brings delegates from all nine sister cities to city hall on June 6, including mayors from Bologna and Ulsan and a Kaohsiung dance troupe. For more info, see rosefestival.org.
---