Mudroom
The Bottom Line
Kim Graham-Nye puts the diaper industry on the changing table.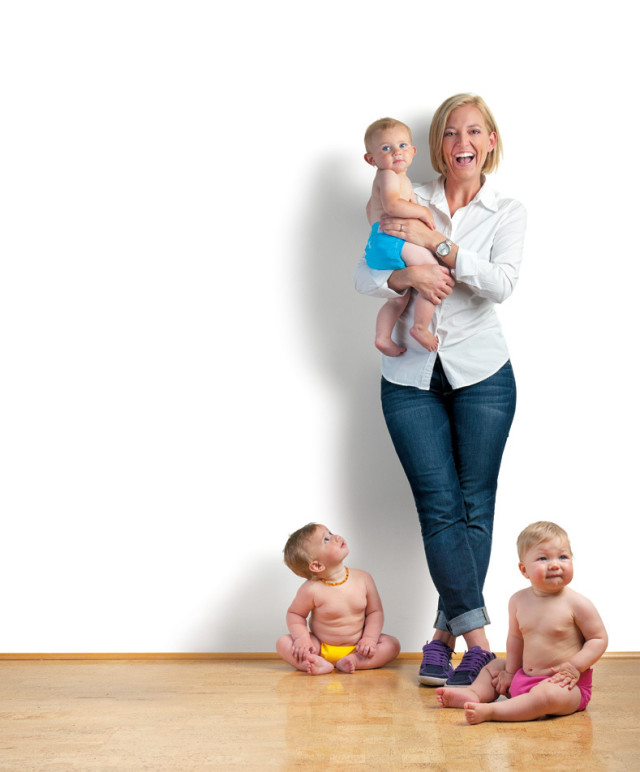 WANT LUNCH RUINED? Every day, the United States alone sends 50 million disposable diapers to landfills.
As a new mom in the early '00s, Kim Graham-Nye didn't like her options. "It was either washing cloth, or disposable," Graham-Nye says.
At the time, Graham-Nye and her Australian husband, Jason, lived in Sydney planning romantic getaways for wealthy clients. Today, Graham-Nye is president of gDiapers, a fast-growing Portland company whose flagship product consists of reusable—and sportily colored—outer pants and flushable, compostable absorbent inserts. Over the past six years, the company's growth often approached "vertical," as Graham-Nye puts it. Even post-recession, gDiapers enjoys a devoted following (30,000 Facebook fans) and recently launched in Europe, the UK, and Graham-Nye's native Canada.
Meanwhile, gDiapers embodies Portland's progressive-business dreams. On yoga day, staff members spread mats just outside the on-site day care at the headquarters on NE Martin Luther King Jr. Boulevard. Kim and Jason work side by side. (He's CEO.)
Even their move here seems tailored to a Portland brouchure. Graham-Nye stumbled upon the flushable diaper at a trade show and licensed the product—a license valid only outside of Australia and New Zealand. "We looked everywhere," Graham-Nye says now. "Europe. Japan. Canada. Northern California."
Portland seduced them with sportswear know-how ("Our products are technical fabric, too," Graham-Nye notes) and proximity to New Seasons Market, a natural-grocery trendsetter. The city's cheapness and friendliness helped.
"If you raise $5 million, it goes twice as far as in San Francisco," she says.
Growing pains long ago replaced baby steps. Two years ago, with upscale retail in the doldrums, gDiapers launched at titanic Babies-R-Us. The UK market required a name tweak: kids wear gNappies there. "When you're as brand-focused as we are, the slightest change is hard," Graham-Nye says. "People like our products, but they love our brand."
With every customer supposed to quit using the product by age 3, Graham-Nye keeps searching for new frontiers—no stretch for a woman who moved halfway around the globe to battle a foul problem. "We're after world diaper domination," she says.