Portland Fashion Week
PFW Night Two: Athletic-Wear
Night two of our week of fashion.
I'm going to be real blunt here and say that minus one glorious breath of fresh air, the second night of Portland Fashion Week left my normal sunny self with a serious case of the grumps. Why? Because I don't like to leave a fashion show feeling utterly confused… and I did.
I'm not going to go into minute details for each active wear company that showed – Adidas, Grenade, Ryu (because does Adidas really need my opinion on how to improve their company? Uh, no), but I do have some overall thoughts. First off, while I know athletic wear is a huge part of this city, there are some issues showing it. Every girl knows the importance of a good sports bra, but I didn't need to see like four of them on a fashion runway last night. The problem with active wear on the runway is this: The motivator behind purchasing athletic wear often has to do with what the performance fabric does (wick sweat, waterproof, etc.) or the tiny additions for assistance (iPod pockets, mesh panels, etc.). And you can't see any of that on a runway. I might have been looking at the most space age sports bra in the history of the world, without seeing it up close or having any kind of literature to speak to that, they all looked the same to me. (Although Adidas did show some cool shoes and lifestyle clothing as well that I genuinely liked.)
Moving on, I have a brief open letter to Grenade. I know your gloves and outerwear are loved by many a snowboarder and that is lovely. However, putting models in company t-shirts and bikini bottoms with their cheeks chilling on the runway is not fashion and the audience groans can back me up on that.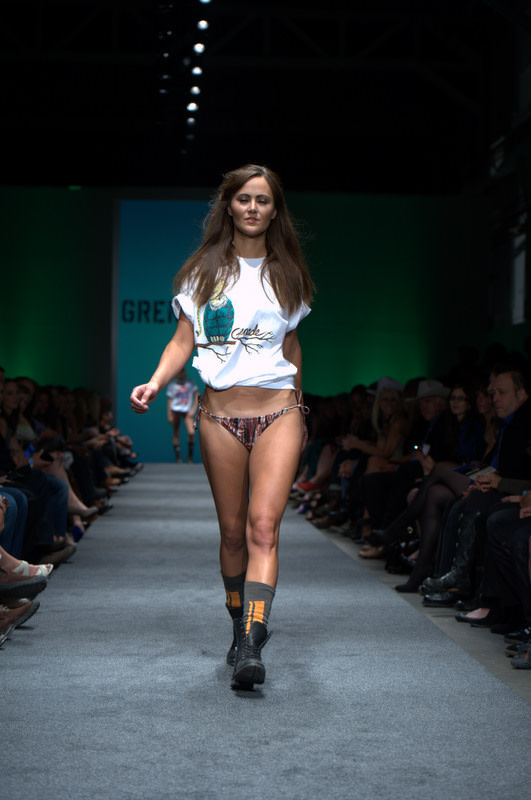 Earthtec's line of casual wear made from recycled material (like plastic water bottles) was perfectly wearable and sellable. Nothing was particularly re-inventing the fashion wheel, but that doesn't seem to be the point of the line. And with the back-story it has of sustainability first, I suspect it would be embraced here.
Ethos Paris, Lenzanita and Avni all had a couple highs and some lows. My advice to the bunch is to be consistent and know your demographic, I was often confused if it was heading towards my mom's age or mine. Either legitimately works, but choose. And I would like to politely state that Avni's frantic Irish jig music loudly playing during their runway segment nearly induced a panic attack for me. Perhaps something a little more pleasant or fun would be advisable.
Finally, Anna Cohen's line for the Imperial Yarn strutted down the runway and my slouched posture perked up into a proper state. The line of knitwear (non-knitwear pieces were from Cohen's design archives) consisted of cozy, wanna-snuggle-up-inside, chunky pieces in shaped silhouettes. The line is Oregon 100% with the sheeps raised here, wool made, garments designed and created. That makes me love it even more. Standout piece of the night for me was a blue sweater dress with big contrasting knit petal shaped pieces hanging from the neck. It made the near jig panic attack totally worth it.
(Tonight is one of my personal favs of the week with all local kids, including Ms. Woods, winner of last year's Emerging Designer competition)
adidas
Grenade
Earthtec
Lenzanita
Ethos Paris
Avni
Imperial Yarn