Rainmaker
True Calling
Ruby Receptionists lets small business outsource — to the Pearl.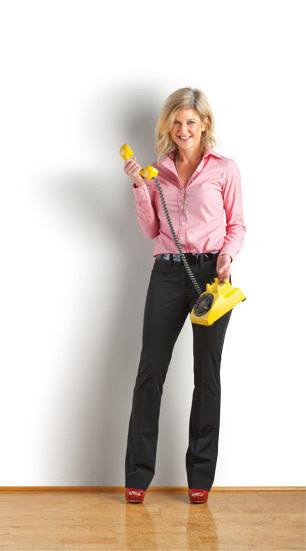 RUBY SITS IN HER CUBICLE, taking calls. She picks up for a lawyer in New Orleans. Then a tech firm in Indiana. Then an entertainment group in California. Within two minutes, she cheerfully dispatches callers to a half-dozen far-flung businesses. At the next desk, another Ruby does the same.
They're not real Rubys, but any of 60 receptionists (out of 70 employees) at Ruby Receptionists might use that pseudonym as she (so far, always she) greets callers to more than 1,500 businesses nationwide. When Ruby CEO Jill Nelson started the company in 2003, she planned to provide faceless admin for small companies. However, she soon detected hunger for a warmer touch, and (along with local branding agency Sockeye) created a corporate personality to match. Who wouldn't want always-friendly Ruby at their service?
These days, phones start ringing at 5 o'clock in the morning at Ruby's airy, pastel-decked Pearl District headquarters. The offices—Fremont Bridge views, sharp retro-modern furniture, well-known legal and venture capital firms as neighbors—belie Ruby's status as, essentially, a call center. "People ask, 'Why put receptionists in Class A offices?'" Nelson says. "I say, 'Why not?'"
Ruby's clients pay from $219 to $739 a month for prompt, tailored service. At daily staff "huddles," Ruby meticulously tracks callers placed on hold (less than 5 percent on a recent day) and their average wait (less than 10 seconds). Receptionists work with client information managed with custom software: preferred greeting, names, duties, who's taking calls, who's not taking calls.
After launching from the first employee's kitchen, the company has grown at least 15 percent per year. Last year, the firm took in $5 million for the first time. Nelson, a 36-year-old Portland native and mom, worked as a receptionist herself after receiving a business degree from the University of Oregon. "Well, actually," she says, "I barely graduated. But I credit the social part of college for a lot of my success here. I like to have fun and take care of people. If we didn't do that, I couldn't come to work." Ruby drills new hires on etiquette, grammar, and the art of rarely saying no. The bright offices radiate cheer, and Ruby frequently appears on "best places to work" lists.
But couldn't Ruby prosper even more in India, Uruguay, or some other low-cost call-center haven? Nelson says attention to quality control and authenticity—even if "Ruby" isn't real—mean no. "I don't think we could outsource out of Portland, let alone to Mumbai," she says.