Rainmaker
Virtual Vending
Paresh Patel changes the way you buy snacks.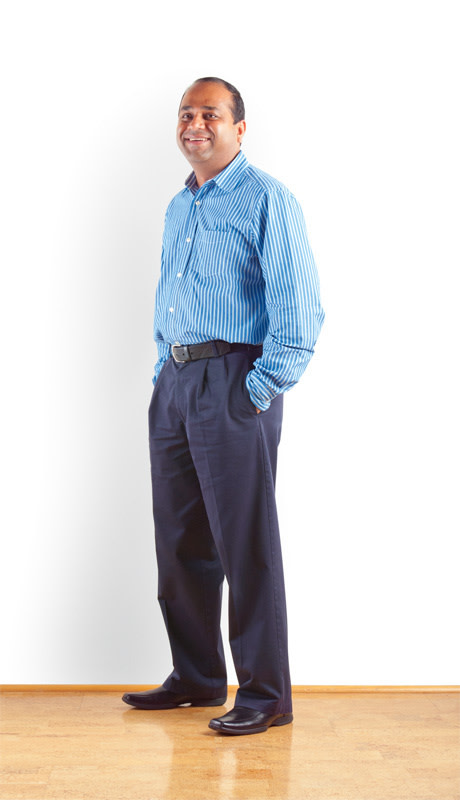 YOU MIGHT THINK a man who operates vending machines for a living would be a dull conversationalist, more comfortable just pushing buttons and weighing decisions in silence. Not Paresh Patel. Mobile transactions, the cashless economy, networked everything, generational change—to Patel, all these forces collide in the humble vending machine.
"When you think about it, the Internet consists of a bunch of platforms built up incrementally over the last 30 years," he explains in his typical rapid-fire style. "And the exciting thing for us is, the vending industry is at the beginning of that same process. We can't imagine what will happen in the next decade."
Patel's start-up, VendScreen, may be the catalyst for transforming how the $45 billion vending industry does business. This spring the firm unveiled an Android-powered touch-screen interface that can be installed in almost all existing vending machines. The device turns individual machines into networked nodes that can be accessed from a customer's smartphone.
"You check your phone," Patel says, "and your VendScreen app tells you what nearby machines have in stock. You can see peer reviews of all the products and download coupons. Place your order and pay with your phone. Walk to the machine. It senses your phone, and dispenses your order."This may sound somewhat futuristic, but this 37-year-old's industry roots are old-school. In 1992, he started as a Parkrose High School student who convinced a single car mechanics shop to install a vending machine stocked with soft drinks. Today, Patel's original business, Courtesy Vending, still maintains several thousand machines throughout the metro area.
VendScreen, in fact, came about due to challenges Courtesy faced. "Our target market consists of people in their 20s," he says. "Those are the people who no longer carry one-dollar bills in their pockets." So last year Patel sent a sketched solution to a crew of Belarussian engineers and began developing VendScreen. An initial foray seeking $500,000 in venture financing netted more than $12 million. And at the industry's largest trade show in April, the fledgling company won five awards for its new product line, which also includes administrative and maintenance software for machine owners.
Patel believes mobile convenience is just the beginning. When you're not limited by pocket change and small bills, he adds, "vending machines become just another distribution channel. They can sell anything."