FALL TRAVEL
Explore Hidden Oregon
30 great reasons to hit the road
As Oregon winds down its yearlong 150th birthday bash, why not blow out the last candle by taking in some of the breathtakingly diverse landscapes that make up the roughly 96,000 square miles we call home. From the high-desert cowboy country and arid playas of the far east to the verdant valleys of the south to the coast's rugged headlands, every inch begs to be explored. But no matter which corner calls your name, there are some off-the-beaten-path gems that shouldn't be missed, like a sunset dinner overlooking Joseph Canyon, a weekend at a luxurious coastal cabin, and our personal favorite, a dip in the Alvord Desert's hush-hush hot springs. We've lined up 30 adventures in the state's five distinct regions—any of which might inspire a vigorous rendition of "Oregon, My Oregon!" (OK, maybe not the actual song, but the love, for sure.)
NORTHEAST

OREGON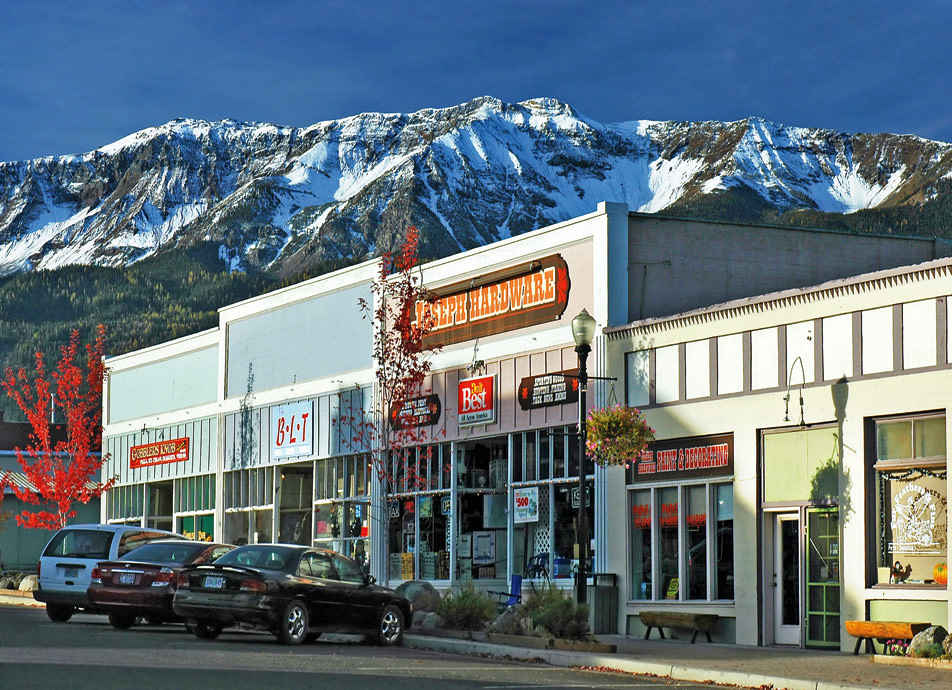 The Cowboy Way
by Kasey Cordell
By any measure, northeastern Oregon is a rugged place. The Wallowa Mountains rise out of a vast, sun-scorched emptiness like the teeth of a great white shark snapping the sky. This is Louis L'Amour's Wild West, live. City slickers needn't worry, though—the comforts of great wine, coffee, and bookstores await as well.
Hamley & Co
If you can't find the perfect pair of cowboy boots here, you never will. Established in 1883, this Western haberdashery has a back wall lined with at least a hundred different varieties of shitkickers. Old Gringos, decorated Italian leather Justins, you name it. Mosey to the back of the store and see where the real cowboy work gets done—in the saddle shop where famed saddle-makers Duff and Bill Severe got their start.
30 SE Court, Pendleton; 541-278-1100; hamley.com
Joe & Sugars Café
A favorite of La Grande locals, this tiny café uses beans roasted by longtime La Grande resident Al
McCloud (who once owned the café) and offers caffeine fiends at least three different varieties each day. The Joe & Sugar Blend is nice and smooth, but if you really want to sink the spurs into your brain, opt for the Colombian Roast. Just don't hold us accountable for any speeding tickets.
1119 Adams Ave, La Grande; 541-975-5282
RimRock Inn Restaurant
When you arrive for dinner at the RimRock Inn, you might think you've reached the edge of the world. A hundred yards from the restaurant's back porch, the earth drops away, plummeting into Joseph Canyon. Farther east, the scorched landscape crinkles into countless coulees before taking a final plunge into Hells Canyon. Such ruggedness is best tempered with a delicate Willamette Valley pinot and a tender steak prepared by chef Otto Nielson. And for breakfast? A sunrise that paints the canyon pink, purple, and orange. Just reserve one of the three tepees along the canyon's edge.
(Open May through mid-October) 83471 Lewiston Hwy, Enterprise; 541-828-7769; rimrockrestaurant.com
The Bookloft
Stop into the Bookloft for a healthy collection of volumes full of local history and lore—especially about Oregon's Nez Perce tribe. The shop is a fraction of the size of Powell's Books, but it has all the heart. You might even stumble upon a reading during the Fishtrap literary festival (fishtrap.org) in July and February. Plus, there are dynamite pastries from Joseph's Wild Flour Bakery. Try the Goldie, a delicious kind of albino brownie.
107 E Main St, Enterprise; 541-426-3351; bookloftoregon.com
Earth & Vine
This spacious store specializes in smaller labels, like a white merlot from the Gilstrap Brothers vineyard in nearby Cove. Owner Mary Ellen Stevenson is a Baker City native who's happy to tell you not only what gives the Gilstrap Brothers Rio Grande Rhonde its light, fruity taste (the Kuhlman Foch grapes, a French hybrid that's taken a shine to Eastern Oregon's arid climate), but also where to replace those blue jeans you just tore a hole in (hint: try the feed store on the way out of town).
2001 Washington Ave, Baker City; 541-523-1687
Sawtooth Crater
This splendiferous hike is so well hidden that a few folks in the local ranger's office hadn't even heard of it. About 30 miles northeast of Baker City, the easy 1.5-mile out-and-back jaunt ends atop a 420-foot-tall volcanic plug. From your perch, smack in the middle of a mile-wide bowl, the Wallowas and the Blue Mountains rule the skyline. Don't forget the self-timing camera for your summit shot: chances are, you'll have the crater to yourself.
La Grande Ranger District; 541-963-7186
SOUTHEAST

OREGON

 
The Big Empty
by Rachel Ritchie
The landscape of southeastern Oregon lifts you up and swallows you whole. Some call it the Big Empty, but this dry, sprawling, mountain-studded swath of earth is brimming with beguiling geologic gems, extraordinary wildlife, and the mythic history of Oregon's earliest days. And whatever you do, don't miss the state's best milkshake.
Alvord Hot Springs
Mesmerized by the sound of tires on gravel and riveted by the sight of the majestic Steens Mountain, you might easily overlook this small corrugated-steel shack just off E Steens Road. But you'd be wise to seek out the bubbling hot springs here. While soaking your road-weary body in a pool of 112-degree mineral water, a surreal theater will unfold on the stark white playa—from shimmering mirages to languid sunsets and unraveling cloud banks.
Access: Just east of E Steens Road, 65 miles south of Route 78
Fields Station
The perfect antidote to a day spent baking in the Alvord Desert lies in the lonely town of Fields (population: about 12), where you'll be greeted by the welcome oasis of Fields Station—a combination café, gas station, general store, post office, motel, and RV park. Saddle up on one of the counter's eight seats and prepare to be soothed by what have to be the most divinely down-home cheeseburgers, fries, and milkshakes anywhere.
22276 Fields Dr, Fields; 541-495-2275
Hotel Diamond
In the Diamond Valley, where lava fields and rambling ranches abut the verdant marshlands of the Malheur National Wildlife Refuge (a mecca for bird lovers), you'll find the stately Hotel Diamond. Eight modestly appointed rooms in this 111-year-old bed-and-breakfast set you up for exploring the diverse valley. The decadent home-cooked meals (fresh-baked bread, meatballs, and buttermilk pie) served nightly will etch this place into your gustatory memory for years to come.
10 Main St, Diamond; 541-493-1898; central-oregon.com/hoteldiamond
Peter French Round Barn
The legend of Peter French, Oregon's first cattle king, looms large in this part of the state, and a lasting monument to the surly rancher's empire sits just 20 miles north of Diamond. A simple marvel of construction, this circular barn, supported by 12 unmilled juniper posts, is where French trained horses each winter. Stop by the Round Barn Visitor Center for an informative tour, or wander at your own pace, admiring the lava-rock corral and the sunbeams that sift through countless holes in the shingled roof.
roundbarn.net
Steens Mountain Loop Tour Route
Every stretch of road in southeastern Oregon seems to unveil another jaw-dropping vista. But the dramatic beauty of these arid climes culminates on this scenic loop—reaching 9,733 feet, it's the highest road in Oregon—that darts east from Frenchglen to lead you through sagebrush steppe, juniper woodlands, and aspen groves to the vertiginous rim of Steens Mountain. Keep an eye out for pronghorn, bighorn sheep, and golden eagles as you twist and turn along a sequence of sublime viewpoints.
Access: Steens Mountain N Loop Road, east of Frenchglen
Diamond Craters
Scientists gush over this 17,000-acre patch of earth, which, geologically speaking, is unlike any other place in North America. Step out of the car at the 12 stops along this 40-mile dirt road, and you'll be surrounded by every feature of basaltic volcanism conceivable. As you scramble over the rocks, moving backward in geologic time, you might imagine the landscape as it appeared 17,000 years ago—lava slides oozing, boulders (or "volcanic bombs") launching skyward, and cinder cones spewing ash and dust.
Access: Junction of Lava Bed and Happy Valley Road —Alexandra Berke
CENTRAL

OREGON
The High Desert
by Bart Blasengame
South of Salem and east over Santiam Pass lies a world diametrically opposed to our own. It's an arid playground of towering presidential peaks and high-desert pines. Take in the wild backdrop from the decks of some of the state's grandest lodges or enjoy the taste of savory barbecue mixed with the scent of sweet juniper riding on the breeze.
Sno Cap Drive In
Well, hello 1950s America. Entering this Sisters landmark is like being zapped into TV Land primetime. Beskirted cheerleaders and football heroes from the local high school (go Outlaws!) are permanent fixtures. But the stars of the show here are flat, griddle-cooked hamburgers—so juicy, you'll want to order a double. And what the heck—down a thick chocolate shake as well. They didn't count calories in the '50s, did they?
380 W Cascade Ave, Sisters; 541-549-6151
Pine Mountain Observatory
West Texas—home to the renowned McDonald Observatory—doesn't have a monopoly on starry nights. Central Oregon's wide open spaces and dearth of city lights make for prime sky-watching. Located about 30 miles east of Bend, Pine Mountain Observatory is the epicenter for the astronomy set. Tours end in the fall, but there's still plenty of earthly fun: the adjacent Forest Service campground is a well-kept secret. Use it as home base for exploring 6,500-foot-tall Pine Mountain. Topside, daylight vistas include Mount Bachelor, Broken Top, Three-Fingered Jack, Mount Jefferson, and Mount Hood. Take that, Texas.
34 miles southeast of Bend on Highway 20 east; 541-382-8331; pmo-sun.uoregon.edu
Kokanee Café
Perched near the gurgling banks of the Metolius River, the Kokanee is the epitome of cabin chic. The rustic abode seats about 60 people, and the menu offers everything the discerning carnivore could want (venison, salmon, lamb, duck), while the extensive wine list and riverside setting amps up the white-napkin romance. Entrées are in the $20 to $30 range, but if you've just spent a weekend roughing it, don't you deserve a little elegance?
25545 Forest Service Rd, Camp Sherman; 541-595-6420; kokaneecafe.com
Five Pine Lodge
From the outside, they look quaint. Cute, even. But once inside Five Pine Lodge's individual boutique cabins, it's clear you're not on the frontier anymore. Soaking tubs. Forty-two-inch plasma televisions. Italian tile showers. The fireside dining at Chloe and the Asian-themed spa treatments available at Shibui seal the deal.
1021 Desperado Trail, Sisters; 866-974-5900; fivepinelodge.com
Lara House Lodge
Not every lodge in Bend is done up in a log-cabin theme. Welcome to Lara House, a charming six-room bed-and-breakfast occupying an aspen-lined 1910 Craftsman. Aesthetic departure aside, a stay here lands you right in the mix of Bend's lively downtown nightlife. So when the band finishes up at Bendistillery, it's just a short walk back to your suite, where a terry-cloth robe and a nightcap of complimentary local wine await.
640 NW Congress St, Bend; 541-388-4064; larahouse.com
The Badlands
Oregon's newest desert wilderness (deemed so by President Obama in March), these 30,000 rugged yet spellbinding acres are a vast departure from Portland's green, wet climes. Primordial rock formations, a hundred species of birds, and thousand-year-old junipers dominate the surrounding area. But there's room for you, too, thanks to 50 miles of two-track trails and a plethora of hiking options, including the dome-shaped Badlands Rock, whose trail reopened in September after being closed the prior six months for prairie falcon nesting.
17 miles east of Bend on Highway 20; 541-416-6723
SOUTHERN

OREGON
Down South
by Brian Barker
No two parts of Southern Oregon strike the same chord. Ashland is a refined piece of chamber music; Jacksonville, a down-home square dance. Organic farmers, Shakespearean actors, skilled artisans, and ranchers all draw their inspiration from a collage of verdant green pastures, sun-soaked foothills, deep blue alpine lakes, and a storied past that lies just beneath the surface.
Mount Scott, Crater Lake
For the best view of Crater Lake's rippling shades of cobalt, cerulean, and indigo, skip the river of brake lights lining the park's popular Rim Drive. Instead, point your boots up the mellow 2.5-mile approach to Mount Scott. At 8,929 feet, this is the park's loftiest perch. The view from the summit squeezes in the entire caldera, with Mount Thielsen's shark-fin peak and the Three Sisters as exclamation points in the refreshingly car-free perspective. (Campgrounds open through mid-October.)
nps.gov
Volcanic Legacy Scenic Byway
Southern Oregon's natural splendor isn't confined to Crater Lake. South of the park, along Route 62, the 2.3-million-acre Winema National Forest, Upper Klamath Lake (the state's largest lake), and the Sky Lakes Wilderness (where hundreds of high-alpine pools await) all beckon. If you turn west on Highway 140, near Rocky Point, you'll spot Mount McLoughlin's solitary 9,495-foot-tall cinder cone and the rustic Lake of the Woods Resort, home to a killer cobbler.
volcaniclegacybyway.org
Schneider Museum of Art
For a respite from the typical "stay four days, see four plays" Ashland visit, check out this gem at Southern Oregon University. Exhibits of top-notch contemporary artwork, such as the quilts of Gee's Bend, routinely pop up here. The building alone (designed by Pioneer Courthouse Square architect Will Martin), with its convex, mirrored façade turned toward the golden Siskiyou Mountains, makes a welcome stop during a stroll to the nearby Plaza—Ashland's version of Pioneer Courthouse Square.
1250 Siskiyou Blvd, Ashland; 541-552-6245; sou.edu/sma
Palace Café and Charcuterie
Consider this slick lunchtime hot spot a great place to start exploring Ashland's hip Railroad District. A few blocks removed from the crowds at the Shakespeare Festival, savvy locals dine on tri-tip roast beef sandwiches with caramelized onions and salad Niçoise with roasted olives and Pacific ahi. (A small deli also offers pickled salads and house-cured sausage.) Down the block, the art galleries lining Fourth Street will keep your eyes entertained as you walk off your meal.
542 A St, Ashland; 541-488-4311; palacecafeashland.com
Jacksonville Pioneer Cemetery
This beautiful and well-maintained 32-acre graveyard is populated with some of the first citizens to be buried in the state. Dating back to 1859, the plots are divvied up by religious affiliation or allegiance to fraternal societies like the Improved Order of Red Men. Headstones range from a gorgeous white marble sculpture of a kneeling girl to lonesome wood markers. The most famous resident? Peter Britt. The final resting place of the noted pioneer photographer and Jacksonville luminary lies within earshot of the town's beloved musical festival that bears his name.
N Oregon & E Streets, Jacksonville
Cowhorn Vineyard & Garden
The climate and well-draining soil of this new vineyard (the first grapes were planted in 2005) bear a likeness to France's famed Châteauneuf-du-Pape region. Translation: expect to sample some really excellent vino here, especially Rhone varietals like the 2007 syrah, which swirls with hints of black cherry and cassis. The Spiral 36, a white table wine with rich oak and apple flavors, could be Southern Oregon's answer to the Willamette Valley's pinot noir, but for less than $20.
1665 Eastside Rd, Jacksonville; cowhornwine.com
COASTAL

OREGON
Water Ways
by Brian Barker
With so much of its landscape shaped by hot lava that plunged into the ocean thousands of years ago, no one would ever call the Oregon Coast soft. Yet the region also has a salty tranquility, evident where the cool air meets the sands of a lost beach. And cozy places to enjoy the delights of an incoming storm or a delicious fish taco are always within reach.
Commodore Hotel
From its creaky waterfront piers to the decades-old broadcast Scandinavian Hour on local radio station KMUN, Astoria is an old soul that wears fishing line more easily than trends. Juxtaposed against this barnacled backdrop is the Commodore Hotel. Opened in 1924, the hotel was shuttered in the mid-1960s, only to be purchased intact (cobweb-draped cocktail glasses still on the bar) last year. Thanks to a remodel that echoes Portland's utilitarian Ace Hotel, the Commodore now wears a stylishly friendly charm. All it needs is the next generation of Astoria noir.
258 14th St, Astoria; 503-325-4747; commodoreastoria.com
Fish Tacos at Luna Sea
Pan-seared to lock in a marinade of paprika, cumin, lime, and garlic, the big meaty chunks of fish on the seasonal menu—halibut, ling cod, salmon, or snapper—are as fresh as owner Robert Anthony's most recent catch. (He owns his own fishing vessel.) Cupped between flour tortillas stuffed with a bed of coleslaw studded with wedges of tangy red and green apples, they make for the Oregon Coast's most unexpectedly delicious dish. Don't be surprised if lunch inspires a return trip for dinner.
153 NW Hwy 101, Yachats; 541-547-4794; lunaseafishhouse.com
Umpqua Discovery Center
This children's museum in Reedsport could give OMSI some stiff competition with its 7,000 square feet of exciting, lifelike, interactive exhibits. (In fact, OMSI assisted in funding the center's exhibits.) But here, the subject is the history and ecology of Oregon's south coast. Listen to native Kuuich Indian tales told around a crackling fire. Walk across a creaky dock that was lined with salmon during the area's schooner-era heyday. If the kids still aren't wide-eyed, send them down the slide that leads to a bear den.
409 Riverfront Way, Reedsport; 541-271-4816; umpquadiscoverycenter.com
South Slough National Estuarine Research Reserve
Inside this 4,800-acre coastal stew of saltwater marshes, freshwater streams, and upland forest, kayakers paddle glassy waters, disturbed only by flapping snowy egrets. Nearly 8 miles of hiking trails depart from the interpretive center, the most serene of which is the Hidden Creek Trail, a 1.2-mile saunter to a large observation deck near Hidden Creek Marsh. Shielded by massive tree boughs, this is the perfect place to spy Caspian terns hunting fish or to simply watch ripples fan out across the water.
61907 Seven Devils Rd, Charleston; 541-888-5558; oregon.gov
WildSpring Guest Habitat
Nestled amid magnificent Port Orford cedars, each of this resort's five cabins sports vaulted ceilings, walk-in slate-tiled showers, pillow-top mattresses, and classy antique furnishings. If you can bring yourself to leave your abode, stop by the guest hall overlooking Port Orford Bay. Floor-to-ceiling windows, plush leather chairs, a well-chosen wine list, and a thumping stereo make for an incredible storm-watching post. Binoculars provided.
92978 Cemetery Loop, Port Orford; 866-333-9453; wildspring.com
Oregon Redwoods Trail
Not many folks know that an arm of California's famed redwood forest reaches into Oregon. To find the trail that leads to the trees, drive 11 miles south of Brookings and turn left onto Winchuck Road. After 1.5 miles, turn right onto Forest Service Road 1101, a 4-mile-long, well-maintained dirt road that ends at the trailhead. The 2-mile loop feels like setting foot in a cathedral, one in which you are the sole parishioner.
www.fs.fed.us