COVER STORY
Go By: Plane
Direct-from-PDX destinations worth your frequent-flier miles.
Boise, Idaho
Pedal-pushing and leaf-peeping in a rugged western town
"LES BOIS! LES BOIS—voyez les bois (The woods, the woods—see the woods!)" French explorers reportedly exclaimed in 1833 when they first spied the site of present-day Boise, where the Boise River gently weaves through thick stands of cottonwoods. That's still sound advice today. Each fall this arbor-rich outpost in the foothills of the Rockies is awash in a breeze-blown blaze lit with yellowing aspens, orange-leafed maples, and crimson-tinged sweetgums, all swaying amid a backdrop of rippling, golden hills.
The best way to take in the leafy scenery? By bike. Nicknamed the "The City of Trees," Boise could also lay claim to the title of "Singletrack, USA." Fat-tire riders fan out along the high-climbing Boise Foothills on a vast, 130-mile-plus network known as the Ridge to Rivers Trails, to enjoy sweeping valley vistas and snowy peaks, while the cruiser-bike set plies more than 200 miles of in-town paths, the most popular of which is the Boise River Greenbelt. Stretching more than 20 miles, this mellow, mostly paved trail syncs up a dozen spacious parks, including attraction-packed Julia Davis Park, home to the decidedly modern Boise Art Museum, the kid-friendlyIdaho State Historical Museum, Zoo Boise, and sun-dappled rose gardens.
At the hub of Boise's two-wheel culture is the hip Hyde Park neighborhood. Nestled at the north end of town, at the base of the foothills trails, this inviting enclave buzzes with funky antique stores, coffee shops, and restaurants such as SunRay Cafe, where you can fuel up for your ride with hand-tossed wheat crust pizzas.

And don't worry if you didn't check your ride at PDX. Idaho Mountain Touring rents carbon-framed road cycles, full-suspension mountain bikes ($35), and city cruisers ($15). Pedaling among locals, with the sunbeams filtered by a kaleidoscope of leaves, you'll find it hard not to sing this town's praises, too. Perhaps even in French. Your first verse: "Vive les bois."
Eat
Sidle up to 39 regional beers and über-local eats like smoked Idaho trout and grass-fed beef at Bittercreek Alehouse. At Boise Fry Company, get a gourmet spud fix with peanut-oil-fried purple, russet, sweet, yam, and Yukon gold taters laced with alder-smoked sea salt and house-made blueberry ketchup.
Stay
Boise's new boutique Hotel 43 (from $139) is a finely appointed charmer with a hoppin' steak house. Once a 1960s Travelodge, the Modern Hotel and Bar (from $99) now sports swanky walk-in showers and midcentury mod furniture.
Do
Take the 16-mile spin up a sagebrush-scented mountain road to Bogus Basin Mountain Recreation Area, where the views are anything but.
Lake Tahoe
Resort to lavish indulgence
Since its birth, amid a torrid race for gold in nearby Virginia City, Tahoe has been linked to wealth. After the gold rush departed this alpine landscape, the tourism rush began: wealthy vacationers from California and Nevada built palatial homes along the state-straddling lake's picturesque shores, several of which still stand. Today, Tahoe is a place where, as one Nevada resident jokes, "the billionaires have kicked out the millionaires." Translation: lavish restaurants, spas, and resorts ripe for the plumbing.
Headquarter your weekend of luxury on Tahoe's North Shore. Less than an hour from the Reno airport, the North Shore holds the lion's share of Tahoe's mountain resorts, including the renowned Resort at Squaw Creek (from $179), an extravagant 405-room hotel that received a $53 million face-lift in 2007 and is regularly tapped as one of the top ski resorts in North America. Get some body work of your own in Squaw Valley, where the muscle maestros at Trilogy Spa erase any remnant travel tension. By the end of the signature Lomi Pohaku stone massage, the only thing more tender than you might be the sustainably raised Durham Ranch beef rib eye at nearby PlumpJack Cafe.
For a truly exquisite dining experience, climb 7,000 feet to Manzanita, the Ritz-Carlton's restaurant, where James Beard Award winner and Iron Chef champ Traci Des Jardins serves up impeccably executed dishes like red wine–braised short ribs. (And if you're here during Tahoe's Restaurant Week, October 2–9, you can score a prix fixe supper at Manzanita and many other local restaurants for $20–40.)
Feeling a bit overindulgent? Pack a picnic from Tahoe House Bakery & Gourmet and hit the Tahoe Rim Trail, a 165-mile-long trail circumnavigating the lake and with eye-popping views of the cerulean water reflecting the Sierra Nevadas. Besieged by such beauty, you'll have no trouble understanding why San Francisco's legendary tycoon George Whittell built his waterfront estate, Thunderbird Lodge, here in 1939. You can still see it for yourself on a tour (Tuesday–Saturday), which includes a 600-foot subterranean trek from the main house through a tunnel to Whittell's infamous Card House, site of many high-stakes poker games. Of course, seated at the edge of the spectacular scene—the lagoon stretching toward golden shores and snow-dusted summits—you'll feel like you've already won.
Eat
Specializing in California cuisine tinged with French techniques and lakefront seats, Christy Hill has been a Tahoe City favorite for a quarter-century. Warmly lit and always packed, cozy Moody's, in Truckee, delivers locally sourced dishes to your table and live jazz music to your ears.
Stay
It doesn't get much more luxurious than the two-year-old Ritz-Carlton (from $199) in Northstar. Unless, of course you count the jaw-dropping $8,000-a-night properties for rent at tluxp.com. (Don't worry: there's plenty of luxe lodging for under $300, too.)
Do
Forget the paddle boats. See (and feel) what a million bucks is like on a cruise aboard the Tahoe Bleu Wave, a million-dollar restored 1966 yacht. Stocked with hundreds of nearby Napa labels, The Pour House, a beloved Truckee wine shop, could turn a quick tasting stop into an all-day affair.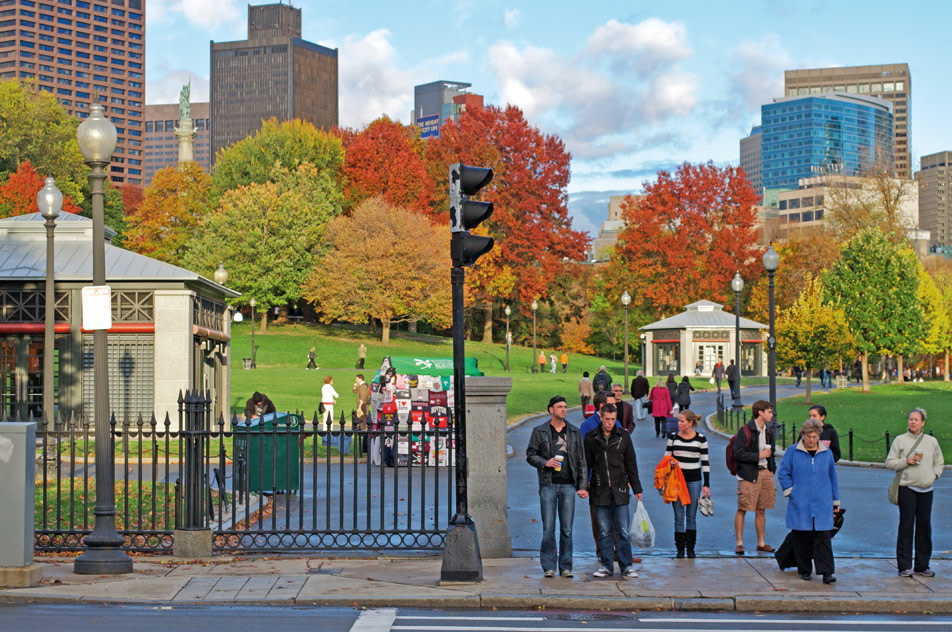 Boston

,

Mass

.
A historic city ablaze in autumn hues
Yes, there are the quaint, brownstone-lined streets, the bustling harbor, the hot dogs and beers at Fenway Park, and the texture of colonial history lurking in every nook and cranny. But as September blurs into October, the city of Boston takes on a distinctly autumnal identity. At its core is the kind of fall foliage you can find only in New England—crisp, luminous, and everywhere.
Seeking out the best stashes of leaves in our sister city (Portland was, after all, just a coin toss away from being named New Boston) is a simple matter of following the trees—namely within Frederick Law Olmsted's Emerald Necklace, a 1,100-acre chain of nine parks linked by greenspace and waterways. Make your way down Tremont Street, one of Boston's original bustling thoroughfares (trying not to get distracted by chic boutiques and sidewalk cafés), to Boston Common, where an impressive variety of deciduous wonders puts on a bright display. Founded in 1634 as a public space for grazing cows, this is America's oldest park, and the anchor of the Emerald Necklace. In the 1800s, trees, fountains, and statuary replaced the park's ambling bovines, and the common has since become the city's favorite patch of green (and, this month, red, orange, and yellow). Do your own grazing at nearby No. 9 Park, where James Beard Award–winning chef Barbara Lynch blends New England's seasonal bounty with elegant preparations in the shadow of the statehouse.
If a tranquil escape is more your speed, you can do no better than the Mount Auburn Cemetery, which straddles Cambridge and Watertown. Its meticulously maintained collection of more than 5,000 trees and countless plant species unfolds over 175 acres of rolling hills, woodlands, and ponds, all ablaze with autumn's arrival. Or, for a more aquatic perspective on the city's fall palette, pick out a waterborne chariot at one of Charles River Canoe & Kayak's five locations. Flanked on both sides by a tree-lined bike path, the Charles cuts a watery, northeasterly swath through the city, its shimmering waters reflecting—and sometimes carrying—Boston's kaleidoscope of colors all way to the Atlantic.
Eat
Dive headlong into the flavorful, locally sourced world of Mediterranean fare at Oleana, where Armenian basturma shares menu space with tamarind-glazed short ribs and chicken with za'atar in an intimate Cambridge dining room. Follow the South End's hip crowd to Stella for an indulgent Sunday brunch featuring duck confit omelets, linguini carbonara, and eggs Benedict with prosciutto.
Stay
Enter a stylish world of sleek chaises and platform beds at the Ames Hotel (from $300), opened in 2009 inside an 1889 building in the heart of downtown Boston. The small, homey Beacon Hill Hotel & Bistro (from $285) combines modernity and history on gas lamp–lined Charles Street, complete with delicious French food served in the ground-floor bistro.
Do
With its riot of showy flowers, meandering paths, and signature Swan Boats, Boston's Public Garden, another jewel within the Emerald Necklace, makes for prime territory to absorb the season. Or take in the visual riches at the Isabella Stewart Gardner Museum, a 15th-century-Venetian-style palace of galleries packed with more than 2,500 paintings, sculptures, tapestries, and furniture pieces.