Back Page
Tap Water Challenge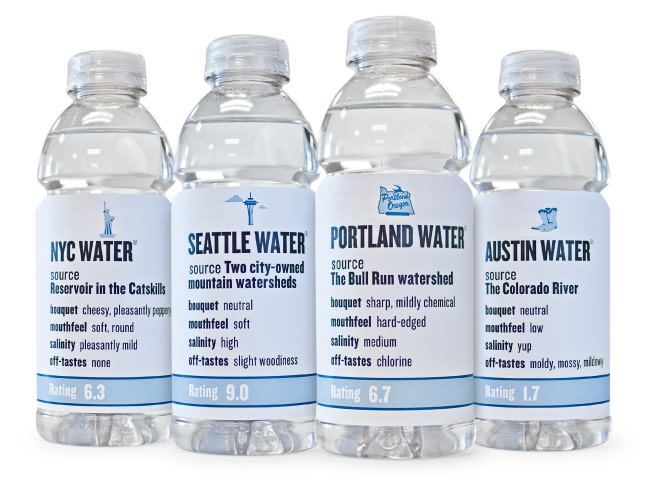 LIKE BEER, bike-friendliness, and caring about soccer, Bull Run water is one of those great Portland "things." But how does our H2O really stack up to its rivals? We gathered samples from three other cities known for high-quality tap water and staged a blind tasting, judged by three local specialists who make their living with their palates.
THE JUDGES
Ben Love Head Brewer, Gigantic Brewing
Lee Medoff Distiller, Bull Run Distillery
Hanna Neuschwander Author of the forthcoming coffee book Left Coast Roast
NEW

YORK

CITY
Source: Reservoirs in the Catskills
Score: 6.3
Bouquet: Cheesy, pleasantly peppery
Mouthfeel: Soft, round
Salinity: Pleasantly mild
Off-Tastes: None
TASTING NOTES
Ben: This one's the most complex, in terms of nose and flavor.
Lee: There's a cheesiness in the nose. There's something funky in it. But it's soft.
Hanna: This one smells slightly earthy—a saltiness to it. It's nice. Kind of like a forest floor.
SEATTLE
Source: Two city-owned mountain watersheds
Score: 9.0
Bouquet: Neutral
Mouthfeel: Soft
Salinity: High
Off-tastes: Slight woodiness
TASTING NOTES
Lee: There's nothing to really say about it. No aroma. And that's a positive thing. I like this one best. It's so neutral and pure.
Ben:There's a woodiness to it, sort of like bamboo.
Hanna: This one's the most neutral to me. It has some weight on your tongue.I liked this one the best.
PORTLAND
Source: The Bull Run watershed
Score: 6.7
Bouquet: Sharp, mildly chemical
Mouthfeel: Hard-edged
Salinity: Medium
Off-Tastes: Chlorine
TASTING NOTES
Ben: This one might be the most refreshing. Maybe it's because of the chemicals.
Lee: There's something really fresh about this one. Not quite sea breeze. Something's on the palate that's pretty sharp.
Hanna: This one has a definite chemical edge to it. I don't like the hard edge, but it is refreshing. It makes you salivate a little.
AUSTIN
Source: The Colorado River
Score: 1.7
Bouquet: Neutral
Mouthfeel: Low
Salinity: Yup
Off-Tastes: Moldy, mossy, mildewy
TASTING NOTES
Ben: Very earthy. But mildew and mold, definitely.
Lee: Horrible. There's something moldy and mossy about it.
Hanna: This one is so gross. It tastes like when you leave laundry in the washer too long. It's like basement funk.